The Nightly Turbo: Part 2 of the UB Cheating Scandal, Matusow Wins in Florida, and More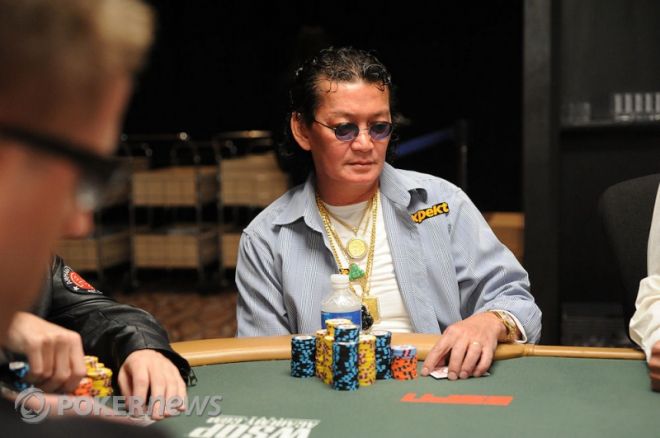 We're back with another installment of the top poker stories you need to know about. The detective work continues in the UB cheating scandal and we've got the latest findings. On top of that, Sam Chauhan shows us once again why this mindset thing is something we need to look in to, and Scotty Nguyen joins the Bristol crew for the latest episode of ESPN's Inside Deal.
In Case You Missed It
We caught up with Team PokerStars Pro Arnaud Mattern to discuss poker after the 2010 World Series of Poker and whether he prefers crutches or a scooter, among other things. Check out Off the Felt for more.
Let's say you just won an FTOPS event, or you've been grinding the cash games to build up a nice little bankroll. Ever thought about how you're managing it? Jonathan Little gives his tips for managing your bankroll here.
We told you yesterday that ESPN's coverage of the 2010 World Series of Poker Main Event would begin airing at 8 p.m. EDT. Did you forget to watch? Shame on you. We didn't. Check out this WSOP on ESPN recap for what you missed.
Scandalous
Back in June, the boys from Wicked Chops Poker brought you Part 1 of the UltimateBet super-user cheating scandal . They're back now, releasing Part 2.
Part 2 outlines how Russ Hamilton cheated and names accomplices who helped him along the way. Part 2 also takes a look at how many other people had access to "God Mode." One way Hamilton cheated was by creating multiple accounts. Each account would crush souls for short periods and then disappear. Soon the account would change usernames and do the same thing all over again. According to WCP's detective work, it was to the tune of "23 accounts. 117 usernames. $22 million dollars."
Read all about it here.
Matusow Wins
Mike Matusow took a trip to the "Sunshine State" over the weekend to teach a DeepStacks Live clinic. While he was there, he entered the $1,100 buy-in Florida State Poker Championships. It wasn't an easy field, with the likes of Chino Rheem, and Michael Mizrachi taking their seats at the felt.
Matusow, however, outlasted the field and took home took home the first-place prize of over $100,000. You can add this win to Matusow's record, but if you're keeping a tally of how many of Sam Chauhan's clients are winning, then add a little tick mark in that column.
"This title, even though, it may not be the WSOP Main Event or WPT event, was very important to not only me but for my company, DeepStacks Live. I came down here to put on one of my famous one day power poker courses to help Florida players adjust better to the new limits and in turn I proved to people that when you are well trained and prepared you can expect to win," said Matusow of his win.
The Sun Sentinel has more.
Inside Deal, Baby
Laura Lane, Bernard Lee, and Andrew Feldman are joined this week by Scotty Nguyen for the latest episode of ESPN's Inside Deal. They discussed the opportunity Nguyen is offering to his fans ― one lucky fan is going to write his book. Nguyen talked about wanting a spot in the Poker Hall of Fame, the evolution of poker and playing against the "Internet kids," and the importance of his fans. And in a strange turn of events, Nguyen didn't say "Baby" once ― psych!
Vice President Ty Stewart of the World Series of Poker also phoned in to discuss the Rio's future and the World Series of Poker Europe.
Vegas Goes to London
Are you headed to London for the World Poker Tour's inaugural London stop? Well, if you do and you're a frequent Bellagio player, then you might feel right at home. And if you aren't a Bellagio afficionado, you'll have the chance to find out why everyone wants to play at the Bellagio.
Bellagio Tournament Director Jack McClelland will be taking on the same role for WPT London. He will be joined by Bellagio's director of poker operations, Doug Dalton, who will oversee all the cash games during the WPT event.
"There's a real buzz about the WPT London Poker Classic and it fits that we have chosen to partner with two of the best in the business to oversee the action. Jack and Doug bring experience and stature to the event and cash games. We may not have the water features of Bellagio but we're expecting top tournament action at The Palm Beach Casino and some Bobby's Room magic at Crockfords," Simon Tomsett, Genting Casinos London Poker Manager said.
Plenty of your favorite pros will be in attendance at WPT London including Phil Ivey, Sorel Mizzi, Tony G, and Annette Obrestad, just to name a few.
Want to rub elbows with them? Qualify for WPT events now on PartyPoker.
Season 7 is a Go
The PokerNews Team is in Tallinn, Estonia, for the first stop of Season 7 of the PokerStars European Poker Tour. While we're stuck here at PokerNews HQ, they're enjoying the Medieval Old Town and all the sights.
Wondering what you're missing? Gloria Balding takes you on a tour in the video below.
Following us on Twitter is a really good idea. Another good idea? Facebook.