Inside Gaming: New TV Deal for WPT, New Partner for $3.9 Billion Vegas Hotel, and New Hope for Aging Riviera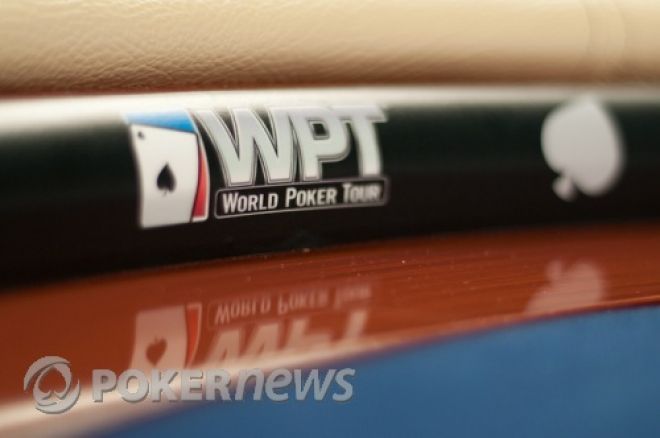 Summer is almost over and a fresh start is on the horizon. New school years, new sports seasons, and new business opportunities. The World Poker Tour has a new television contract, a new mega-hotel is about to open on the Las Vegas Strip, and the old Strip staple, the Riviera, is about to get a new start.
World Poker Tour Announces Three-Season TV Contract with Fox Sports
World Poker Tour Enterprises Inc. just announced a new multiseason broadcast and promotional contract with Fox Sports Net. Seasons 9, 10, and 11 of the WPT will air on FSN at 8:00 and 11:00 on Saturday nights and replay the episodes throughout the week. The deal also includes the promise of "extensive promotional advertising."
"As a leader in sports programming, Fox Sports Net has been a great champion of the WPT and we are thrilled to make this long-term commitment as we celebrate a new day for the WPT," said Adam Pliska, President of World Poker Tour Enterprises. "The better airtimes, improved promotion and the increased number of repeat episodes promise to be a boon for fans and the perfect showcase for the exciting changes coming to the WPT starting in Season Nine."
"This season promises to be unlike any previous incarnations of the WPT," said Steve Heller, the company's CEO. "The shows will be faster-paced and edgier featuring the biggest names in poker mixing it up with more up-and-coming stars, pre-final table action and, as always, poker's greatest and most recognizable play-by-play commentary team of Mike Sexton and Vince Van Patten."
According to the contract, Fox Sports will air the first episode of Season 9 in January.
Qualify for future WPT Events at PartyPoker. While you are at it, get our $50 Free No Deposit sign up bonus and also play in our fabulous $7,500 Cash Runner Freeroll Series - Exclusive to Club PokerNews.
Almost-Open $3.9 Billion Cosmopolitan Hotel Unveils Partnership with Marriott
There was a time that no one believed the Cosmopolitan of Las Vegas would ever really open, but the swanky $3.9 billion hotel-casino on the Vegas Strip is finally only months away from its December debut. And now, it has a chance to fill some of its 2,995 new rooms. Hotel operators announced a deal on Wednesday to partner with Marriott International. Marriott will give the hotel access to its customer database and will market the Cosmopolitan as part of its collection of partner hotels.
Investors have been concerned that the Cosmopolitan did not have access to a customer database, but now it has access to what is considered the hotel industry's largest. Such a partnership will allow the Cosmopolitan to compete with casino giants like MGM Resorts International and Harrah's Entertainment, which have more than 40 million names in their databases. Marriott will also include the Cosmopolitan in its Autograph Collection, a group of independent luxury properties with which Marriott partners. The new Vegas hotel will be marketed as part of the Marriott website and its luxury Ritz-Carlton brand. In addition, the Cosmopolitan will participate in the Marriott customer rewards program.
"This is something we have clearly been working on for a long time," said John Unwin, Cosmopolitan CEO. "I think Marriott has the best distribution system around. They are the chassis and engine that allows us to continue to develop an iconic brand." In return, the Marriott gains its first toehold on the strip, even if it doesn't have its name on top of the giant building sandwiched between CityCenter and the Bellagio.
"Considering the Cosmopolitan has decided to go it alone on the gaming front rather than partner with an established gaming operator with a regional database from which to draw customers, it makes sense that the Cosmopolitan at least has a hotel partner to help fill the rooms," said gaming analyst Bill Lerner.
Learn more about the Cosmopolitan's new deal and its financial woes here.
Riviera Gets New Investors and the Promise of a Facelift
The iconic Riviera Las Vegas hotel-casino is hoping it will get a fresh coat of paint and a new start from its parent company's bankruptcy reorganization plan. Riviera Holdings Corp., which also owns the Riviera Black Hawk casino in Colorado, filed for Chapter 11 bankruptcy on July 12. Now a group of investors have purchased some of the Riviera's $291 million debt and intend to expend more capital to refurbish both aging Riviera properties.
In an update to its bankruptcy statement made last week, the Riviera explained that it has cut down on spending in the last few quarters and has not spent money on necessary hotel improvements or gaming developments. The company's new investors, led by Starwood Capital Group executive Barry Sternlicht, announced that it will finance cosmetic upgrades as well as new slot machines and gaming software for both Riviera properties through at least 2015.
Once the company emerges from bankruptcy, it will have to resume paying interest on its debt. According to financial projections it filed last Friday, with its proposed improvements, the Riviera expects to return to profitability in 2015.
Read more about the Riviera's bankruptcy reorganization and its new lease on life.
Follow us on Twitter for up-to-the-minute news.