The Online Railbird Report: Sahamies Scores Big Against South and Hastings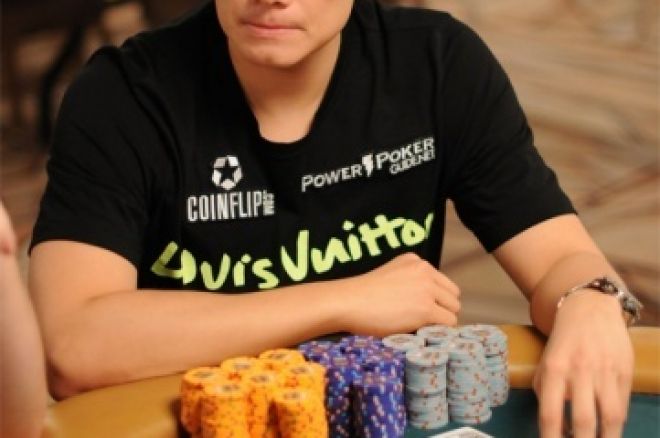 While many of his peers remained focused on the live tournament action at the 2010 World Series of Poker-Europe, Ilari "Ziigmund" Sahamies was the top earner in the high-stakes cash games on Full Tilt Poker for the second consecutive week. Sahamies earned more than $600,000 last week and added almost a million more to the till over the last seven days. Elsewhere, Malestra Pam continued his excellent September run, banking another $300,000 while nosebleed newbie MissNikita1987 took a successful shot at $2,000/$4,000 limit hold'em.
Sahamies slays the CardRunners crew
As of late, Sahamies has been the catalyst for deep-stacked $500/$1,000 pot-limit Omaha, and on Thursday night, he took on CardRunners pros Cole South and Brian Hastings in individual heads-up matches. Sahamies was successful against both players, scoring $621,000 from South in 314 hands and $195,000 from Hastings in 662 hands. The monsterpottens were flying back and forth during both matches, the Big Kahuna a $442,000 confrontation against Hastings.
Hastings was sitting on a $220,000 stack and Sahamies a $400,000 stack when the hand began. Hastings opened for $3,000 from the button, Sahamies three-bet to $9,000, and Hastings came back over the top for $27,000. Sahamies called and they saw a
flop. Sahamies checked, Hastings bet $39,000 and Sahamies called. When the
hit the turn, Sahamies led out for a pot-sized bet of $132,000. Hastings moved all-in for $154,993 and Sahamies called the small balance, turning over
for top two pair. Hastings showed
for a pair of sevens and a flush draw. They ran the river twice, the first falling the
and the second the
, Sahamies' kings and queens holding up to win the $441,986 pot.
Malestra Pam takes Antonius for $300k
In the only long session he played this week, Patrik Antonius sat with Russian limit hold'em specialist Malestra Pam on Tuesday afternoon for over 1,400 hands of $2,000/$4,000 heads-up LHE. Their match lasted for over eight hours, Antonius losing more than $300,000. Thanks to his earnings this week, Malestra Pam has now earned more than half a million dollars in September.
In one of the session's larger pots, Antonius played his flush draw aggressively but came up short against Malestra Pam's trips. Malestra Pam opened for $4,000 from the button, Antonius three-bet to $6,000 with
in the big blind and Malestra Pam called. Antonius led out with his flush draw on the
flop and Malestra Pam called with middle pair. Malestra Pam turned trips when the
fell, and Antonius did his bidding for him, firing out $4,000. Malestra Pam raised, Antonius three-bet, Malestra Pam capped, and Antonius called. The river was the
. Antonius missed his draw but had to figure the only way he could win the pot was to bet at it. Malestra Pam made the call and stacked up the $56,000 pot.
MissNikita1987 notches $289k win over IHateJuice
Typically found playing short-handed no-limit hold'em at limits ranging anywhere from $2/$4 to $25/$50, MissNikita1987 took a shot at the nosebleed stakes this week, playing a 1,268-hand heads-up limit hold'em match against IHateJuice. MissNikita1987 bagged a $289,000 win, more than he'd earned in the previous 18 months combined in cash games on Full Tilt.
One of the keys to winning at limit hold'em is picking up extra bets and in this $32,000 pot, MissNikita1987 did just that with a thin value bet on the river. MissNikita1987 opened for a raise to $4,000, IHateJuice three-bet to $6,000 and MissNikita1987 calls. IHateJuice led out for $2,000 on the
flop and MissNikita1987 called. The turn came the
and IHateJuice fired out another $4,000. MissNikita1987 called. IHateJuice checked when the
hit the river and MissNikita1987 bet. IHateJuice called, but mucked at the sight of his opponent's
. With only third pair, MissNikita1987 picked up the $32,000 pot.
Who's up? Who's down?
This week's biggest winners (9/13-9/19): Ilari "Ziigmund" Sahamies (+$996,000), Malestra Pam (+$298,000), MissNikita1987 (+$289,000)
In the red: URnotINdanger2 (-$478,000), Brian "sbrugby" Townsend (-$474,000), Hac "trex313" Dang (-$376,000)
The highest-stakes games on the internet all unfold on Full Tilt Poker. Open up an account today and see for yourself.