Inside Gaming: PokerStars in Belgium, Blackjack on Cake, UIGEA Fallout, and Poker in Chicago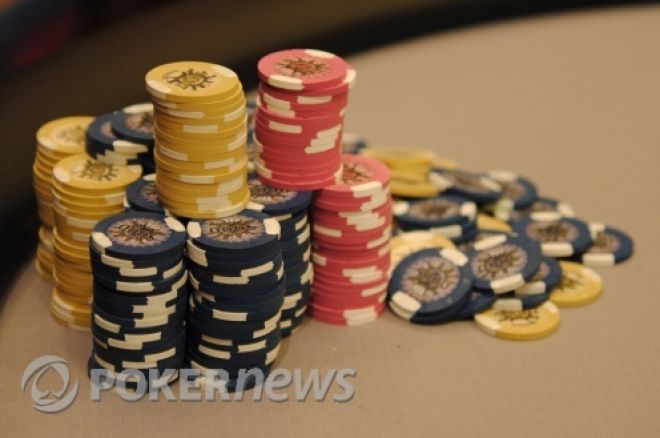 This week Inside Gaming looks at Harrah's latest projects and the latest in PokerStars.com's European license saga. In addition, we look at the Cake Network's newest gaming option, Blackjack tournaments, and the fallout for one Massachusetts Congressman involving the UIGEA. Finally, we examine the casino talk in Chicago.
Harrah's IPO seeks to raise up to $575 million for Las Vegas and Ohio projects
Harrah's Entertainment Inc., the world's biggest casino company, is planning an initial public offering, which includes selling stock, in an effort to raise as much as $575 million for planned projects in Las Vegas and Ohio. Harrah's has said in a U.S. regulatory filing that the proceeds will be used to finish the 660-room Octavius tower at Caesars Las Vegas, develop the LINQ retail and entertainment center next to the Flamingo on the Las Vegas Strip, and invest in the development of two potential casinos in Ohio in conjunction with Rock Gaming LLC.
Read more on the story on the Wall Street Journal.
PokerStars.com Licensed in Belgium
PokerStars.com has developed a partnership with online casino operator Circus Groupe that will allow the pair to offer their services under the regulation of the Belgian Gaming Commission. The agreement means that online poker will now be offered to residents of Belgium by PokerStars.com, the world's largest poker site.
"PokerStars.com and the Circus Groupe are logical partners," said Sander Siezen, marketing manager for PokerStars.com BeNeLux. "CasinoDeNamur.be has the largest live poker events offering in Belgium. PokerStars.com is the world's largest poker site and the largest in Belgium, as well. In addition, PokerStars.com organises the largest live poker series, the EPT. This is also in line with our global strategy to obtain online poker licensing wherever it is available."
PokerStars.com's operational license in Belgium is just its latest in Europe. In October 2008, PokerStars.it launched and ensured Italian players they were playing in compliance with local law; likewise, French customers were offered PokerStars.fr last June. More recently, PokerStars received an operational license in Estonia.
"This unique partnership with the number-one player in the online poker market definitively puts CasinoDeNamur.be on the European map," said Rafa Diego, General Manager for CasinoDeNamur.be.
"Attracting the world's largest poker site was made possible by the remarkable work of the Belgian Gaming Commission and the Wallonia Ministry Of Finance, who were able to establish taxation that is perfectly suited for this type of activity," said Emmanuel Mewissen, chief executive officer for Circus Groupe.
Inside Poker Business has more.
Cake Network Adds Blackjack Tournaments
The Cake Network, a Curacao-based online poker network, will partner with developer 21Gnet to offer tournament blackjack on its network. The tournaments will use 21Gnet's patent-pending software to allow players to play against one another instead of against a dealer with a house advantage. 21Gnet calls its multiplayer blackjack system a "uniquely entertaining, community-driven and virtually live social experience."
"Cake has been and continues to be an important player and industry leader and we are thrilled to unite with it," said Shane O'Connell, chief rxecutive officer for 21Gnet. "The deal is a perfect fit for us and equally beneficial for Cake. It gives 21Gnet an extended reach and more capacity and gives Cake a great new form of entertainment to offer their players."
The Cake Network includes such online poker sites as DoylesRoom.com, UnabomberPoker.com, LockPoker.com, and VictoryPoker.com. Although the Cake Network is known primarily for poker, O'Connell sees potential to incorporate blackjack:
"We already know blackjack tournaments appeal to poker players. They get the game and the format and, most importantly, they find it an entertaining transition from the poker tables. We understand poker players will always be poker players at heart and will choose poker first but our goal has always been to push the concept of blackjack tournaments into the mainstream, to spearhead the introduction of tournament blackjack to the masses."
iGamingBusiness.com has more on this story.
UIGEA Fallout for Massachusetts Congressman
Rep. John Tierney, D-Mass., who voted against the Unlawful Internet Gambling Enforcement Act, is facing political fallout after his wife pleaded guilty to helping her brother run an online gambling business in direct violation of the 2006 law. Tierney, who claims he had nothing to do the illegal gambling business, says his family's legal problems would not prevent him from voting on legislation regarding fellow Massachusetts Democrat Barney Frank's attempt to rectify the UIGEA, which culminated in a bill to legalize and regulate Internet gambling that passed by a 41-22 vote in the House Financial Services Committee earlier this year.
Like Frank, Tierney was one of eight Massachusetts congressmen who voted against UIGEA on July 11, 2006. Regardless of their votes, the act passed by a vote of 317-93. As most poker players know, the bill was not voted on by the Senate but was attached instead to an unrelated port security measure on the last day of Congress in the dead of night back in 2006. Even with his new woes, Tierney has not changed his stance on the UIGEA. "If I had the vote to take over again, there's no conflict on that," Tierney said.
Bill Hudak, the Republican opposing Tierney in November's election, has used the situation as political ammunition by claiming that Tierney is evading questions about his family's gambling operation. "Information continues to evolve, and the congressman refuses to tell us what he knew and when he knew it," Hudak said.
Hudak, who has stated that he would have voted for UIGEA in 2006, did not reveal how he would vote for Frank's new bill, which does not feature Tierney as one of bill's 70 co-sponsors. "I'd have to take a look at that although anything supported by Barney Frank – given his record on financial legislation – would be suspect and would require increased scrutiny," Hudak said. Frank's bill is unlikely receive a vote in the House of Representatives this year.
Check out GamblingCompliance.com for more.
Casino in Chicago?
The city of Chicago has historically not been receptive to the idea of expanded gambling options; however, that has not stopped casino talk between mayoral candidates on the campaign trail. With Mayor Richard Daley stepping down after two decades in office, candidates are revisiting the casino debate. Daley's time as mayor was not characterized by advancement in the casino debate, even though he was likely in favor of expansion. As state Sen. Terry Link, an observer of the Chicago casino debate and former poker buddy of President Obama from the Illinois Senate, has said of Daley, "I think the mayor had a philosophy. He wanted it, but he didn't want to be known for it."
Sen. Rickey "Hollywood" Hendon, a mayoral candidate, is pushing for riverboat casinos, while Alderman Robert Fioretti, another candidate, has suggested a "temporary casino" in the downtown Chicago area, although he does not call it a casino "proposal" as such. With a looming $600 million-plus budget gap, candidates hoping to ease voter's worries regarding the city's finances while addressing the concern that money will flow out of the state to casinos in neighboring Indiana.
Fioretti suggests that a downtown casino could generate tens of millions in gambling dollars, which is taxable, and keep patrons from heading to Indiana. Likewise, Hendon has argued that his proposal for five new riverboats spread across the state, including two for Chicago, could bring in over a billion dollars in new revenue for Chicago. Regardless, both candidates' plans are facing harsh criticisms.
You can find out more on this story at GamblingCompliance.com.
Don't forget to follow us on Twitter and "like" us on Facebook.