The Nightly Turbo: Harry Reid's Internet Poker Bill Drama, Klipsch Signs Sponsorship Deal with WSOP, and More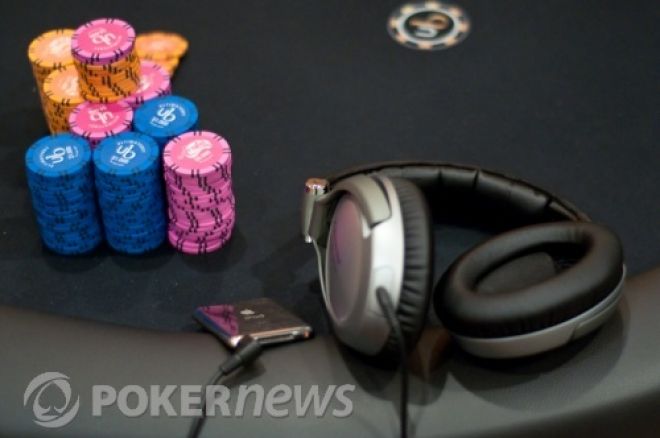 It's the middle of the week. You're halfway to the weekend you were looking for. So to get you there, we're going to get you the top poker news stories of the day, and let you get back to beating the fish. What's on tap? Well, there's a lot of drama surrounding Harry Reid's Internet Poker, we'll tell you about the World Series of Poker's newest sponsor and it just may be music to your ears, and much more.
In Case You Missed It
The first season of the PokerStars North American Poker Tour is in the books and now we're looking ahead to the kick off of Season 2 at PCA. We've compared the NAPT's first season to the first seasons of other PokerStars-sponsored tours and one of them had a huge first season. Find out which one in Part III of A Look at the PokerStars.net NAPT's First Season.
Day 1b of the PokerStars Asia Pacific Poker Tour Sydney didn't attract as many players as Day 1a, but, there's one more Day 1 flight waiting in the wings. Who's got the chip lead so far? You'll have to read the APPT Sydney recap to find that out.
The WPTDBFDWPC is down to its final table of six. Vanessa Rousso is leading the charge, but the final table is stacked with well-known, tough opponents. World Poker Tour Five Diamond Classic Day 5 has the final table lineup.
Working on your Rush Poker phone now that you can play it on your phone? Check out our latest strategy article where Mike Leah discusses his Rush Poker Turbo FTOPS win.
The PokerNews Podcast is back! We know you were missing it, but sometimes, you have to go without something just to realize how much you need it in your life. Kristy Arnett and Matthew Parvis were joined by Jonathan Little to discuss the WPT Five Diamond and Peter Eastgate in the newest podcast.
Having trouble figuring out what to buy your poker playing buddy for the holidays? Don't sweat it, if you can't find something in the PokerNews Gift Guide, you're too picky.
Tom Dwan and Daniel Cates met Tuesday for a little $200/$400 no-limit hold'em action on Full Tilt Poker. Find out how the latest "durrrr" Challenge session went in our recap.
Harry Reid's Internet Poker Bill - The Saga Continues
Despite reports earlier today from the Las Vegas Sun, saying that Harry Reid would not be adding passing online poker legislation to his to do list this lame duck session, it seems that Harry Reid's Internet poker bill is still circulating around Congress.
Key opponents of the bill, Spencer Bachus, Dave Camp, and Lamar Smith, the three congressmen who wrote a letter to Reid and Minority Leader Mitch McConnell last week, will be chairmen next year, and will be in a position to block any efforts from Reid to pass any similar legislation.
Guess we'll all just have to wait and see what Congress does in the next few days.
Find out more on this topic by heading over to LasVegasSun.com.
Do You Hear What I Hear
"Hoodie, check. iPad, check. Headphones, can't leave without those because you have to drown out the fish some how." We're pretty sure that's how it goes in most poker player's heads when they head to a poker tournament. Well, in case those headphones get lost, or crushed after a bad beat, you can now get a new pair just before the next tournament at a World Series of Poker event. Leading global speaker manufacturer Klipsch and the World Series of Poker have announced a strategic sponsorship whereby Klipsch will play a central role in on-site and online WSOP play.
"Connecting with the WSOP's large following and educating them on our different audio solutions presents such a wonderful opportunity for Klipsch," Klipsch President Paul Jacobs said. "We can't wait to help WSOP participants and fans get and stay in the zone with our headphones and prove we're their best bet when it comes to high performance audio."
The Klipsch brand will be prominently featured at all WSOP events, and poker players will be able to purchase Klipsch products at the events.
"Poker players have an unofficial uniform and it starts with a great pair of headphones," WSOP Vice President Ty Stewart said. "Klipsch understands poker culture is pop culture and we plan to introduce them to an entire segment of influencers."
WSOP.com has more about this strategic sponsorship.
California Poker Bill
A intrastate poker bill has been introduced in the California state senate by Senator Louis Correa. The bill, backed by the San Manuel Band of Mission Indians and the Morongo Band of Mission Indians, is a revised version of the draft the Morongo tried to find a sponsor for in September 2009.
This legislation would put a licensed entity — one that owns a California casino or card club — in charge of the intrastate poker site. Supporters of the legislation see it as a way to keep revenues in the state and protect online players.
David Quintana, political director of the California Tribal Business Alliance called it "the equivalent of the state passing a bill to give Chevron the sole right to operate gas stations in California."
PE.com has more.
P-p-p-poker Face
The President of the United States has to have a pretty good poker face right? What with negotiating and facing serious issues, you have to be calm under pressure. Randall Lane of The Daily Beast seems to think that Obama's poker playing style might have a bit to do with his concessions against the Republicans recently.
"Barack was a very good, very conservative poker player," Larry Walsh, executive of Will County, outside Chicago said. "He wasn't a bluffer. When Barack was betting, you could pretty much know that he had a hand."
Do we need to send Tom Dwan in there to teach Bluffing 101 to the Chief? We're sure Dwan wouldn't say no. After hearing about Obama's style of play, though, Phil Hellmuth thinks it could be just one big ploy by the President. "You want your opponents to underestimate you. The power players who play for every pot and never blink, all of sudden find themselves, after one big hand, in the taxi home, broke, trying to figure out what happened."
Find out more about Obama's poker game at The Daily Beast.
WTF Mate?
If you don't understand Australian, you might not understand what's going on in this video. And, yes, we know Australian is not a language, but it might as well be after you listen to this.
Like us on Facebook, and follow us on Twitter for up-to-the-minute news.