The Nightly Turbo: Poker After Dark Returns, Daniel Cates' Awesome 2010, and More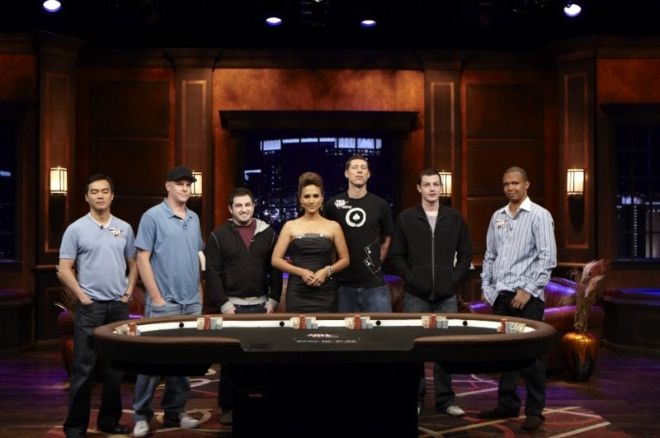 Presents were opened, bottles were popped, and you've read our top ten stories of 2010, but now it's time to get back to the daily grind. We hope you didn't miss us too much! For the first Nightly Turbo of 2011, we're going to give you a preview of this week's Poker After Dark, tell you who had an amazing 2010 in online poker, and more.
In Case You Missed It
She checks out everyone else's grind stations, but in the latest Sunday Grind, Kristy Arnett opens the doors to her house and lets you see where she does her online poker playing. Check it out.
Nine players began 2011 with six-figure scores on Sunday, and plenty of others padded their bankrolls a little. Check out the Sunday Briefing for the first round of Sunday Majors results of the new year.
The second installment of the PokerStars SuperStar Showdown saw one of our very own take on the mysterious Isildur1. Did Tony G start off his new year right or was he sent off on his bike? You'll have to read the SuperStar Showdown recap to find out.
Right before the end of 2010, it was announced that Phil Hellmuth and Annie Duke would be parting ways with UB. In the past few days, there has been plenty of speculation as to which sites they would sign with and who would fill the void they left on Team UB. In our latest Op-Ed, Chad Holloway takes a look at the options.
Poker After Dark: Big Heat
The seventh season of Poker After Dark kicks off Monday with a series titled Big Heat, and the heat will surely be turned up with the buy-in increased to $100,000 for this freezeout rather than the traditional $20,000. It's winner take all, so one of the six players will walk away with $600,000.
The lineup this week includes PAD regulars John Juanda, Erick Lindgren, Huck Seed, Tom Dwan, and Phil Ivey. Phil Galfond will be the new kid on the block, making his first appearance on the PAD set.
Only Ivey and Juanda have ever won on PAD, each with two wins, while Lindgren, Seed, Galfond and Dwan will be looking for their first win on the show. This will be Dwan's second PAD freezeout. Although he's been on the show plenty of times, it was mostly in cash games.
Poker After Dark airs Monday through Friday on NBC at 2:05 a.m., and a special director's cut will air Saturday night at 1:00 a.m. Be sure to check your local listings though; you know how things sometimes change.
Find out more about this week's episodes at PokerAfterDark.com.
A $4.9 Million Year
2010 is done and dusted and after all the chips exchanging hands this year, there can only be one player who sits at the top with the title of winningest player of the year. No, it isn't Phil Ivey or Tom Dwan, but a virtual unknown at the beginning of 2010 who blossomed into a major contender on the online poker scene — Daniel "jungleman12" Cates.
Cates secured this honor by a comfortable margin, finishing the year a $4.9 million winner — $1.1 million in pot-limit Omaha and $3.8 million in no-limit hold'em. He peaked in the first week of December at $5.3 million, but we all know how poker can be.
Andreas "skjervoy" Tobergsen finished out the year with $3.7 million while Tom Dwan and Phil Ivey finished just below Tobergsen with $3.6 million and $3 million respectively.
Head on over to HighStakesDB.com for more.
PTR Players of the Year
The votes are in and Poker Table Ratings has released its top players of 2010. Now, you have to remember, these honors were voted on and not based on results. The Nosebleeds Hold'em player of the year is IHateJuice with 155 votes. Daniel "jungleman12" Cates came in second place with 121 votes, and Tom "Durrrr" Dwan rounded out the top three with 45 votes.
Over in the Nosebleeds Omaha player-of-the-year category, Phil "OMGClayAiken" Galfond took top honors with 58 votes. Isildur1 came in second with 44 votes and Andreas "skjervoy" Tobergsen finished in third with 26 votes.
PokerNews Strategy's Randy "nanonoko" Lew finished in the top ten in a few of the categories, his highest showing coming in the Mid Stakes Hold'em player-of-the-year category where he finished second.
PokerTableRatings.com has all the results.
Over the Limit
We'll be the first to tell you that we don't mind a player who likes to throw back a couple of vodka tonics at the poker table, but there has to be a limit. Apparently, 42 beers in a 17-hour poker session is the limit at Star City Casino in Sydney, Australia. Over the weekend, a player was downing five beers every two hours and it wasn't until the table closed at 7 a.m. that anyone knew he was intoxicated. This makes us scratch our heads a little.
"He didn't appear to be steady on his feet. He was dozing off at the table and the manager had to help him collect his chips so he could cash them in," said one of the servers responsible for serving the player.
Star City has been fined AUD$10,000 for violating liquor laws but appealed the fine, saying that they could not tell the player was as intoxicated as he was because of his "poker face." The three staff members who served the man were either fired or demoted, and it looks like the fine has been reduced because of Star City's good record in dealing with intoxicated guests (we're sure it wasn't the "poker face" defense).
If you'd like to read more on the story, you can check out Australia's Herald Sun.
Right now not only can you get a free $50 bankroll from PartyPoker and PokerNews, you will also get a free month at PokerNews Strategy. Hurry as this is a limited offer, but the great thing is you do not even need to make a deposit at any stage, just go to our PartyPoker Free $50 Page and follow the walk-through.