PokerNews Debate: Are $250,000 Buy-in Events Good or Bad?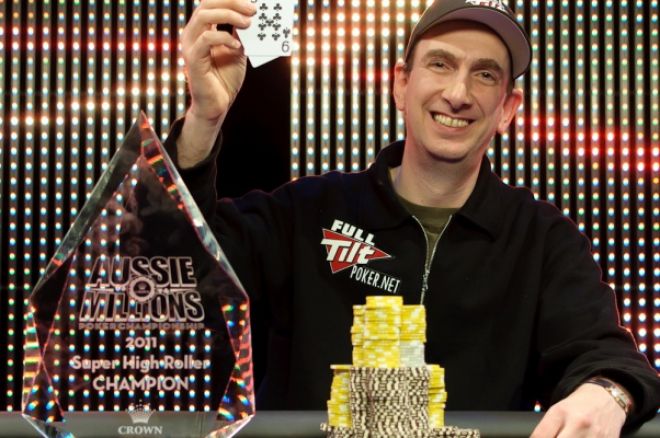 A new level of poker tournament was reached at the 2011 Aussie Millions this past January. The introduction of a massive $250,000 buy-in event had the entire poker community gawking. It also sparked plenty of debate as to whether or not these enormously high buy-in events should have a more permanent place on the tournament circuit; where they should rank, if at all, on the all-time money list; and whether they are good for the game itself. PokerNews' Rich Ryan and Donnie Peters debate the topic by breaking down both sides of the argument.
Are $250,000 buy-in events and the like good for poker?
Rich Ryan believes they are good for poker
The buzz surrounding the $250,000 Super High Roller at the Aussie Millions was sensational. The Two Plus Two thread has had over 40,000 views in less than two weeks, and players were all extremely excited to play the event.
"We play a lot of tournaments throughout the year and I don't remember feeling the excitement that we felt today," Erik Seidel told Lynn Gilmartin after the tournament. "There's a lot of money at stake and it's going to be over in a few hours."
Tom Dwan later tweeted he believes there should be five yearly $250,000 events held in Melbourne, Monte Carlo, Las Vegas, London and Macau.
There is clearly a market for these events, and if players are willing to pony up the money, then bring 'em on. For players who think the buy-in is too high, there are various options. One can satellite in, piece yourself off, or simply don't play. There are many phenomenal players who don't have the bankroll to directly buy into a $250,000 tournament, but that doesn't mean they shouldn't be run.
Additionally, if history is any indication, there are plenty of wealthy businessmen willing to play high-stakes events. With the very small yet elite fields, tournaments only take a day or two, so the whales don't have to worry about playing for a week. Furthermore, the higher the buy-in the more enticing the event looks to people with mind-boggling amounts of money. Even Phil Ivey hesitates to play non-WSOP events if the top prize is less than $1 million.
The fans and players both loved the $250,000 event in Melbourne. If the other series are smart, they'll jump on the bandwagon and up the ante, as well.
Donnie Peters believes $250,000 buy-in events shouldn't start popping up left and right
The poker economy seems to be turning around in 2011. With two $100,000 buy-in events already in the books boasting successful fields and one $250,000 event attracting 20 players, the players aren't afraid to throw money around. Just because the field sizes have been greater than expected in these events doesn't mean they should start to pop up all over the place. For one thing, many players in these events didn't have the money to play in the first place. They ended up piecing themselves out or simply overstretching their bankrolls. If more of these events show up along the tournament circuit, it's only going to cost players a ton of money.
In addition the more events there are, the less prestigious they become. Today, there are tons of $5,000 and $10,000 buy-in events all over the world. There's one or more every week somewhere on the globe, and they don't have the same lure they did a couple of years back. Forcing more $250,000 buy-in events into the poker world will only cause the one that Seidel won in Melbourne to lose its luster. It will also cause players to be much more selective with the ones they go and play. If there happens to be a handful of $250,000 buy-in events during the year, how many players does one honestly think will plan to travel and play all of them? Dwan, Ivey? Surely most of the players will only select one, maybe two, of the events to take a shot at, thinning the fields in these events.
Forking over $250,000 for a tournament buy-in just seems absurd. We've yet to see how this event will be received by the common poker fans when it airs on television. It certainly won't have the same effect as Chris Moneymaker winning the 2003 World Series of Poker Main Event where the field sizes in these events explode because people want to get in on the action. Many may even look at it and think how sick and degenerate poker players are for shelling out the prize of a house in a poker tournament.
One of these events a year is special, but more won't be good. Maybe even just having one of these every couple of years similar to the World Cup would be best. Just look at how prestigious that title is — and it's only held once every four years.
Should these events be considered for player rankings and all-time money lists?
Rich Ryan believes they should be included
Why should we penalize players for playing high-stakes tournaments? If the event is closed that's different, but if it's open then there's no doubt it should count toward the all-time money list. Let's face it, the list's worth lies in the eye of the beholder. Other than marketability, there is no direct value in being ranked near the top — and if you're at the top and don't have a deal, then you've either overstayed you're welcome or moved on from the game.
In terms of legacy, if anyone thinks that the all-time money list is the only variable at play, then they're extremely stubborn and no friend to cash-game players. Like player-of-the-year rankings, there are numerous elements that go into a player's legacy or "life ranking." Chip Reese and Stu Ungar are only ranked 89th and 93rd, respectively, on the all-time money list — and that's if you exclude invitational events and buy-ins of more than $50,000. Those two are easily among the select few greatest players ever.
To make a sports analogy, let's look at Hall of Fame quarterbacks Joe Namath and Dan Marino. Namath played 13 seasons in the NFL, threw more interceptions (220) than touchdowns (173) and sits 49th in all-time yards with 27,663. His modest numbers are overshadowed by his victory in Super Bowl III, however, where he and the New York Jets made history as the first AFC team to win the Super Bowl. Marino, on the other hand, never won a championship, but is second in all-time passing yards (61,361) and touchdowns (420). His skill and precision were stunning, and despite the fact he never won a ring, he is clearly one of the best quarterbacks ever.
It is impossible to compare Marino and Namath — it's apples to oranges — so instead we appreciate both players for their individual achievements and their impact on the game. The same principal applies with poker. Let's not adjust the rankings because a player won a super high-roller event. Instead, let's judge the score for what it's worth and look at other variables when evaluating the game's best players.
Donnie Peters believes these events should be left off the all-time money list and in a league of their own
As the debate grew within the poker world about this event and whether or not it should be allowed on the all-time money list, Hendon Mob addressed the issue and asked: "Phil Ivey and Daniel [Negreanu] have poker result portfolios to die for, but should someone with a short career come along and play a $10 million buy-in event, perhaps in Macau or somewhere like that, should a new player be entitled to jump straight in at number one?"
The answer should be no. If the answer were yes, what's to stop a group of friends from organizing a special $25 million buy-in event and playing it out just so the winner could get his name at the top of the all-time money list. If questioned where his winnings went, there's nothing in the rule books that say you can't go ahead and give the prize money to whomever you'd like even if that means giving it back to your friends you beat to achieve the number one ranking.
Yes, we know this event is listed as "open," but is it really an open event? In the case of the $250,000 buy-in event at the 2011 Aussie Millions, this event was added to the schedule on a whim midway through the series. Many players who may have gotten down to play the event, simply didn't have adequate time to make it to the event, meaning it was somewhat "closed" to those who were on hand in Melbourne already within a short distance or simply in the know about the tournament's happening. If an event is to be listed on the all-time money list, it should be included in the event's schedule like all the others events are far in advance.
These events could simply be listed in a ranking list all their own, especially if there are going to be more of them popping up in the future. Hendon Mob has added a few more lists to better sort the rankings, and this will surely help distinguish these types of things.
Also, events with such massive buy-ins should be left off player-of-the-year rankings, especially ones that take buy-in amounts in account as $250,000 will skew things quite a bit. For player-of-the-year lists, it's only fair that the majority of poker players all have an equal shot.
As always, follow us on Twitter and become our fan on Facebook for the best up-to-the-minute news.