The Nightly Turbo: Young Lands Seat in NBC Heads-Up, Bellagio Chip Thief Caught, and More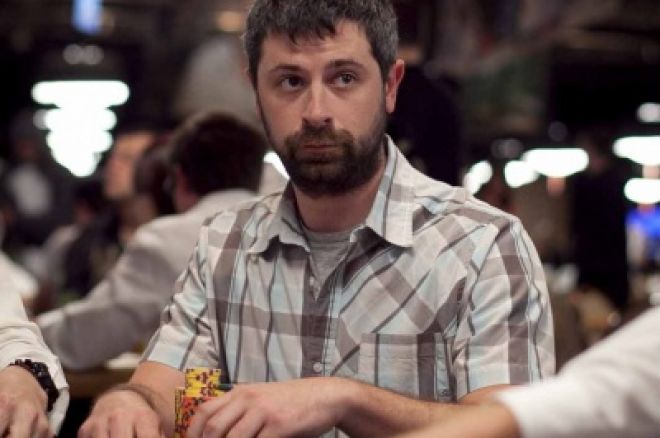 It has been another busy 24 hours in the poker world. A seat in the NBC National Heads-Up Poker Championship has been claimed. A friend of poker has passed. Another tournament, this one in Italy, has begun. And two thieves of poker chips — real and virtual — have been nabbed. Here's what's been happening...
In Case You Missed It
The 2011 Aussie Millions broke records left and right, making for a memorable month in Melbourne. PokerNews' own Lynn Gilmartin has collected video highlights chronicling a most exciting month of poker in her hometown. Click and watch.
The 2011 Borgata Winter Open Championship Event completed its third day of play on Wednesday with 37 of the original starting field of 718 still with chips. All of those returning will be chasing chip leader Or Abramov when play resumes. Here's the latest from Atlantic City.
The sixth installment of the UltimateBet Online Championship series recently concluded. In the end, more than $5 million was divided among those cashing in the 28 events. Rich Ryan recaps highlights from UBOC 6.
There was an incident last week at the Holland Casino Dom Classic in which a player, Kadir Karabulut of Turkey, was disqualified after being suspected of employing a colleague to help him gain an advantage at the table. Read about what is being reported as having happened at the Holland Casino here.
Justin Young Qualifies for NBC National Heads-Up Championship
Justin Young has won his way into the field of 64 for next month's NBC National Heads-Up Championship after outlasting Eric "Basebaldy" Baldwin in a heads-up final to claim the seat.
The win was doubly sweet for Young, a bit of payback versus his good friend Baldwin who last November defeated Young heads-up at the final table of the NAPT Bounty Shootout in Los Angeles.
Young claims the $25,000 seat for winning a $230 qualifying event that ran as part of the 2011 Caesars Winter Poker Classic. The event began with 217 players playing a multitable tournament until just 16 remained, among them Kathy Liebert, Jonathan Friedberg, Sam Grizzle, Baldwin, and Young. Those 16 then played out a heads-up tournament after the fashion of the NBC tourney, with Young ultimately coming out on top.
Stay tuned over at NBC.com for the latest news regarding the Heads-Up Championship.
Oldest WSOP player Jack Ury dies at 97
The poker world said goodbye to a dear friend today after hearing the news that Jack Ury had passed away Tuesday evening in Terre Haute, Indiana, just a few weeks shy of his 98th birthday. The nonagenarian participated in the World Series of Poker Main Event each of the last four years, setting a new record with every appearance as the oldest-ever WSOP participant.
Ury will be remembered fondly, with most of those who played with him or who reported on WSOP Main Events over the past four years having stories to tell of Ury's humor and heart.
Last summer the former postal worker and U.S. Navy veteran made it through Day 2 of the Main Event, though his short stack was blinded off at the start of the third day of play. Here's one hand from Day 2 which epitomized Ury's inspiring spirit, a hand in which the father, grandfather, great-grandfather, and great-great-grandfather was all in with pocket kings and survived.
"I never give up," said Ury after the hand.
Read more about Ury's life and offer condolences over at the Callahan-DeBaun Funeral Home website.
Bellagio chip thief caught
Late last night, Las Vegas police arrested Anthony Michael Carleo after the 29-year-old attempted to sell undercover officers high-value chips stolen from the Bellagio Resort and Casino last December. The Las Vegas Review-Journal reports that Carleo is the son of Las Vegas Municipal Court Judge George Assad.
The robbery — the audacity of which inspired some to evoke comparisons to Oceans 11 and its sequels — took place just before 4 a.m. on December 14. The suspect parked his still-running motorcycle by the casino's north entrance, went inside to a craps table where he drew a pistol, and soon left the premises with $1.5 million worth of chips in denominations ranging from $100 to $25,000.
In early January, the Bellagio discontinued the $25,000 chips, giving patrons until April 22 to redeem them. At the time, MGM Resorts spokesman Alan Feldman noted that the $25,000 chips had already been switched out at the tables within an hour of the robbery. The LVRJ does not specify which denomination chips Carleo was trying to sell to the undercover officers.
A similar robbery had taken place the previous week at the Suncoast Casino, a heist thought to be perpetrated by the same individual.
The Las Vegas Review-Journal has more about last night's arrest.
Cards in the air at WPT Venice
The ever-journeying World Poker Tour has touched down once again, this time in Venice, Italy, where the WPT Venice event presented by PartyPoker has begun.
The five-day, €3000 + €30 buy-in tournament has attracted several familiar faces, among them Max Pescatori, Fabrice Soulier, Claire Renault, Claudio Rinaldi, and Alessio Isaia.
Other events scheduled to take place over the next few days at the Casino di Venezia include a €10,000 High Roller event taking place February 7-9, as well as a series of charity heads-up matches involving Pescatori, Dragan Galic, Giovanni Rizzo, and Italian football star Francesco Totti.
Check the PartyPoker blog for live reports in English and Italian.
Like us on Facebook, and follow us on Twitter for up-to-the-minute news.