The Nightly Turbo: Wynn Classic Final Table, Randy Couture Plans Poker Run, and More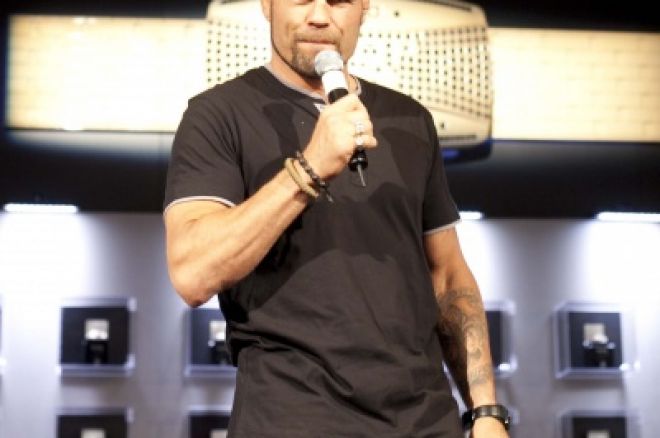 While most of you are concerned with your March Madness brackets, nine players are concerned with the $300,000 they stand to earn by winning the Wynn Classic. We'll tell you who's at that final table, give you info on UFC Hall of Famer Randy Couture's charity poker run, and more in this edition of the Nightly Turbo.
In Case You Missed It
Zynga held its first PokerCon over the weekend in Las Vegas. Players from all over the world attended the event at the Palms Casino, and Sarah Grant was there to check it out. She wasn't just there to scoop up all the swag that was handed out though; she did a little work and brought it to us in the form of a new video for the Sin City Series.
If you're headed to Las Vegas for the World Series of Poker this summer, you're probably looking for a place to stay. For those of you on a budget, Lynn Gilmartin brings you her picks of the places to stay that won't break the bank in the latest Around the World with Lynn.
What does the MiniFTOPS XIX have to do with football stadiums and Charlie Sheen? You can find out in MiniFTOPS XIX by the Numbers.
Allegations have been made regarding the UltimateBet superuser scandal. Joe Sebok addressed some of them on TwoPlusTwo, and Haley Hintze offers some insight in her latest blog post.
Wynn Classic Final Table
The 2011 Wynn Classic Main Event is down to a final table. Two hundred and twelve players forked over the $5,000 buy-in, creating a prize pool of $1,028,200. Some notable eliminations before the final table was set included Phil Hellmuth in 19th place ($7,712), Audley Harrison in 14th place ($12,853), Billy Kopp in 12th ($15,423), and Men "The Master" Nguyen in 11th ($15,423). David Woo's elimination in 10th place created the official final table.
Still in the running for the $318,738 first-place prize and 2011 Wynn Classic title is Eric Froehlich, who is leading the way with 850,000. Annette Obrestad, Carter King, Tim West, John Kim, Matthew Waxman, Francisco Braga, Max Steinberg, and Vasili Lazarou have all made the final table, as well, and are guaranteed at least $17,944, but of course, will be fighting for the first-place prize and title.
The final table kicks off at 4:00 p.m. PDT (2300 GMT) Thursday, and the Wynn Poker Room Twitter page is sure to have updates.
If It's Got Two Wheels, and You're Man Enough...
UFC Hall of Famer Randy "The Natural" Couture is holding a charity poker run on May 7.
The six-time UFC Champion created the Xtreme Couture G.I. Foundation to honor the veterans of America's armed forces and raise money for those wounded in action and their families. Last Christmas, the foundation was able to give 10 military families, $10,000 each.
"When I came back, [from visiting the troops in Iraq in 2005] I wanted to find some way to help the ones that were hurt," Couture said in an interview on ESPN. "Having been part of the military, I know how the bureaucracy works. Things fall through the cracks. I felt like we could put on some events and raise some money and some awareness. With a small organization like this, you can put that money directly into the hands of the people who need help."
The poker run takes place in Las Vegas and starts at O School Choppers. Entry is $25 per rider and $10 per passenger. If you aren't familiar with a poker run, essentially, participants will ride their motorcycles from point to point and pick up playing cards until they have a full poker hand. The player with the best poker hand at the finish, wins.
Scheduled to participate is the cast of The Expendables, Chris Angel, MMA referee "BIG" John McCarthy, Sean Flanery, and others.
To find out more, check out the Xtreme Couture G.I. Foundation website.
UB Has Heart(land Poker Tour)
UB.net has announced that it will be joining season seven of the Heartland Poker Tour as its sponsor. The HPT is broadcast 52 weeks a year and reaches over 100 million U.S. homes.
"What HPT has been able to do is fantastic. The best kept secret in poker with their homegrown events and national television exposure, they simply get bigger and better every year out. For us, to come in and back their product, we know we'll help to shine a spotlight on HPT like never before. So, expect more players having some fun at the HPT tables and overall richer prize pools across the tour," Team UB Pro Joe Sebok said.
UB will be prominently featured in all episodes of the season seven HPT coverage, as well as on-site at the HPT events. The site will also host a series of online tournaments for players to win entries to the HPT and other prizes.
"Tiffany Michelle and Maria Ho are fan favorites after playing a few HPT events. We're looking forward to seeing them more often, as well as other members of Team UB," HPT executive producer and co-founder Greg Lang said.
You can read more about this sponsorship in the press release.
WPT Vienna - Watch it Live
The World Poker Tour Vienna kicks off Friday, March 25 at Montesino Card Casino in Austria. The €3,200 + €300 event has two Day 1 flights and runs through March 29.
Plenty of notable players are expected to show up, including PokerNews' own Tony G, Sam Trickett, Leo Margets, Roberto Romanello, James Bord, and Dave "The Devilfish" Ulliott.
While you'll be able to find the updates for the event on the PartyPoker Blog, what you should know is that the final table will be streamed live on the PartyPoker Blog. Mike Sexton and Jesse May will be providing the commentary and viewers will be able to see all the action, including the hole cards. It all kicks off at 1300 CET (6 a.m. PDT) on Tuesday March 29.
The PartyPoker Blog has more.
Aloha Online Poker
It's being reported that Hawaii is the latest state to consider legalizing online poker, and bringing live poker to the state, as well. The bill that passed through its initial committees Wednesday is aimed at boosting tourism and the economy on the island. It is now headed to the House Finance Committee.
The legislation, as is, would only allow Texas hold'em and Omaha variations of poker, and defines poker as a game of skill rather than chance. Video poker, and games played against a computer or the casino would still be banned.
"Maybe this is a way to help attract mainland visitors back to Hawaii, plus you get the free promotion of this being televised," said Rep. Angus McKelvey, chairman for the Economic Revitalization & Business Committee and sponsor of the bill. "The revenue to the state potentially could be huge."
Not that we needed another reason to go to Hawaii, but this sure wouldn't hurt. CanadianBusiness.com has more.
I'll Be Back
While at the PokerStars European Poker Tour Snowfest, Laura Cornelius got to thinking about things Austria is famous for. Some of the pros gave her a couple of ideas, but none of them really got it, until she helped them out.
Are you following us on Twitter? What about Facebook? Have you clicked the "like" button yet? If you have, then thanks, tell your friends. If you haven't, shame on you. Go do it - now.
If you have the skills, we have $55,000 in added prizes. PokerNews Skills Challenge at Full Tilt Poker is a series of money added tournaments every Wednesday night which culminates in a $20,000 Freeroll.