The Nightly Turbo: WPT Extends Bellagio Contract, Commerce Plans Facebook Tourney, and More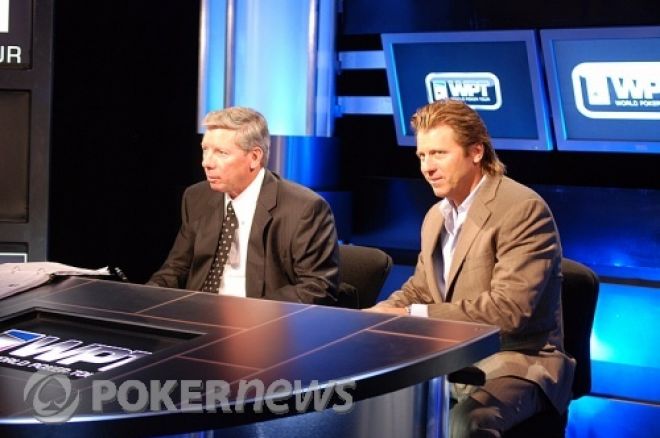 If you're looking for the top poker news stories of the day, then you've come to the right place. Tonight we'll tell you about the contract extension between the World Poker Tour and the Bellagio, how you can get into an exclusive tournament at Commerce Casino, and more.
In Case You Missed It
Droves of poker players will be headed to Las Vegas soon for the World Series of Poker, but its not all work in the summer. For those of you ready to party, check out the latest Around the World with Lynn Gilmartin and see what you're up for.
The PokerStars European Poker Tour Grand Final is live-streaming its final table. Want to find out when you can watch it? Here's the schedule.
The PokerStars SCOOP is in full swing. Have you missed any of the results? Here's a look at Day 3 and 4 SCOOP results.
The World Series of Poker is just around the corner and we're making rookie predictions for the summer. Kyle Cartwright is our first one. Check out the Rookie Roundup and let us know what you think.
There's a new PokerNews Podcast out. Maria Ho joins the team to discuss her departure from UB, and all things Black Friday.
Extending the Contract
With the World Poker Tour World Championship just days away, the WPT and Bellagio have agreed on a contract extension through the end of WPT Season XI. This means that the WPT World Championship and Doyle Brunson Five Diamond World Poker Classic will remain staples at the Bellagio through Season XI.
"WPT and Bellagio have been together since day one," said Adam Pliska, WPT president. "In 2002, Gus Hansen won the very first WPT title at the Five Diamond and we've been making poker history at Bellagio ever since. We are proud to continue our association with one of the most elite gaming resorts in the world."
Also in the press release was the announcement that the WPT Super High Roller will be filmed for television, making it the highest buy-in televised event in U.S. history.
"Bellagio and WPT have always had a strong alliance in the poker industry," said Doug Dalton, director of poker operations for Bellagio. "We anticipate a competitive field for the 2011 WPT World Championship and look forward to a successful future."
Want to read the whole press release? You can, at WorldPokerTour.com.
"Like" Commerce - Play Poker
The Commerce Casino is holding a poker tournament. We know that's not news. What is news, though, is that it's Facebook exclusive. To play in the $50+$10 buy-in event, players must have a Facebook account and like the Commerce Casino Facebook page before May 20, 11:59 p.m. PDT. There's $10,000 guaranteed and first and second place will receive an iPad.
It all kicks off May 21 at 1 p.m. PDT and players must RSVP to the California State Poker Championship Facebook Fan Exclusive Tournament on the Events Tab before May 20 at 11:59 p.m. PDT, as well.
Want to play? Go "Like" Commerce Casino and RSVP.
WSOP Slippin' Up
While we freaked out at the photo that the "WSOP Staff" decided to use to accompany this news, we figured we'd report it anyway. If you followed our Live Blog of the WSOP conference call, then you probably already know that the Dearfoams has become the official footwear sponsor of the World Series of Poker. (We obviously weren't consulted because we would have picked Christian Louboutin.)
"We are very excited to partner with the WSOP," said Mark Zobel, V.P. of marketing for the R.G. Barry Corporation, the parent company of Dearfoams. "Dearfoams will enable players at the WSOP Main Event to 'make themselves comfortable' at the table, allowing them to worry about their hand, not about their feet."
Complimentary slippers will be provided to entrants to the WSOP Main Event, as well as to other selected events, including the Ladies Championship. WSOP dealers and ESPN's camera crew are also getting the slipper treatment.
"Our champion last year won nearly $9 million while wearing flip-flops, so we know poker players covet comfort in their pursuit of glory," said Ty Stewart, WSOP vice president. "But let's face it, flip flops aren't so comfortable. So we have partnered with Dearfoams – who makes the world's most comfortable slippers – so players can now feel truly comfy as they pursue their dreams of winning the WSOP and going on to live a life of leisure where it will be appropriate to wear Dearfoam slippers 24/7."
Find out more in the press release over at WSOP.com.
Welcome to the Team
The Federated Sports + Gaming team is expanding. It was announced Thursday that Michael Craig was hired as the executive editor of the website that will support the new professional poker league.
"Michael's reputation and distinguished background as a serious and highly-regarded writer made him a perfect fit for our company and league," said Annie Duke, commissioner of the league. "He shares our commitment to celebrating the best live tournament players and we welcome Michael to the team."
All content and programming plans will be managed by Craig, who will be responsible for assembling teams of writers, bloggers, videographers, and tournament reporters.
"I'm thrilled to have a platform to leverage all of my poker knowledge and writing and bring it to a new level and even wider audience," Craig said. "The poker world is long overdue for its own professional league, and I'm honored to be part of the team launching what I believe is the future of the game."
If you want to find out more about the FS+G professional poker league, head on over to FederatedInc.com.
In Danger
Last month, the area known as the Ohio River Basin saw record amounts of rain, causing the Mississippi river to flood, and devastate towns and cities in its path. One such city is Tunica, Mississippi, where casinos, including Harrah's Tunica, have been shut down. Harrah's Tunica has been closed since May 1, and is expected to reopen sometime near the end of the month.
The casinos generate $85 million a month in taxes and as of Wednesday, 13 casinos in Mississippi were closed. According to Eddie Williams from the Mississippi Gaming Commission, a 14th was set to close on Thursday.
"We've created a barrier around the perimeter of the casino and hotel," said George Goldhoff, general manager of the Gold Strike Casino. "As of now, we remain dry inside that perimeter."
According to the Commission's deputy director, daily assessments of the casinos are being made by the Gaming Commission.
If you'd like to find out more about the flooding, head on over to CNN.com.
ESPN Inside Deal
The ESPN Inside Deal team is back with a new episode highlighting the recent news in the poker industry. Jon Anik, Bernard Lee, and Andrew Feldman discuss the recent UB developments and the WSOP-Europe schedule. They also talk to Eric Baldwin about his recent departure from UB.
Why don't you take a minute out of your day and follow us on Twitter. It's the best way to stay up to date with all the top poker news stories.