The Nightly Turbo: Federated Sports + Gaming Make Schedule Change, ESPN's The Nuts, and More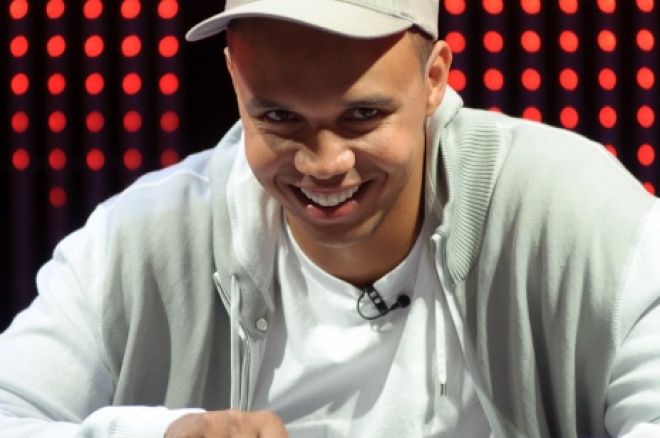 It's Opening Day. The baseball schedules are set. A schedule we thought was set, but has changed is the Federated Sports + Gaming poker league schedule. We'll bring you the new one and tell you why the changes were made, give you the scoop on who is The Nuts this month (hint: look at the above photo), and more.
In Case You Missed It
Wondering what to do when you're short-stacked in a hand and have a big draw? Yea, we wonder about that too sometimes. Luckily, Full Tilt Poker's Jennifer Harman analyzes a hand she played on Poker After Dark, and gives us some insight.
Are you headed to Berlin for the next stop on the PokerStars European Poker Tour? If you are, check out the latest Around the World with Lynn for a guide to the city, if you're not, check it out anyway and see what you're missing.
Should electronic poker tables and regular poker tables be classified the same? That's the ongoing debate right now in Wisconsin.
PokerStars and Wynn Resorts announced a strategic alliance last week. This alliance has sparked hope in Washington that online poker legislation could be possible on the federal level.
Federated Sports + Gaming Accommodates Players
We brought you the announcement of the schedule for Federated Sports + Gaming's poker league schedule in February, but things have changed. To accommodate players and make it easier for them to play in as many events as possible, some changes have been made to the schedule. The structure and location, Palms Casino Resort, have remained the same.
"The poker calendar is increasingly crowded and we will do our part to minimize, as much as possible, scheduling conflicts and the overlap among key live events," Annie Duke, Commissioner of the new Federated League said.

Revised Federated Sports + Gaming Season 1 Tournament Schedule

| Event | Pro-Am | Charity Event | Main Event |
| --- | --- | --- | --- |
| Event #1 | August 5-8 | August 7 | August 9-12 |
| Event #2 | September 2-5 | September 4 | September 6-9 |
| Event #3 | December 9-12 | December 11 | December 14-18 |
| Event #4 | January 27-30 | January 29 | February 9-12 |
| Championship | — | — | February 13-14 |
Read the press release over at FederatedInc.com.
The Nuts
The latest installment of ESPN's The Nuts is back. The monthly blog post ranks the best players in poker at the moment. The Panel includes PokerNews' Editor-in-Chief Matthew Parvis, PokerNews' Tournament Reporting Manager Don Peters, ESPN's Andrew Feldman, Gary Wise, and Bernard Lee, among others.
It's the same old song and dance this month in the number one spot of ESPN's The Nuts rankings. Phil Ivey, is holding the top spot, with nine No. 1 votes from the panel. One panelist gave Jason Mercier a No. 1 vote, which we kind of cocked our head at, but we'll let you make your own assumptions. Erik Seidel moved up from sixth to second with his NBC National Heads-Up Poker Championship win, bumping the aforementioned Mercier to third.
New to the rankings this month are Vivek Rajkumar in ninth and Daniel Cates in tenth. "He's cracked the "Durrrr" code and crushes him heads-up along with anyone else that steps in his way. He's also up over $1.6 million this year online," Peters said about Cates.
Check out the entire list at ESPN.com.
World Poker Tour Bratislava
The World Poker Tour is European country hopping at the moment. You all know that WPT Vienna has just wrapped up and now the WPT is in Bratislava, Slovakia.
Registration for the event ends when Day 2 begins on Friday, but Wednesday's Day 1a attracted 92 players. Only 59 made it through the day, and that list includes Sam Trickett, Roberto Romanello, Florian Langmann, and Dragan Galic.
Tony G, Mike Sexton, Bertrand "ElkY" Grospellier, Kara Scott, Brian Hastings, McLean Karr, and Arnaud Mattern were all part of the 117-player field that entered Day 1b.
In all, 134 players will be back for Day 2 and Grospellier will be leading the pack.
For more updates, check out the PartyPoker Blog.
Could This be the Surprise We Talked About Wednesday?
On Wednesday we told you about the announcement of an announcement from Chilipoker. And in that story, there was a quote from "B," "For all of the billions of dollars online poker companies have made in the last decade this has to be one of the biggest innovations in online poker that I've seen other than Rush Poker."
We'd like to take credit for finding this blog post, but we can't, so thank you to one of our loyal followers, who is quite the detective. According to the post, there's an online poker site who is releasing a software upgrade in the next week or so that will integrate Facebook and Twitter for players. This addition makes it possible for players to update their status on either social media site when they make the money in a tournament, make a big hand, or even suck out on a fish. The author of the blog, Bill Rini says what really blew him away were the "added features so that you could challenge friends to matches, make last longer bets, and buy a piece of your friend's action."
We don't like to assume things, but the quote above is also in the blog post, and Rini's first name does start with a "B."
Check out the blog for more on the new features from an online poker site.
Sunday
Last week, we linked to the video for Rebecca Black's song, Friday. Hopefully you don't hate us too bad for it. To make it up to you, we're bringing you this little gem from regular TwoPlusTwoer MrSrslySirius. We'd tell you our favorite lines from this parody, but we don't want to influence you. It's almost the weekend, have a little laugh.
Follow us on Twitter and like us on Facebook for up-to-the-minute news.
Right now, you not only can get a free $50 bankroll from PartyPoker and PokerNews, but you also will get a free month at PokerNews Strategy. Hurry as this is a limited offer, but the great thing is you do not even need to make a deposit at any stage, just go to our PartyPoker Free $50 Page and follow the walk-through.