The Nightly Turbo: Online Poker Seizure Money Goes to Police, Player Wins $5 Million, and More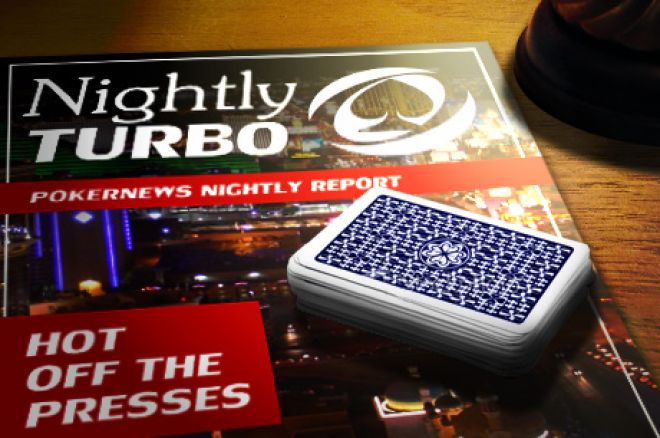 Stay caught up on the day's top poker news stories while you're railing the 2011 World Series of Poker action with the Nightly Turbo. Tonight we'll tell you which police department received money from the online poker seizures, who won big at the Tropicana, and more.
In Case You Missed It
Last week, the World Series of Poker announced a $1 million buy-in tournament. We roamed the Rio to get some player reactions to the announcement.
What did you miss during Day 7 of the 2011 World Series of Poker? Find out in our WSOP recap.
The 2011 World Series of Poker is already one week in and you can be sure that plenty of noteworthy stories. Here are Five Thoughts from the First Week.
Online Poker Seizure Money Distributed
There's a chance you guys won't really like this story. According to reports, Anne Arundel County police in Maryland received a check from Homeland Security Investigations for $470,407.62. That money came from Operation Texas Hold'em, or what we like to call the May 23 online poker seizures.
The Feds shared the money with the Anne Arundel County police department after detectives helped in the investigation that seized more than $33 million.
"This type of activity exists in this county just like it does in other jurisdictions," Anne Arundel County Executive John Leopold said. "Wherever we find it, we're going to root it out."
The money will be used to buy new equipment for undercover investigations, new vehicles, and weapons.
Read more at Odenton.Patch.com.
Bring it On
Oh to be a high roller on a hot streak. The Tropicana Casino and Resort in Atlantic City saw two high rollers bank $5.8 million and $5.3 million just two months apart. The first occurred in April when Don Johnson pocketed $5.8 million. Johnson has said that there are AC casinos that are refusing to let him play again, but the Tropicana isn't one of them. "We have not cut him off," Tropicana owner Carl Icahn said. "I congratulate him on his winnings. That's what gambling is all about. We'd be happy to see him again."
The identity of the latest player to pocket over $5 million has not been revealed. How did the player win the $5.3 million? By going on a six-hour hot streak at the craps table. He didn't just take the money and leave though, he tipped the dealers $150,000.
The two huge scores within months of each other haven't fazed Icahn though. In fact, he wants to spread the word that the Tropicana is pursuing high rollers.
"Mr. Icahn and his company understand that with this strategy, there is a little bit of volatility," said Tony Rodio, Tropicana's new chief executive officer. "Sometimes you're the bug, and sometimes you're the windshield."
PressofAtlanticCity.com has more.
Sportingbet Makes Deal with Ongame
In the second half of 2011, expect to see a new poker site on the Ongame Network, launched by Sportingbet. In markets not covered by Ongame, Sportingbet will continue to use the Entraction Network.
"What is obviously very clear is that the business that we will get through Sportingbet is only on markets where it is legally white," head of Ongame Network Martin Lerby told eGaming Review.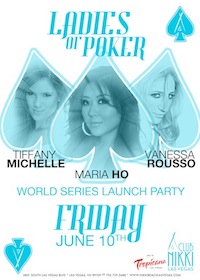 Sportingbet will be able to operate poker sites under several brands, and not just Paradise Poker, according to the agreement. Ongame said in a statement that adding Sportingbet was in line with the "strategy to ensure poker profitability by working with the world's strongest sportsbook brands."
You can find out more at EGRMagazine.com.
Party with the Girls
On Friday night, Maria Ho, Vanessa Rousso, and Tiffany Michelle will host a 2011 World Series of Poker kickoff party at Nikki Beach at the Tropicana. It's also the perfect celebratory event for Maria's second place finish in Event #4. You won't want to miss it, so be sure to check out Nikki Beach this Friday night.
Putting a Bad Beat on Cancer
Sarah Grant caught up with Phil Gordon at the Bad Beat on Cancer booth to discuss the new seminar series the BBoC is putting on and tell you how you can donate.
You should be following us on Twitter. There's no excuse not to.