The Nightly Turbo: UKIPT Kicks Off Thursday, Online Poker Bill, and More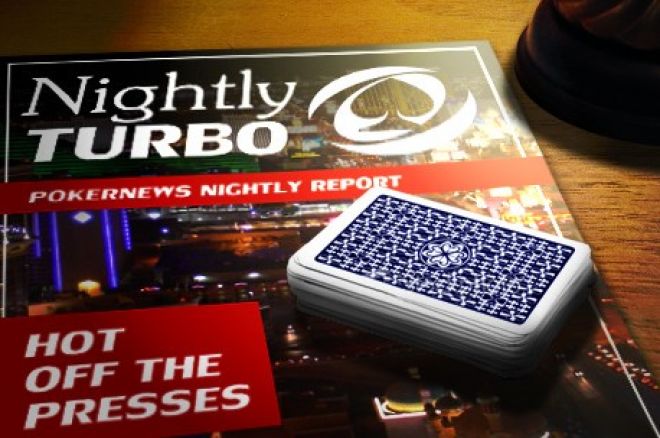 It's an off day for the 2011 World Series of Poker Main Event. We're a little jealous of everyone who got to sleep in or lie by the pool, so we're keeping things short and sweet hoping that maybe we can also do something fun. The PokerStars UKIPT kicks off Thursday, so we'll bring you all those details, tell you about a hearing for an online poker bill in California, and more.
In Case You Missed It
Looking to better your game? We caught up with Ryan D'Angelo during his Day 2 of the 2011 WSOP Main Event and discussed a hand he played.
The separated days of the 2011 WSOP Main Event are officially a thing of the past. Day 2b concluded Tuesday night, and when play resumes on Thursday, the entire field will get together at last. Who climbed to the top of the leaderboard on Tuesday? You'll have to read the daily WSOP recap to find out.
UKIPT Brighton
The sixth stop on season two of the PokerStars United Kingdom and Ireland Poker Tour kicks off on Thursday in Brighton, England. The £500 + £60 buy-in event will take place at the Hilton Metropole Hotel and run through July 17.
There is a £100,000 guaranteed prize pool for UKIPT Brighton. With two Day 1 starting days, you might think you have a little bit of flexibility in registering, but be warned, there's a 400-player cap on the field. If by chance you don't happen to run like Ben Lamb in the UKIPT Brighton Main Event, then there are plenty of reasonably priced side events going on for you to partake in.
If you want to know more about this UKIPT stop or want to plan a trip for the next one, head on over to UKIPT.com.
California Online Poker Hearing
On Tuesday, a hearing was held in the California Senate regarding SB 40, an online poker bill presented by Sen. Lou Correa. The bill would authorize online poker in the state and provide $250 million in new revenue.
Correa stressed that the bill was needed for new revenue for the state and to protect consumers from fraud from offshore online gambling sites. He also noted that California jobs and revenue could be lost if SB 40 failed to pass before federal legislation.
"What our state needs right now is revenue. SB 40 will allow California to generate $250 million this fiscal year, money that will help us meet the revenues projected in this (year's) budget but not identified. SB 40 will help avoid the triggers that will result in deeper cuts to education and other public services," said Correa.
Several experts testified on the bill during the hearing including federal advocate Jim Wise, Sciplay CEO Rick Weil, former state finance director Tim Gage, and former Speaker of the State Assembly and mayor of San Francisco Willie Brown.
"We have an opportunity to generate 1,300 new California jobs and $1.4 billion in new state revenues instead of watching those jobs and revenues be exported to Nevada or DC through federal legislation," Correa said. "We can't afford to do nothing. We can't delay. If we do, the revenue will be lost, the jobs will be lost and the opportunity will be lost."
If you want to know more about the hearing, check out the press release on BusinessWire.com.
FBI Raid
No, don't worry, this time we're not talking about online poker. On Tuesday, the FBI raided the Golden Moon Hotel and Casino on the Choctaw Pearl River Resort in Mississippi. The search warrant was executed by the U.S. Department of Justice. According to U.S. Attorney Doug Jones, the search warrant was obtained by convincing a magistrate that there was "probable cause to believe that a federal felony crime was committed and that there was evidence of that crime at those facilities."
The Clarion Ledger reports that computer hard drives were seized in the raid.
"The resort is monitoring the situation closely and will continue to cooperate fully with law enforcement authorities in their investigation," CEO Maj. Gen. Paul Harvey. "There will be no interruption in the operation of business at the resort."
The FBI would not discuss the matter.
ClarionLedger.com has more.
Under New Management
HeadsUp Entertainment announced Wednesday that it has hired Dan Forigo as president of the Canadian Poker Tour. Forigo will be responsible for relaunched the company's marketing model.
"We have a tremendous amount of work to do very quickly," Forigo said. "The brand has a solid foundation but it is now time to furnish the mansion atop it."
A sales and marketing team has also been appointed to expand the CPT brand, magazine distribution, and tournament and build the television poker tournament series that is slated to begin production in the fall.
MarketWatch.com has the entire press release.
I See You Workin on that Nightly Turbo...
We're not even going to sugar coat this at all - Brett Richey rocks and we're honored to have been part of his PokerNews rap and video. Don't know what we're talking about? Check out the video below and you will.
Follow us on Twitter for up-to-the-minute news.