The Nightly Turbo: WSOP Bracelet for Sale, ESPN's The Nuts, and More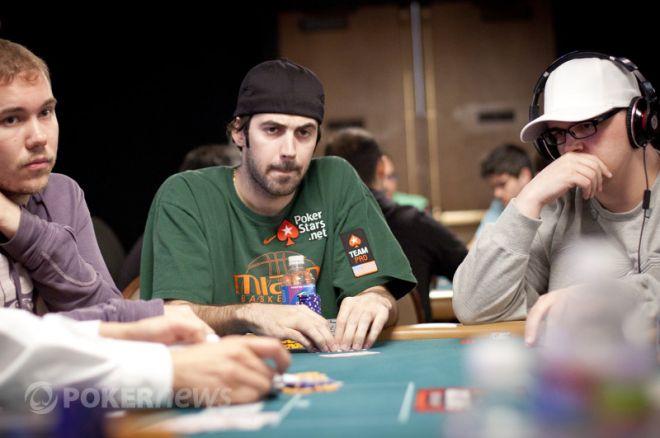 Fireworks and cookouts are on the brain, and we're thankful it's the weekend. And now that we're thinking about it, we're taking a break for the holiday on Monday, so you'll see us back at it on Tuesday. As for tonight's edition of the Nightly Turbo, we'll tell you which WSOP Main Event winner is putting his bracelet up for sale, who mashed (that's a hint, and so is the photo above) to the top of ESPN's The Nuts rankings, and more.
In Case You Missed It
Rep. Joe Barton introduced the Internet Gambling Prohibition, Poker Consumer Protection, and Strengthening UIGEA Act of 2011 in the U.S. House of Representatives last Friday. The fight doesn't stop there. What should we do in the online poker legislative front going forward?
The 2011 World Series of Poker is trucking right along. On Day 30, the first million-dollar man of the 2011 WSOP was crowned. Wonder who it was? Check out the daily WSOP recap.
The 2011 World Series of Poker Main Event is just around the corner, but that doesn't mean that the interesting stories and drama are slowing down. Check out 42nd Street for the latest and greatest from the halls of the Rio.
A class-action complaint has been filed against Full Tilt Poker and a bevy of the players who are part of Team Full Tilt. Find out what the plaintiffs are looking to get from this.
For Sale
We've seen a handful of World Series of Poker bracelets for sale in the last year. The one that garnered the most attention was Peter Eastgate's diamond-encrusted Main Event bracelet. He donated the money he received to UNICEF.
There's another World Series of Poker Main Event bracelet on the auction block now, but it's not as glittery as Eastgate's. Brad Daugherty, 1991 World Series of Poker Main Event winner has put his 14-karat yellow-gold bracelet on eBay - for the second time. The bracelet is emblazoned with Daugherty's name across the top.
The first time Daugherty put the bracelet up for sale was last December, but the reserve was not met, so Daugherty retained possession of the bracelet. Second time's a charm? At the time of writing, the current bid was $1,575 and 14 bids had been made.

If you want a shiny gold bracelet, head on over to eBay and get your bid on.
He's the Nuts
The latest installment of ESPN's The Nuts is back. The monthly blog post ranks the best players in poker at the moment. The Panel includes PokerNews' Editor-in-Chief Matthew Parvis, PokerNews' Tournament Reporting Manager Don Peters, ESPN's Andrew Feldman, Gary Wise, and Bernard Lee, among others.
After taking the month of May off, there's been quite the shake up in The Nuts rankings for June. Erik Seidel, now in second place, has been knocked out of the No. 1 spot by a young gun who has been mashing through poker tournaments lately. Jason Mercier is now at the top of the rankings list. "Remember when we thought Mercier was just on a sick heater? Yeah, that heater has lasted more than three years already and doesn't seem to be ending anytime soon," wrote Feldman.
John Juanda, who bubbled the list in May, has rocketed to the third spot. Also not on the list in May were Phil Hellmuth and Bertrand "ElkY" Grospellier, who are sitting in eighth and tenth respectively. Hellmuth isn't alone in the eighth spot though, he's tied with Daniel Negreanu. Where's Ivey? Phil Ivey dropped from No. 2 to No. 6 this go around.
Want to check out the entire list? You can, at ESPN.com.
LOLCartoonaments
When we watched the latest video from The Micros, we were laughing our butts off. There are so many awesome one-liners in this one, and Jennifer Harman's children learned quite a bit from watching the show. Taylor Caby does not approve, and even Phil Ivey called in. Oh, and Kara Scott did her best Street Fighter impersonation. But one of our favorites came from Antonio Esfandiari, "We like that he's a nit from Asia, but maybe he can do some magic too!"
You like The Micros in real life, so why not like it on Facebook?
No Spidey Sense
According to MSNBC, Tobey Maguire is trying to distance himself from the legal battles he's in from playing in high-stakes poker games in the Hollywood Hills.
"The former 'Spider-Man' star has denied accusations that he knowingly participated in—and won serious dough from—an illegal poker ring allegedly perpetrated by a Beverly Hills hedge fund manager," wrote MSNBC. We would have told him to blame it on his Spidey Sense.
Maguire's attorney filed papers in the L.A. Superior Court that said Maguire "unconditionally denies having engaged in any conduct whatsoever in violation of law and further categorically denies having knowingly or intentionally participated in any fraudulent scheme."
Check out MSNBC.com for more.
Hey Ladies!
The $1,000 No-Limit Hold'em Ladies Championship kicked off on Friday. Lynn Gilmartin and Kristy Arnett got decked out in their Sunday best to play the event. Check out the pre-"shuffle up and deal" dancing festivities.
Follow us on Twitter for up-to-the-minute news.