The Nightly Turbo: Full Tilt Poker Statement, Sure Bet Poker Signs Trishelle, and More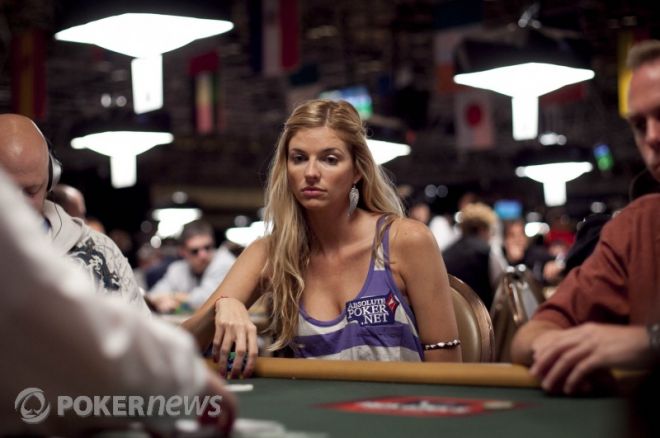 We hope you all had a great weekend, but it's back to work for most of us, and we're sure there's going to be plenty to talk about this week. To kick things off, Full Tilt Poker released another statement. How much does it say? You know you'll have to read further along to find out. Also, we'll tell you which online poker site scooped up Trishelle Cannatella for its team, and more.
In Case You Missed It
This week's edition of Sin City Series took a trip Down Under. Lynn Gilmartin caught up with Tony Hachem, among others, on the red carpet of the E.J. Whitten Charity Poker Tournament at Crown Casino in Melbourne, Australia.
The 2011 PokerStars World Championship of Online Poker Main Event kicked off on Sunday.In our daily WCOOP recap, you'll find out who started the day on top of the leaderboard and which event Eugene Katchalov is heads-up in.
Thinking about moving out of the United States to continue to play online poker? Have you considered Justin Bonomo's new home — Malta?
Even with the 2011 WCOOP Main Event kicking off, most of the Sunday Majors on PokerStars were still held. Want to check out the results? The Sunday Briefing has them all.
"Full Tilt Poker is not a Ponzi Scheme"
On Monday, Full Tilt Poker released a statement to PokerStrategy.com. It said just about as much as the previous statements have said. The company declares it is not a Ponzi scheme — but that's not anything its lawyers didn't already say.
Below is the statement in full.
"Full Tilt Poker is not a Ponzi Scheme."
"On Sept. 19, 2011, the Department of Justice issued a release stating that Full Tilt Poker was 'a global Ponzi scheme.' While the government has taken issue with the underlying activities of FTP, under any reasonable interpretation, there is no way to characterize the operation of Full Tilt Poker's virtual online card room as a global Ponzi scheme."
"A 'Ponzi' scheme is an investment fraud that involves the payment of purported returns to existing investors from funds contributed by new investors. Ponzi schemes do not involve any legitimate investment, but rather use the new investor funds to pay 'dividends' to the initial investors."
"Despite recent events, FTP remains committed to identifying a suitable investor and paying back its players in full."
She's a Sure Bet
Sure Bet Poker is set to launch internationally (for obvious reasons) in just a few days — Oct. 1 to be exact. On Monday, Trishelle Cannatella announced that she was part of Team Sure Bet.
So excited to announce I have officially signed with @surebetpoker ! Site launches October 1st so go register to play with me :)

— Trishelle (@TrishelleC)
She joins Mike Wolf and Jason Sallman on Team Sure Bet. In an interview with Ante Up Magazine, Cannatella said, "I am so excited to join team Sure Bet Poker, and I cannot wait to represent Sure Bet at tournaments both live and online."
Read the entire interview at AnteUpMagazine.com.
Deadly Shooting at John Ascuaga's Nugget
According to CBSNews.com, Jeffrey "Jethro" Pettigrew, head of the San Jose chapter of Hells Angels, was shot Friday night at John Ascuaga's Nugget hotel and casino in Sparks, Nevada. The shootout "sent hotel guests and gamblers diving under the tables," police told CBS.
The Mercury News reports that Pettigrew was "a local icon in San Jose, a very well-respected member within the ranks of Hells Angels."
Officers were en route when the gunshots were fired. When they arrived, officers found three victims, Pettigrew, and Vagos Motorcycle Club members Leonard Ramirez and Diego Garcia, were were in stable condition at the hospital.
Cesar Villagrana was the only suspect arrested in the shooting. He was seen on camera shooting during the gunfight though whether he shot any of the victims could not be confirmed.
Read more at MercuryNews.com.
Tax Deductible?
On Sept. 25, the Law Offices of Sanford I. Millar posted an article on the recent Full Tilt Poker allegations. The piece discusses the tax income implications of the U.S. Attorney's Office declaring Full Tilt Poker a "Ponzi scheme."
"Recently the U.S Attorney for the Southern District of NY referred to one of the poker site as a "ponzi scheme." The use of this specific language may be of tax benefit to poker players who have as of this moment be unable to withdraw funds for their player accounts."
The use of the words "Ponzi scheme" have a technical implication in U.S. income tax cases, going back to 1972, in Tharp TC Memo 1972-10. The U.S. Tax Court in an interesting decision held that even though the activity of the taxpayers may have been illegal, the nature of the loss that they sustained was still deductible. Now, the poker cases have different facts but the compelling part of the decision is that even if the Department of Justice claims that Internet poker is an illegal activity, the loss of player funds may still be deductible under IRC § 165c3."
"To be deductible the players would have to show that they (1) had an account at the site, (2) that they had a positive balance, (3) that they reported their net gambling winnings and (4) that they have not or will not be repaid. None of these steps will be easy in light of the pending civil and criminal charges, but, for some players with substantial funds on deposit the possibility of claiming a loss may worth considering."
To find out more, check out MillarLawOffices.com.
ReOpened (to U.S. Players) for Business
In a strange turn of events, an online sportsbook has decided to reopen its doors to U.S. players. In a recent press release, Hollywood Sportsbook announced it has begun allowing U.S. players to return — "now that the legal dust has settled." It has?
"We fully understand our software provider's decision to suspend new US players back in May due to all the uncertainty of the industry, but time has shown that the US Govt. was only attacking those companies that blatantly violating the UIEGA not the industry itself," said Robert Evans, Hollywood Sportsbook's director of operations.
The press release has more.

Follow PokerNews on Twitter for up-to-the-minute news.