The Nightly Turbo: Full Tilt Poker Lawyers Respond, Hendon Mob's New Sponsor, and More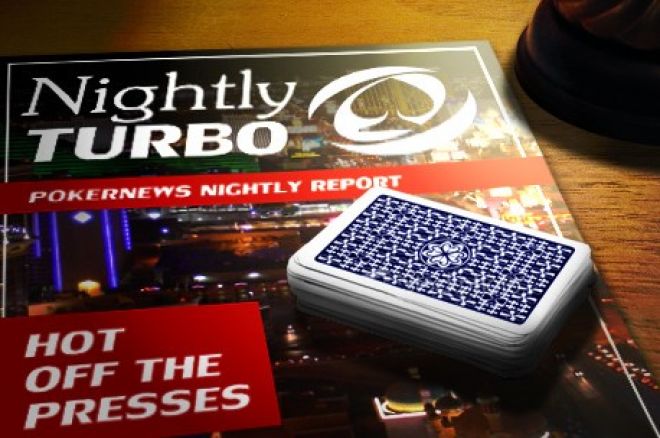 Since Tuesday, there has been no shortage of news on Full Tilt Poker, so we'll be going over everything Full Tilt Poker related, including what the company's lawyers have said, and Gus Hansen's latest interview. On top of that, The Hendon Mob has secured a new sponsor just days after ending its exclusive relationship with Full Tilt Poker. There's a lot going on so we'll get you caught up.
In Case You Missed It
The World Poker Tour Borgata Poker Open continued with Day 3 on Wednesday. The money bubble burst and by the end of the day, Will "The Thrill" Failla had claimed the chip lead.
Day 1b of the World Poker Tour Malta kicked off on Wednesday and 139 players entered, to bring the total field to 240, creating a €698,400 prize pool. Tommy Vedes finished at the top of the pack, but there are still plenty of notables left looking to take over the chip lead.
There are just a few days left of the 2011 World Championship of Online Poker, so if you're looking for gold, you better get busy. Four players won bracelets on Day 18 of the WCOOP, including Jason "jdtjpoker" Wheeler.
We can't all have the biggest stack in the tournament all the time — even though we'd like to. So you need to have some sort of short-stack strategy. Ben Wilinofsky discusses short-stack strategy in the latest Strategy with Kristy podcast.
The first stop on the 2011-2012 World Series of Poker Circuit wrapped up on Sept. 19. Read our WSOPC Results recap to find out which two players earned seats in the $1 Million National Championship during the stop.
The Global Poker Index released its rankings as of Sept. 19. The only change in the top 10 was John Juanda's 10th place spot being overtaken. Who cracked the top 10?
"Not a So-Called Ponzi Scheme"
According to the Wall Street Journal, Full Tilt Poker attorney's slammed the U.S. Department of Justice for its allegation that the company ran a Ponzi scheme.
"A Ponzi scheme requires an investment vehicle in order to receive a certain rate of high return," Jeff Ifrah, one of Full Tilt Poker's attorneys, said. "None of those things happened here." Ifrah says Full Tilt Poker "should be likened to that of a problematic bank, rather than an illegal investment scheme."
The attorney for recently accused Chris Ferguson, Ian Imrich said, "While the government has obviously taken issue with the underlying activities of FTP, under any reasonable interpretation, the world-wide operations of the online cardroom are not a so-called Ponzi scheme."
The Wall Street Journal reports that as of Wednesday, the U.S. Justice Department had no comment.
WSJ.com has more.
The Great Dane Opens Up
On Tuesday, Tom "durrrr" Dwan broke his silence regarding Full Tilt Poker. On Wednesday, Ekstra Bladet published an interview with Erik Balck Sørensen, Gus Hansen's manager.
Disclaimer: The interview was in Danish and has been translated with Google Translate, our best friend of the past two weeks.
"Until Black Friday Gus was convinced that he was part of a well-oiled business machine with a professional management team who had a clear separation between the players' money and the operation of the site. The people must believe in it or leave it," Sørensen said.
According to Sørensen "the reality looked very different" than what Hansen was told internally.
Gus has never been anywhere near the leadership of Full Tilt. Perhaps they have filled him and others with falsehoods. It would seem so, but we can not, in any way, say anything concrete about it at this time. Gus is critical of it and is really sad both for the poker site, he has been part of, and the players who have not been paid their money," Sørensen continued.
Read more at EkstraBladet.dk.
Dealing with The Mob
No, not this mob. A few days after announcing it ended its exclusive relationship with Full Tilt Poker, The Hendon Mob has snatched up another sponsor — Genting Poker. Weirdly enough, the first sentence of the announcement painted a mob-like picture in our head, so maybe it's not far from the mob linked above. Kidding!
"In a deal struck over a meal at Soho's Little Italy The Hendon Mob shook hands with the godfathers of Genting, securing the future of the Hendon Mob website and guaranteeing the boys all the pasta they can eat."
According to the announcement, the partnership crosses over both live and online.
If you'd like to find out more, read the announcement on TheHendonMob.com.
Pros Go Mainstream
On Thursday morning, Greg Raymer appeared on CNN to discuss the latest allegations against Full Tilt Poker, Howard Lederer, Chris Ferguson, Rafe Furst, and Ray Bitar.
"Since I know some of these guys personally, I'm just surprised that they could be guilty of such a thing," Raymer said when asked why he was stunned by the news.
"All of this really highlights the need for tough U.S. regulation," said Raymer.
And if you missed Tom "durrrr" Dwan on Fox, you can watch it at FoxBusiness.com.
Barney Frank to Give Back Money
The Boston Herald is reporting that even though U.S. Rep. Barney Frank is "very disappointed to hear the allegations" against Full Tilt Poker's, Howard Lederer, Chris Ferguson, and Rafe Furst, they don't change his views on online gambling legislation. "If anything, it strengthens them."
Critics berated Frank, as well as Sen. Harry Reid, for taking money from Full Tilt Poker. "Frank should refund every nickel of the tens of thousands in campaign donations linked to online gambling," Tim Buckley state GOP spokesman said. "It appears Mr. Frank is another congressman willing to associate with criminals."
According to the Boston Herald, Frank is willing to put the "donations from Lederer, Furst and Ferguson into a special account and donate it to a fund for victims if the Justice Department sets one up — and if the men are found guilty."
Read more at BostonHerald.com.
Online Poker Traffic Numbers
The online poker traffic numbers are out for last week. PokerScout is reporting that online poker traffic slumped 2.4 percent last week. Seven of the top 10 sites saw decreases in traffic.
The rankings are steady and no changes are being reported for the top 14 poker sites and networks. The iPoker Network remains in the second spot, behind online poker giant PokerStars, but PokerScout's weekly update says PartyPoker is gaining ground.
As for year-for-year numbers, in the last year, online poker traffic has decreased by 32 percent, according to PokerScout's ACES indicator. Sites with the biggest year-over-year gains include 888poker (106 percent), Bodog (53 percent) and the Merge Gaming Network (20 percent).
If numbers are your thing, check out online poker traffic numbers at PokerScout.com.
Morale is Low
On Wednesday, Reuters reported that the allegations against Full Tilt Poker and the fallout have affected those at the Cherrywood Business Park in Dublin, Ireland. According to the article, nearly half of "the employees of Pocket Kings, which operates the IT, customer services and marketing for Full Tilt, are set to lose their jobs and many of them surf the web for clues about what will happen next."
According to the article, morale is "really bad." A French employee at Pocket Kings spoke with Reuters and said, "At the moment we just sit here and do nothing all day, just reading news from poker websites and message boards. For three months, we are doing nothing."
The Pocket Kings employees are being told the minimum and the employee says that "there is no communication" and they get "most of the news through online forums."
Reuters.com has more.
Inside Deal
ESPN's Inside Deal is back this week to discuss Full Tilt Poker, obv. Jon Anik, Andrew Feldman, and Bernard Lee caught viewers up on the recent news and then spoke with 2011 November Niner Sam Holden.
Are you following PokerNews on Twitter? Like us on Facebook while you're at it, and sign up for the newsletter. You know you want to.