Inside Gaming: LV Mob Drama, MGM Goes Bollywood, and Sportingbet Leaves Turkey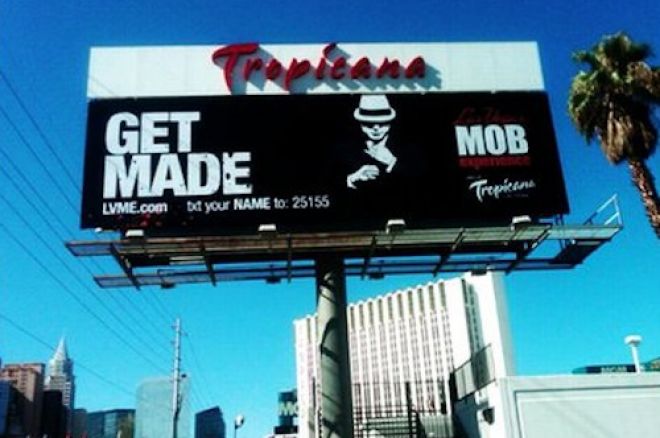 While the country watched the Republican primary debate in Las Vegas, gaming companies were busy making news elsewhere. And in Las Vegas, too. The modern-day mob drama on the strip got even more made-for-TV as The Mob Experience filed for bankruptcy and Tropicana's president and CEO resigned. Sportingbet sold its Turkish website and bought two Danish companies, giving up the profits found in unregulated online gaming markets for the stability of regulated markets. And MGM announced plans to build non-gaming Las Vegas resort replicas in India.
Bankrupt Mob Experience Troubles Tropicana
This story gets more and more strange. To begin with, the players include children of notorious mob bosses, a management company called Murder, Inc., and a developer being sued by his business partners for "looting the company" of more than $1 million. If this were a movie, he'd end up in a car trunk, but since this is just The Mob Experience, they all ended up in bankruptcy court instead. The Mob Experience, a disastrous musuem-attraction hybrid built as part of the Tropicana Las Vegas' renovation but owned independently, filed for bankruptcy on Monday, one day before the Tropicana's CEO resigned. More on that later.
The Mob Experience, a 26,000-square-foot interactive exhibit, cost $25 million and was supposed to be a technological masterpiece. But from the start, the holographic technology didn't work. Most of the exhibits had to be closed for repairs, and the mostly empty museum dropped its prices from $40 to $15 for what is still open. Jay Bloom, the developer behind the project, appears to have been forced out by partners who accused him of stealing from the venture. Bloom, who says he left voluntarily, then sued the Tropicana for failing to honor its marketing commitments.
The Tropicana could have evicted The Experience months ago but has allowed it to continue operation in hopes of a turnaround. Now creditors, not getting anywhere with Murder, Inc., are looking to the Tropicana for payment. Some of those creditors are heirs of notorious mobsters who were hired as consultants or sold family belongings to the museum. In a court filing, Bloom said that new Mob Experience manager Louis Ventre feared for his life over some of the debts.
The Experience's bankruptcy filings show that it has liabilities in the neighborhood of $10 million but only has between $250,000 and $500,000 in assets, depending on whom you ask about the value of the artifacts in their collection. When they filed for bankruptcy on Monday, the company had $6,125 in its operating and payroll account, $2,964 in credit card receipts in process, and $3,587 in cash.
On Tuesday, Tropicana Las Vegas announced that its president and CEO, Thomas McCartney, had resigned. No reason was given and the company has yet to announce a replacement. McCartney joined the Tropicana in Dec. 2009 to head the property's $165 million facelift. He has presided over the current Mob Experience disaster as well as a dispute involving Miami-based club operator Nikki Beach. Tropicana hired Nikki Beach to operate the property's new pool and nightclub, but after a falling out, severed ties in September.
While McCartney's time with the Tropicana is over, The Mob Experience hasn't given up. Plans are in place to sell the company to a current investor for $2 million, and another investor extended a loan of $375,000 to allow The Experience to stay open. Spokesman Spence Johnston told reporters that the company plans to use new financing to reopen the high-tech part of the museum by the end of the year. Perhaps they will include an exhibit about The Experience's own operations.
VegasInc.com and the Las Vegas Sun have enough details for a respectable trilogy, and the Las Vegas Review-Journal covers McCartney's exit.
Sportingbet Sells Turkish Site, Trades Profit for Regulation
British sports book operator Sportingbet Plc found a buyer for its Turkish website a little too late to save its merger talks with Ladbrokes Plc, but will go through with the sale anyway. Sportingbet will sell its most profitable site to East Pioneer Corp. for at least 125 million pounds ($197 million), more if the site does better than forecasted over the next three years. Sportingbet was concerned about operating in Turkey's unregulated market and chose to trade short-term profit for extra capital to invest in lower-risk regulated markets. A few days before dumping the unregulated site, Sportingbet purchased two Danish gaming companies to position itself to expand in Denmark when the country begins licensing online gambling on Jan. 1.
Sportingbet had been looking to offload its Turkish site to alleviate one of Ladbrokes' concerns and clear the way for an acquisition deal. Negotiations with the larger British sports betting company fell apart a few days too soon, but the move to more stability could pave the way for future merger talks with Betfair Group Plc, Bwin.party digital entertainment Plc, or other European gaming companies.
Sportingbet expects that the sale, and the larger strategy of moving to safer regulated markets, will bring higher stock ratings, even though it means temporarily lower profits. "Disposal of Turkey was always a question of when, and not if," Sportingbet CEO Andrew McIver told Bloomberg. "We believe the unregulated income stream drags down the group."
Operating strictly in regulated markets means the company will incur taxes and higher costs associated with complying with the rules in each market. McIver said Sportingbet will need to cut other costs to offset those expenses. In Turkey, online gambling is not taxed, and Sportingbet's Turkish site returned the company's highest profit margin. Sportingbet's stock, which has fallen 36 percent this year, rose 1.9 percent on news of the sale.
BusinessWeek has more details and thoughts from several industry analysts.
MGM Goes Bollywood
MGM Resorts International announced on Tuesday that it plans to build replicas of the Bellagio, MGM Grand and Skylofts hotels. They will be just like their Las Vegas casino counterparts, only in Mumbai. And without the casino part. So about as similar to the real thing as the Bellagio is to a lakeside villa in Italy.
MGM renamed itself in 2010 to emphasize its new international focus. Through its MGM Hospitality division, the company has started developments in China, the Middle East, and Africa, in addition to India. The newest Hospitality division project will be part of Maker Maxity, a 20-acre business and entertainment complex strategically located near Mumbai's Central Business District and International Finance Center.
MGM's announcement of its plans for non-gaming luxury hotels in India came two weeks after Caesars Entertainment Corp. went public with its plans for 25 non-gaming luxury hotels in China. Inside Gaming has that story here. Clearly, it's time to go where the money is, and at the moment, it isn't in America.
Read more about MGM's Bollywood adventure in the Las Vegas Review-Journal.
Follow PokerNews on Twitter for up-to-the-minute news.
*Photo courtesy of VegasChatter.com