Packing Up to Play Poker: Toronto, Canada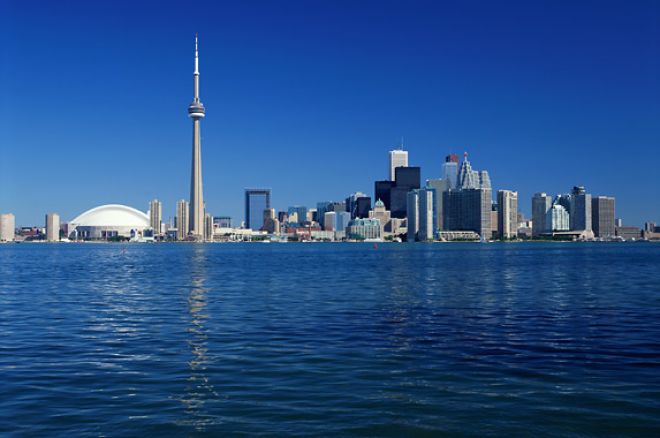 Last week marked the six-month anniversary of Black Friday. A lot has changed in the industry in that relatively short time, not least of all the mass exodus of former online poker pros. Over the past couple of months, we've taken a look at some of the more popular destinations that have attracted players, including Malta, London, Tijuana, and Vancouver.
This week, we travel across the "Great White North" to Ontario, where we turn our gaze toward Canada's financial center and popular choice for online players, Toronto. Home to perhaps the most popular poker player in the world, Daniel Negreanu, the city appeals to online players in the northern United States, such as Michigan and New York. In fact, two players from those very states have already moved to Toronto: Jordon Young and Nick Mitchell, who actually opted to room together.
If you're looking for a new place to set up shop and play online, we'll tell you why Toronto is an excellent option. In addition, we spoke with Mitchell, who was kind enough to shed some light on his big move to Canada.
Quick Overview
Population as of 2006: 2,503,281
Time Zone: EST (UTC-5)
Area: 243.2 sq mi
Incorporated: March 6, 1834 (as Toronto)
Weather: 23 °C (73 °F) to 31 °C (88 °F) in the summer;
Language: English
Currency: Canadian dollar
Website: www.toronto.ca
Why Toronto?
Mitchell hit the nail on the head when he gave his reason: "Well, I'm originally from Rochester, New York, so Toronto is just about a three-and-a-half hour drive from my parents' home, and I wanted to be close to them." Indeed, Toronto's proximity to the East Coast and northern states seems to be what appeals to U.S. players the most. In essence, it is the Vancouver of the east, and if you read our Packing Up to Play piece on that city, you already know that players love the city and the convenience of being close to home.
However, location is not everything. "The language and the culture isn't that much different from in the U.S.," Mitchell adds. While language constraints might prohibit one from relocating to places like Mexico or South America, English is prevalent in Canada (there is a lot of French in Quebec), and especially in Toronto. Likewise, the culture is pretty much the same as that in the U.S., which includes everything from day-to-day living, to the nightlife.
Finding a Place to Stay
Throughout our "Packing Up to Play" series, we have explored many different options for those looking for a place to stay. They included visiting the city and simply walking around, scouring the Internet for rental agencies, exploring online forums, and even rooming with friends.
The latter is exactly what Mitchell did, and he wasn't shy to admit that the living situation pretty much took care of itself, or should we say, someone took care of it for him: "My roommate, Jordan Young, did all the work. He just used a few websites he found on Google, I think." While you might not have a patsy to do all the dirty work of finding a place, you should be able to find plenty of options by following Young's example and logging onto the Web.
Visa Issues
As we mentioned in our piece on Vancouver, if you're from the United States and just looking to visit a Canadian city, you do not need a visa, and you can stay up to six months out of the year without one. Realistically, most of the players who have moved to Canada are more than willing to take advantage of this, since they are not moving there full time.
Mitchell is part of this camp. "We found a house with a six month lease because if we wanted to stay for longer, we would need to get a visa," he explained. "I believe the law is 180 days of a 365 day cycle you are allowed to be in Canada without one."
Now, if you're looking to move to Canada permanently, then things can get a bit more complicated, but you can learn all about that on the Citizen and Immigration Canada website.
Regardless if you're going there for six months or for good, you still need to do your homework. For instance, you'll need to know that you'll be required to have a passport, satisfy immigration (what is your reason for visiting Canada?), have enough money for your stay, and proper travel documents.
Beware!
Like any city in the world, Toronto presents some challenges and dangers, though Mitchell suggests you think about getting across the Canadian border first before you start thinking of Toronto:
"I know some people have had hard times getting through the boarder," Mitchell said. "They seem to be pretty thorough with their questioning, so if you come off a bit nervous and if they just don't believe what you're saying is true, you may have trouble getting in."
When you're actually in Toronto, you'll likely notice homelessness in some areas, a problem that has progressed over the last decade. Furthermore, the winter months can be harsh, especially for someone not used to snow. Finally, you may want to heed the warning of one user on VirtualTourist.com:
"Queen's Park is small and does have some lighting, but it can be a bit seedy after dark. No, its not quite what your thinking — men are more likely to be harassed than are women, although rapes/assaults in the park are quite rare. Nonetheless, it may be slightly upsetting to pass beside semi-nude men pleasuring themselves in the park at night, so its advisable not to cut through it after midnight."
Of course, all of these issues are relatively minor compared to many other cities across the world. In fact, you'd be hard pressed to find a more well-rounded and safe city than Toronto.
How's the Internet?
We already said that Toronto is pretty much like any U.S. city, which implies Internet access and reliability is on par with what online poker players have come to expect. "Yeah, the Internet is comparable to the US for sure," Mitchell said, adding that there are plenty of providers to choose from.
Re-establishing Your PokerStars Account
If you're a U.S. player and relocate to play online poker on PokerStars, you'll need to reestablish your account by showing that you have relocated. All the players who've went through this process claim it wasn't much of a problem, including Mitchell, though he offers a suggestion for PokerStars support:
"Fairly easy. Just need to set up a bank account and a utility bill," he explains. "One thing I'd say though is that PokerStars really needs some sort of telephone number or something though because the email exchanges back and forth between different time zones make the process much, much more frustrating and dragged out than it should be. But overall it wasn't hard. A bank account was very easy to get."
If you're serious about moving, be sure to visit PokerStars and contact their support to learn all the details of reestablishing you account.
Sites to See and Places to Go
"There are lots of concerts, festivals, etc., so I'm looking forward to checking out some of those in the near future," Mitchell explained. Sure enough, there are plenty of options to choose from if you decide you want to go out and about.
When it comes to tourist attractions, there are really two that stand out in Toronto. The first is the Eaton Center, a massive, four-level shopping mall with over 250 stores. The domed Eaton Centre appeals to shopaholics of all sorts, but don't forget to check out Flight Stop, a huge Canadian goose mobile designed by artist Michael Snow.
The second thing you'll probably want to do is check out the CN Tower, which dominates the Toronto skyline. The 1,815-foot tower attracts millions of tourists each year, each making the 1,122 foot ascent to the observation deck. While the CN Tower is no longer the tallest freestanding structure in the world, it is still popular with Toronto tourists.
GoCanada.com has put together a list of the "Top 10 Toronto Tourist Attractions and Highlights," that you might find helpful:

The Eaton Center
The CN Tower
Casa Loma
Royal Ontario Museum
Centre Island
The Distillery District
Yorkville
Hockey Hall of Fame
Art Gallery of Ontario
Chinatown
Nightlife
"I haven't really experienced it much yet but it appears to be great," Mitchell admits. We've taken the liberty of researching some of the most popular party spots in Toronto, information we hope both you and Mitchell find handy. Here is a list of the Top Nine Nightlife Spots in Toronto according to 10best.com (We're not quite sure why they didn't live up to their namesake and list the top ten):

Second City
Roof Lounge
Academy of Spherical Arts
Beerbistro
Charlotte Room
Crush Wine Bar
Sky Yard
Smokeless Joe's
Sweaty Betty's
On the other hand, the site did list the Top 10 Bars/Clubs in Toronto:

Annex Wreck Room
C'est What
Rex Hotel Jazz and Blues Bar
Roof Lounge
Byzantium
Horseshoe Tavern
Academy of Spherical Arts
Guvernment/Kool Haus Entertainment Complex
Trane Studio
Devil's Martini
Hockey Hall of Fame
If you're a fan of hockey, then Toronto is the perfect place for you since it's home to the Hockey Hall of Fame.
"Home of the Stanley Cup and the best of hockey, you can DO IT ALL...AT THE HALL. Guests can take shots at real-time goalies; stop the shots of Gretzky and Messier; call the play-by-play of some of hockey's greatest goals; view hockey flicks in one of our two theaters; get up close and personal with the Stanley Cup; explore the largest collection of hockey memorabilia in the world — all of this plus so much more!"
Interestingly, no sport has done more alongside poker for charitable causes than hockey. This was evidenced in September when both former and current NHL stars joined forced with poker pros at the Playground Poker Club's "NHL Faceoff" event, which helped raise more than $50,000 for charity.
Simply put, if you're in Toronto, do yourself a favor and check out the Hockey Hall of Fame.
Stay up to date on all the latest news by following us on Twitter and liking us on Facebook.
Photo courtesy of TorontoHotelSearch.com