The Nightly Turbo: Funds Seized from Swiss Bank, Hellmuth Picks Mercier, and More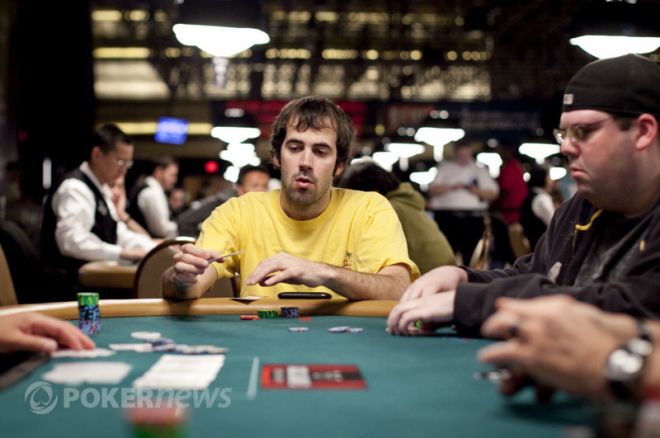 Phil Hellmuth had some big decisions to make on Wednesday, and national pride was on the line. Two members of Hellmuth's Caesars Cup team at the World Series of Poker Europe dropped out of the event, meaning the Poker Brat had to find a couple of worthy replacements for Team Americas. In this edition of the Nightly Turbo, we tell you who Hellmuth had to replace, along with reports of possible Full Tilt Poker funds seized in Switzerland, and more.
In Case You Missed It
On Tuesday, Tony G announced he was considering legal action against the AGCC. Get all the details in our exclusive report.
We know how taxing the grind of the live tournament circuit can be. In our most recent Stay Stacked series, Lynn Gilmartin explains how meditation can help reduce tilt.
Did you miss Tuesday's coverage the World Series of Poker onESPN? Check out our recap to find out who thrived on Day 7 of the Main Event!
It looks like Miami, Fla., could become a major casino hotspot in the future. Inside Gaming reveals which casino group is planning to build a $3 billion resort in the sunshine state.
Tuesday was the busiest day at the 2011 World Series of Poker Europe thus far. Find out which players made noise in our daily WSOPE recap.
$20 Million Seized in Swiss Bank
On Wednesday, a daily newspaper in Switzerland learned that the Justice of Geneva has seized more than 18 million Swiss francs (around $20 million) in connection with online poker sites. La Tribune de Geneve reports that the money was seized on Sept. 26, and could possibly be tied to the 10 men indicted by the Department of Justice on Black Friday.
On Sept. 19, theManhattan United States Attorney's Office amended its April 15 complaint against online poker companies to include charges against the board members ofFull Tilt Poker, including Howard Lederer, Chris Ferguson, Ray Bitar, and Rafe Furst.
The Department of Justice then issued a warrant in rem to seize the bank accounts of Ferguson, Lederer and Furst, leaving their property at risk. The FBI was given authorization to take control of any funds discovered a number of accounts, one of which was held atPictet & Co Bankers in Switzerland.
Wednesday's report in La Tribune de Geneve is written in French, so we're doing our best to get to the bottom of this. Stay tuned.
Hellmuth Adds Mercier, Lamb to Caesars Cup Team
When selecting his "Team Americas" roster for the upcoming Caesars Cup event at the World Series of Poker Europe in Cannes,Phil Hellmuth went with experience. A lot of experience. The team boasted 39 WSOP bracelets and none of the team members were under the age of 35.
However, with the news that 10-time bracelet-winner Doyle Brunson won't be making the trip to France this month, the Poker Brat took to Twitter Wednesday looking for an alternate.
Team USA/Canada: @TexDolly couldn't make it to Cannes, big loss, but time to bring in a Young Gun! @jasonmercier @benbalamb or @tom_dwan?

— phil_hellmuth (@phil_hellmuth)
Later in the day, Hellmuth made his decision.
As Captain of Team USA/Canada I select @JasonMercier as our 5th player. He has earned it w his stellar tournament record the last few yrs

— phil_hellmuth (@phil_hellmuth)
Mercier, 24, has arguably accomplished more in the past four years than anyone in the game. He has two WSOP bracelets, a European Poker Tour title, several High Roller victories, and nearly $6 million in earnings. He's the No. 1-ranked player in the world in both the Global Poker Index and ESPN's The Nuts. #whenwillitend.
Minutes after selecting Mercier, it was announced that Huck Seed also wouldn't be making the trip. In staying with the "young gun" theme, Hellmuth replaced Seed with the player he's currently chasing for WSOP Player of the Year, 26-year-old November Niner Ben Lamb.
As Captain of Team USA/Canada I'm picking @BenbaLamb for 3 reasons: tourney record, @RealKidPoker + @JasonMercier voted for him AND...

— phil_hellmuth (@phil_hellmuth)
Ben Lamb is the only player ahead of me in "Player of the Year" race! Although I plan on passing him in the next few days, bring it!!!

— phil_hellmuth (@phil_hellmuth)
Mercier and Lamb join Hellmuth, Johnny Chan and Daniel Negreanu as part of Team Americas.Bertrand "ElkY" Grospellier's Team Europe squad features Jake Cody, Gus Hanson, Dario Minieri and Maxim Lykov. The two sides will face off in the Ryder Cup-style poker event on Wednesday, Oct. 19 in Cannes.
For more info on the Caesars Cup, visit WSOP.com.
Know When to Fold'em
The Economist published an article this week that all serious poker players can appreciate. The piece tackled the ongoing argument about luck-versus-skill in poker, and even took a few jabs at one of the game's most passionate critics, Focus on the Family gambling analyst Chad Hills.
The article was a follow-up to a New York Times piece that quoted Hills saying that poker is a game of chance because nobody "can tell you what the next card flipped over is going to be." Hills has long argued that poker doesn't involve any skill whatsoever. The poker world, meanwhile, has long argued that Hills doesn't know what he's talking about.
The Economist writer, "J.F.", responding to Hills, by citing studies indicating that skill does, in fact, play a major role in poker. One of the studies, conducted by Steven Levitt and Thomas Miles, found that "high skill" players generated a high return on investment at the 2010 World Series of Poker compared to the rest of the field. The "high skill" group was determined based on the player rankings of major poker publications.
"J.F." also points out the ability of a player to lose deliberately at poker if he so chooses, which wouldn't be possible in a game strictly based on chance like baccarat or roulette. "Can you deliberately lose a hand of poker if you tried? Of course: bet badly, fold with winning cards, and so on," the author writes.
Check out The Economist for a very interesting read.
Zynga Looks Beyond Facebook
On Tuesday, in its first major announcement since July, online gaming giant Zynga unveiled several new products and announced plans to expand its gaming platform outside of Facebook.
Zynga said that it plans to launch a site separate from Facebook where players can congregate and play its games. The venture, which Zynga CEO Mark Pincus calls "Project Z," is intended to form a direct relationship with consumers, whether on a mobile or desktop platform.
Zynga also hopes to remove a heavy reliance on Facebook, which takes a 30 percent cut of any revenue earned. Zynga services around 232 million users around the world, but said in September that profit dived to $1.4 million from $14 million a year earlier.
Among the new titles forthcoming includes Zynga Casino, which will incorporate the popular Zynga Poker and a new Zynga Bingo application (set in Las Vegas). Zynga Poker serves more than 35 million players, according to Zynga general managerLo Toney, most of which log in through social networking sites like Facebook. But Zynga wants to begin moving its popular games to its own playground.
For more, check out the story from the Associated Press.
Ladbrokes, Sportingbet End Talks
Takeover talks between gambling firm Ladbrokes and online gaming firm Sportingbet fell flat this week after worries over Sportingbet's business in the tough regulatory market of Turkey.
The two sides had been in talks since June, but Ladbrokes Chief Executive Richard Glynn said Monday in a conference call that there is "not a structure we could agree on that gives our shareholders an acceptable level of look-back and look-forward regulatory risk in respect to Turkey."
Sportingbet operates an online betting website offering bets to Turkish residents, but Turkish authorities view the operation as illegal. Ladbrokes has pulled out of previous deals because of its aversion to operating in unregulated territories.
"The potential benefits and risks associated with a combination with Sportingbet were clear to us from the outset and have been well covered by the market," Glynn added in a statement.
As a result, shares in Ladbrokes slipped close to an all-time low of 119 pence, while Sportingbet lost almost a fifth of its share value, down 18 percent at 37.5 pence by closing time on Monday.
Get the latest at The Guardian.
November Niners Duel
Two members of the2011 World Series of Poker Main Event Final Table found themselves seated together during an event at the WSOPE on Wednesday. Kristy Arnett caught up with Matt Giannetti and Phil Collins to discuss an interesting dynamic developing in Cannes.
Are you following PokerNews on Twitter? Like us on Facebook while you're at it, and sign up for the newsletter. You know you want to.