The WSOP on ESPN: Lindgren, Bach & Ruthenberg Fall on Day 7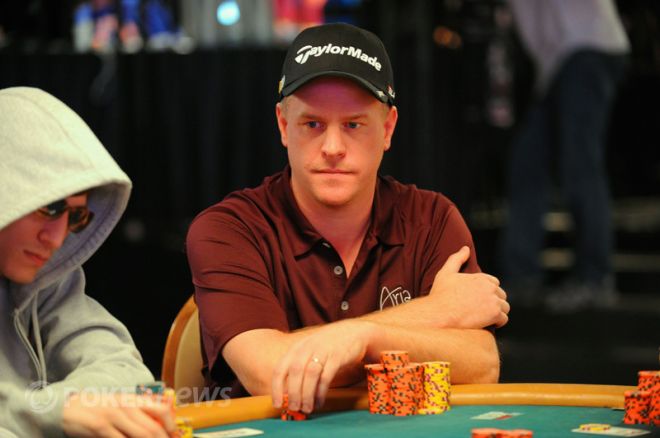 On Tuesday night, the 2011 World Series of Poker coverage on ESPN continued with two new episodes of the Main Event. Last week, Day 6 concluded with a bevy of eliminations, including Allen Cunningham, Jean-Robert Bellande, and former chip leader Daryl Jace. Even so, Day 7 kicked off with quite a few notables still in the field including Tony Hachem, Ben Lamb, Erick Lindgren, and Phil Collins.
Start of Day 7 Chip Counts
| Place | Player | Chip Count |
| --- | --- | --- |
| 1st | Ryan Lenaghan | 12,865,000 |
| 2nd | Ben Lamb | 9,980,000 |
| 3rd | Matt Giannetti | 7,940,000 |
| 4th | Andrey Pateychuk | 7,255,000 |
| 5th | Phil Collins | 7,240,000 |
| 6th | Hilton Laborda | 7,160,000 |
| 7th | Nelson Robinson | 6,420,000 |
| 8th | Tri Huynh | 6,295,000 |
Let's Get It On: With the blinds at 30,000/60,000 with a 10,000 ante, bracelet-winner John Esposito (1999 $2,500 Limit Hold'em) looked down at
and raised to 160,000. Action folded to the chip leader, Ryan Lenaghan, in the big blind, and he called with
, leading to the
flop. Both players checked, and the dealer promptly burned and turned the
.
Lenaghan took the initiative and led out for 165,000 but was met with an all-in raise by Esposito to 1,385,000. Lenaghan thought awhile before making the call, which was for 10 percent of his stack. Each player had a 50/50 shot at winning the pot headed to the river, which brought the
. "Yes," Esposito exclaimed as he pumped his fist. The river was kind and allowed him to double to 3.2 million in chips.
Failed Move by Lamb: On the secondary feature table, Sam Barnhart opened for 135,000 holding
and was quickly raised to 300,000 by Ukrainian pro Anton Makiievskyi who looked down at
. Surprisingly, Ben Lamb then four-bet from the button to 725,000 with the measly
. It was enough to get Barnhart off the hand, but Makiievskyi responded by moving all-in for 3,985,000 total. Lamb hesitated for a moment and then flicked his hand to the muck.
Brown or Green?: During the WSOP, David "Doc" Sands and his girlfriend, Erika Moutinho, participated in PokerNews' WAG Diaries. When asked what color eyes his girlfriend had, Sands answered green when they were in fact brown. He offered an explanation in an ESPN segment, but it sounded like nonsense to us. If you want to see exactly what we're talking about, check out the WAG Diary video below.
Ruthenberg Eliminated: The cameras caught a hand at the outer tables where Kenny Shih opened for 140,000. Sebastian Ruthenberg then moved all-in for 880,000 and action moved to Guillaume Darcourt holding
. He just called, enticing Shih to come along with
, but instead Shih tossed the snowmen to the muck. Ruthenberg was at risk and only a 29 percent favorite to win with
.
The
flop would have given Shih a full house, but as we all know, "If ifs and buts were candy and nuts, we'd all have a merry Christmas." As it was, Darcourt's kings were in the lead, where they stayed as the
turn and
river failed to help Ruthenberg. The Team PokerStars Pro was eliminated in 55th place for $130,997.
Luck of the Irish: After Guillaume Darcourt opened for 180,000 and Nicolas Fierro called, Eoghan O'Dea moved all-in for 1,760,000. Anton Makiievskyi was in the big blind and made the call after Darcourt folded out of turn. Fierro also folded, and the cards were turned up:
Showdown
O'Dea:

Makiievskyi:
The Ukrainian called off a third of his stack to try to eliminate the Irishman, and the
flop gave Makiievskyi a flush draw. However, it was the luck of the Irish for O'Dea as both the
turn and
river blanked, granting him the double to 4,000,000.
One for Lindgren: On a flop of
, Kyle Johnson led out for 405,000 with
only to have Erick Lindgren holding
move all-in for 1.26 million. Johnson reluctantly made the call and watched as both the
turn and
river bricked. Lindgren doubled 3,080,000.
Feature Table Action: Here is how the ESPN Feature Table stacked up toward the end of the first hour of broadcast:
Feature Table Chip Counts
| Place | Player | Chip Count |
| --- | --- | --- |
| 1st | Hilton Laborda | 11,835,000 |
| 2nd | Ryan Lenaghan | 11,100,000 |
| 3rd | Matt Giannetti | 7,390,000 |
| 4th | Martin Staszko | 4,775,000 |
| 5th | John Esposito | 2,840,000 |
| 6th | Fabio Sousa | 2,150,000 |
| 7th | John Hewitt | 1,955,000 |
| 8th | David "Doc" Sands | 1,715,000 |
| 9th | David Bach | 1,270,000 |
It was at the feature table that one-time chip leader David Bach looked down at
and raised to 180,000. From there, action really heated up as Ryan Lenaghan opted for a three-bet to 330,000 with
and John Hewitt who was on the button with
moved all-in for 1.945 million. Bach called off his paltry stack, and Lenaghan frustratingly tossed his cards to the muck.
Unfortunately for Bach, the flop fell
and left him drawing to runner-runner queens. The
turn left him drawing dead, and the
river officially eliminated the 2009 Poker Players Champion in 45th place for $196,174.
Lindgren's Run is Done: Erick Lindgren was all-in preflop for his last 625,000 with
and was called by Steve Brecher who was holding
. Lindgren was dominated, but the
flop delivered some hope by giving him a straight draw. However, neither the
turn nor
river helped and his 2011 WSOP Main Event run came to an end 43rd place ($196,174). Not too shabby for a man that was down to just 3,700 chips on Day 1.
Brazilian Counterfeit: John Esposito opened for 175,000 with
and received a call from Ryan Lenaghan who was holding
. Fabio Sousa then moved all-in for 1,645,000 from the small blind with
. Esposito got out of the way while Lenaghan made the call. It was a coin flip with Sousa's tournament life on the line. With 3,625,000 at stake, the flop came down
, keeping Sousa in the lead. The
turn changed nothing, but the
on the river counterfeited Sousa in heartbreaking fashion. The Brazilian was clearly demoralized as he made his way to the payout desk in 42nd place to collect his $196,174.
Ace vs. Kings: Bryan Devonshire opened for 230,000 from the cutoff with
and was three-bet to 475,000 by Guillaume Darcourt with
. Devonshire responded by four-betting to 1.1 million, Darcourt moved all-in, and Devonshire snap-called for 3.97 million. There was 8.12 million in the pot and the board ran out an uneventful
. Devonshire survived the hand, but the Frenchman lost 65 percent of his stack, leaving him with 2.16 million.
Huge Pot for Giannetti: Matt Giannetti opened for 220,000 with
and received a call from Hilton Laborda who looked down at
, on the button. It didn't take long to see that this was going to be a big pot as the
flop gave Giannetti top set and Laborda a king-high flush. The former player lead out for 300,000, the latter called, and the
hit the turn.
This time Giannetti checked, Laborda bet 420,000, and Giannetti check-called, leading to the
river. Giannetti had filled up and sneakily checked to Laborda, who obliged with a bet of 2,000,000. Giannetti hesitated for a few seconds before moving all-in for 5.26 million total. Laborda sipped his water and stared into the distance before calling off half his stack. Just like that, Giannetti jumped into second place with 12.63 million.
Laborda was eliminated a few hands later when he rivered the nut flush only to run into a rivered full house that just happen to belong to Giannetti who became the new chip leader with 16,190,000.
Aussie, Aussie, Aussie, Bye, Bye, Bye: Tony Hachem, brother of 2005 World Champion Joe Hachem, was all-in preflop with
and up against the
of Kenny Shih. With 1,130,000 in the middle, the flop fell
and put Hachem in a world of hurt. The
turn put an end to any suspense, and the
was run out on the river for good measure. Hachem was eliminated from the tournament in 37th place for $196,174.
To be Continued: The last hand of the night ended up being the elimination of Guillaume Darcourt, who finished in 35th place and marked the halfway point of Day 7.
Tune in Next Week: Every Tuesday leading up to November, ESPN will air two episodes of the 2011 WSOP Main Event. Be sure to either check your local listings or come back next week for our recap of the action.
Don't forget to follow us on Twitter and like us on Facebook.n Facebook[/URL].[/I]