PokerNews Jet Set: Bahamas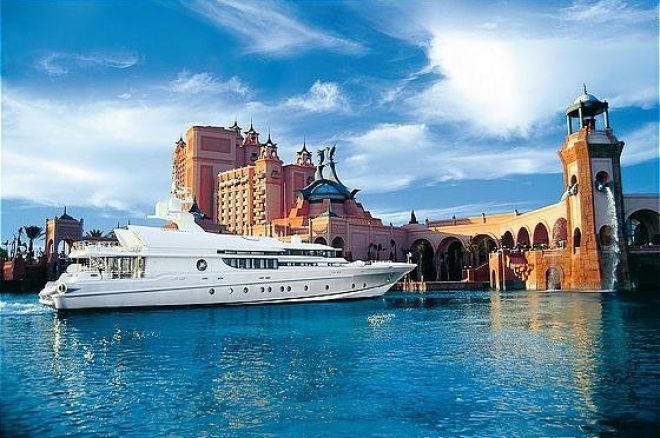 The Atlantis Resort and Casino in the Bahamas is where the poker world's focus will be in January. PokerStars is once again hosting its annual Caribbean Adventure in Paradise.
I was lucky enough to make my first trip to the Caribbean with PokerNews two years ago for the PCA, and let me tell you, there is no way you could get bored at Atlantis, but you could most definitely go broke with so much to do, see, and eat!
Only 60 miles off the coast of South Florida, stretching as far as Cuba, the Bahamas comprises more than 700 islands, one of which is Paradise Island, the exclusive home to Atlantis.
The Vitals
Language: English
Currency: USD is widely accepted with the local currency, Bahamian Dollar, fixed to the USD for an equivalent exchange rate. BSD $1 = USD $1
Tipping: Similar to the U.S. where gratuity is automatically added to some bills. If not, then 15 to 20 percent is expected.
Weather: This may be the coldest time of year but don't let that deter you — the daily average temperature is a perfect 75°F.
Legal Age: Hello to all 18 year olds — you're legal in the Bahamas!
Getting There and Around
Nassau International Airport (NAS) is a 30-minute taxi ride from Atlantis, costing roughly $30. Atlantis is situated on Paradise Island, connected by bridge to the central Bahamian island of New Providence. Metered taxis are located outside all hotels and can also be hired (cheaply) by the hour if you want a personal tour guide. Water taxis operate frequently between Nassau and Paradise Island, and buses run from the hotels to downtown Nassau several times a day.
My first choice would always be to stay at the host venue, but if the cost of accommodation is on your own coin, then be prepared to spend big if you want to stay at Atlantis. Even within the resort, there is a large range of accommodation offerings to suit various budgets, but even the "cheap" options aren't that cheap! Another point to keep in mind is that just because you're staying at the host venue doesn't mean you're not in for a hike to the poker room. This place is seriously massive.
If you do want to splurge on accommodation, then the high-rise Royal Towers is where you want to stay. Another step up is The Cove. It has the most modern and luxurious suites in the Caribbean, including one of the most stunning day spas I've ever seen, and a funky, private adults-only pool to escape the family-vibe around the rest of the resort.
The Coral Towers and Beach Tower rooms are quite basic, but they're located in the heart of the fun and activities, and, most importantly, close to the Imperial Ballroom, which will be converted into the PCA tournament area in January.
Earlier this year, PokerNews', Kristy Arnett, Gloria Balding and Sarah Grant took us on a quick video tour around Atlantis. The ladies even started a little prop bet that will probably continue in 2012, since no one won it this year.
Despite Atlantis being an entire island of its own, it really isn't too far from surrounding accommodation if you'd rather be kind to your budget, and taxi travel is quite cheap. Check out PokerNews Hotels for the other suggested places to stay in Nassau, as well as the above-mentioned hotels within Atlantis.
Things to Do
When you're in Bahamas during PCA, pretty much everything to do is within Atlantis. It's hard to comprehend the sheer size of this place until you actually see it for yourself.
If you haven't already done so, head over to the PokerStars website to check out the tournament schedule and ensure that you allocate at least one day off to put your feet up at a poolside lounge with a Bahama Mama in hand. It would be criminal not to.
The most extravagant feature of Atlantis, is the $15 million marina (pictured above) that rivals the legendary Marina of Monte Carlo. The yachts that I've witnessed on this marina simply blew my mind. This was my favorite area to go, when I was able to escape the madness of the poker room. Walking along the yacht and shop-lined Marina Village is a welcomed break from the PCA grind.
When deciding where to eat, making the choice can be daunting. There are over 40 restaurants, (yes, 40!), with choices ranging from quick and easy snacks, to the most exclusive fine dining in the world.
January is high season, so expect long lines at restaurants, although that's not so reflected at the pool and beach areas — they're so expansive you'll be sure to find a secluded spot just for you. With the resort being so huge, that means lots of walking, so, ladies, leave the high heels at home.
As for activities, there is so much to do, especially if you love water. You can swim with the dolphins or sea lions, or ride on a water slide through shark-infested waters the way Kristy and Sarah did with Team PokerStars Pro Andre Akkari and Maridu Mayrinck last year:
Follow @PokerNews_Live to ensure you don't miss a single update from our Live Reporting blog during our coverage the PokerStars Caribbean Adventure.