Buyer of Peter Eastgate's Bracelet Wants to Return it to WSOP, Raise Money for Charity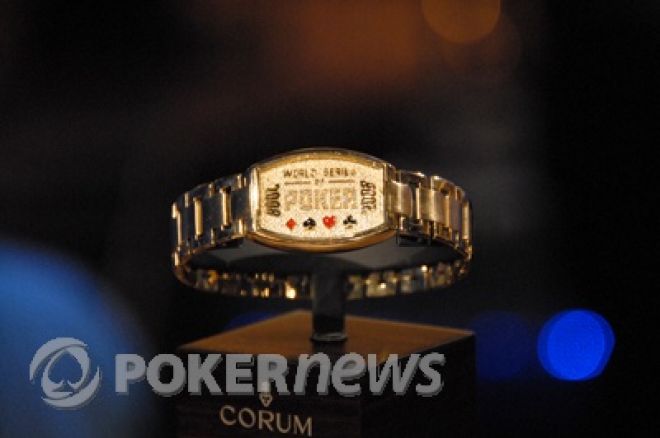 In November 2010, the poker world was captivated by the news that 2008 World Series of Poker Main Event winner Peter Eastgate planned to auction his coveted gold bracelet to raise money for charity. After being listed on eBay with a starting bid of $16,000, the bracelet garnered 116 bids, and despite Tony Guoga's best efforts to secure the bracelet and turn it into a dog collar, the winning bid of $147,500 was place by someone known only as "7***l".
The anonymous buyer, later revealed to be William Haughey, has granted PokerNews an exclusive interview to talk about the bracelet and how he'd like to work with the World Series of Poker to arrange a charity event. Haughey says he is willing to match any money raised in such an event up to $1 million.
The quiet and unassuming Haughey played Day 1a of the 2012 Aussie Millions Poker Championship Main Event. In a strange twist of fate, PokerNews met Haughey after Dutch correspondent Remko Rinkema charged the Scottish businessman's phone. Haughey, who has donated over £5 million to charities, then introduced himself and told us how, after making his fortune through his refrigeration company, City Refrigeration Holdings, he and his wife became fascinated by poker. He also said that the only reason he purchased the bracelet was because the proceeds were being donated to charity.
It became quite apparent during our conversation that charity, a tradition he would like to carry on through poker, has played a large role in Haughey's life. Haughey believes he can combine his love for the game with his passion for charitable deeds. With the help of the World Series of Poker, and perhaps a tie-in involving Eastgate's bracelet, he hopes to raise $2 million for charity.
Haughey was gracious enough to grant PokerNews the following interview:
Why did you buy the bracelet?
I thought it was a magnificent gesture when Peter said he was going to give the money to charity. That was the only reason why I bought the bracelet. I paid $150,000 for the bracelet, but if the money wasn't going to charity I wouldn't have even paid $50,000 for it. Some of the younger players said that the integrity of the bracelet was lost, and there was no respect, but the kids in Africa will be cheering Peter Eastgate today and not worrying about what the poker blogs are saying.
Spending $150,000 on a charity is a lot of money. Could you tell us a bit more about your background?
I'm a businessman in Glasgow, Scotland. I have been very fortunate, and over the last couple of year my business has grown and grown. We set up a charitable trust about five or six years ago and donated to many worthy causes over the years. My wife and I started playing recreational poker about six years ago, it's a good escape from the business and it keeps taxing the mind. We're only willing amateurs, but we are having a good time. So when I saw this article about Peter's bracelet being up for sale, I thought it was a magnificent gesture that someone wanted to do that. So that's what drove me to do it.
Now, you have decided to give back the bracelet to the poker community. How did you come to that decision?
Since I purchased the bracelet, I've never had it on and I never have my picture taken with it. It has been in a safe, and what I would like to do is maybe protect the integrity and the worthiness of the bracelet. I would like to discuss with the World Series of Poker if they would take the bracelet as a gift from me and keep it in the Hall of Fame. Maybe they could strike a one-off bracelet in Europe next year for charity. I could pick a charity of my choosing and they could pick one of their choosing. I think it'd be great for the poker community. Not everyone gets a chance to win a bracelet, so maybe we could do something online for a couple of hundred bucks and raise like $400,000 or $500,000.
So you're thinking about having an online tournament?
I just would like to give it back and have the WSOP organize a bracelet event for charity next year. So I would like to discuss with them if they would like to have the bracelet back, put it in a museum, and maybe strike a one-off bracelet so that the online kids or willing amateurs can have a chance at winning a bracelet for maybe $100. That would be fantastic to raise another million dollars for charity.
Charity events usually get a lot of celebrities. What kind of exposure are you looking for and what are the charities you're thinking about?
I don't want any exposure at all. I've never done it for that, and that's why I've kept quiet for two years. The reason I'm speaking with you is that I read that the WSOP decided to strike a bracelet for charity this year in Las Vegas, the [One Drop $1 million buy-in event]. I would say I will make a special offer: If the WSOP can come up with a good idea about how we can potentially raise $1,000,000 for charity, I will match it. Whatever they raise, if they have a bracelet event, I will match [the buy-in] up to $1,000,000. Half of the money can go to a WSOP charity, and the other half will go a cancer hospital that's going to be built in the U.K.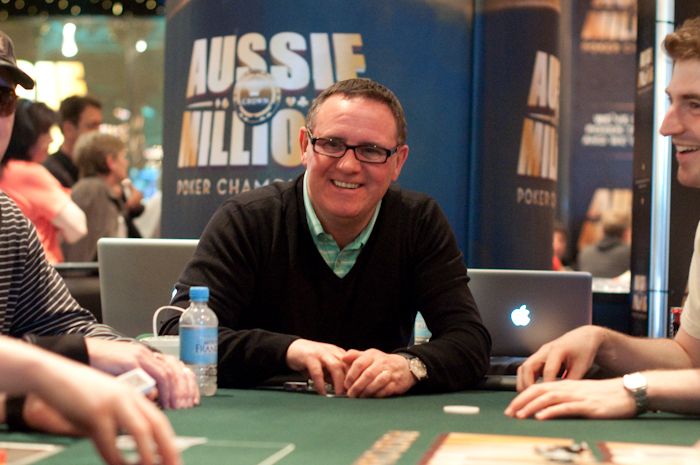 Is there anything else you'd like to add?
Unfortunately, in the last year or so, the poker reputation has been tarnished. I think the people in the poker community should step up to the plate and try and do something to rectify that so that people out there don't just think it's a big community of gamblers and that we can also do something for less fortunate people. The social aspect of poker is what draws me to it; the money is not life changing and it's really good banter. I really enjoy it and I think doing charitable work can only be good for the poker world . . . Over the last six years, my wife and I have been traveling all over the world playing poker. We have played the PCA, in Las Vegas the last four years, Monte Carlo ... we really, really enjoy it.
Stay up to date on all the latest news by following us on Twitter and liking us on Facebook.