World Poker Tour on FSN: World Poker Finals Season X — Part III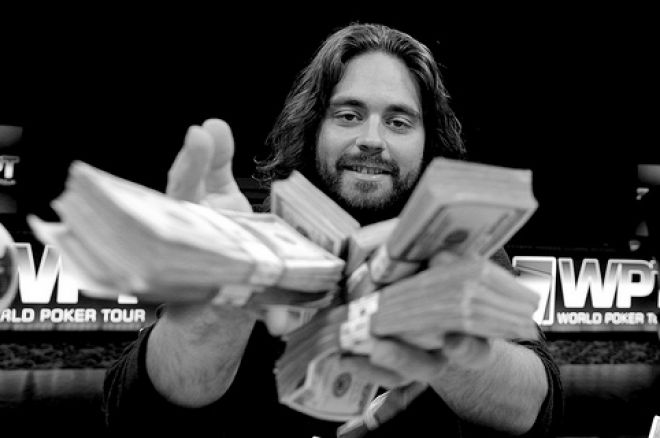 Season X of the World Poker Tour on Fox Sports Network continued Sunday with the third and final part of the 10th annual World Poker Finals from Foxwoods Resort Casino in Mashantucket, Connecticut. At the top of the broadcast, only three players remained from the 189-player field, each competing for their share of a $1,778,550 prize pool, with their eyes firmly fixed on the $449,910 first-place prize.
In Part I, the early stages of the tournament were highlighted while the first final-table casualty occurred, which happened to be Eli Berg.
In Part II, two more eliminations occurred. On the 13th hand of the final table, Steven Brackesy opened for 37,000 with
and received a call from Daniel Santoro who was holding
. Christian Harder then three-bet to 127,000 holding
on the button and then Andy Frankenberger moved all in for 354,000 with
from the big blind. Both Brackesy and Santoro quickly got out of the way, and Harder insta-called.
Frankenberger was the reigning WPT Player of the Year, but a second WPT eluded him as the board ran out
and he was eliminated in fifth place for $99,585. Likewise, Brackesy met his end when he got all in preflop holding
only to run into Santoro's
. Brackesy failed to find any help as the board ran out
and he hit the rail in fourth place for $129,816.
Here's how things stacked up at the start of the final table:
WPT Foxwoods World Poker Finals Final Table
| Seat | Player | Chips |
| --- | --- | --- |
| 1 | -Empty- | |
| 2 | Daniel Santoro | 3,282,000 |
| 3 | Christian Harder | 1,537,000 |
| 4 | Bob Carbone | 901,000 |
| 5 | -Empty- | |
| 6 | -Empty- | |
First Hand: With the blinds at 15,000/30,000 and a 5,000 ante, Harder opened for 65,000 from the button with
. Bob Carbone looked down at
in the small blind and opted to move all in, prompting Santoro to fold in the big blind. Harder considered his options, flexed his fingers, and then gave up on the hand.
Bob Carbone Eliminated in Third Place: With
on the button, Santoro made it 60,000 to go. "This guy's the best," Carbone said from the big blind as he squeezed out
. "I'm all in."
"Call," Santoro snapped and rolled over his hand. Both players were on their feet and Carbone seemed to know his fate was sealed. The crowd was calling for various cards, each rail supporting their man, but the dull
flop quieted things down. The
turn was of no consequence, and neither was the
river. Carbone, who got into the tournament via a $250 satellite, was eliminated in third place for $166,271.
"I learned tonight that these kids are real good poker players, they're grinders, that's for sure," Carbone told Matt Savage in his post-elimination interview. "I hope to be back again someday, this was a great, great experience."
The Raw Deal: In the latest edition of The Raw Deal, Tony Dunst took the opportunity to preview the upcoming heads-up match. He believed that both men no doubt hoped to face off against Carbone, the lone amateur remaining in the field, but his elimination made that impossible.
Instead, the two were destined to face one another. As Dunst pointed out, both Santoro and Harder were just a year apart and had plenty of online experience. Furthermore, any advantage Santoro had with the chip lead was equalized by Harder's experience in the live realm.
"It's a tricky game playing someone that you believe is thinking about the same concepts and strategic concerns that you are," Dunst pointed out before explaining that he expects both players to have an exploitable, balance approach, while pursuing similar betting lines and patterns.
First Hand of Heads-Up Play: With the blinds at 25,000/50,000 and a 5,000 ante, Harder was facing an uphill battle with his 1,305,000 stack going up against Santoro's 4,415,000. In the first hand between the two, the latter opened for 100,000 with
and was called by Harder who was holding
.
Both players proceeded to check the
flop before the
peeled off on the turn. Harder led out for 115,000, Santoro raised to 235,000, Harder called and the
appeared on the river. Harder checked, Santoro took a stab at the pot with a bet of 400,000, and Harder released his hand.
Double Trouble: Harder was first to act and raised to 100,000 with
, prompting Santoro to move all in with the inferior
. Harder made the call and was a 67 percent favorite to double on the hand, which increased to 95 percent when the flop came down a favorable
. The
turn left Santoro drawing dead, and after the meaningless
was put out on the river, Harder doubled to 1.7 million.
Harder Takes the Lead: In the next hand shown, Santoro opened for 100,000 with
and was called by Harder who was holding
. The
flop saw both players check, leading to the
turn. Harder checked the nut straight, opening the door for Santoro to bet 100,000 with his pair of jacks. Harder then raised to 310,000, Santoro called, and the
hit the river. Harder wasted little time in firing out 490,000 and Santoro looked perplexed. He thought long and hard before saying, "Here you go," and putting in the call. With that, Harder took the chip lead.
Another Double for Harder: After battling back into the chip lead, Santoro opened on the button for 160,000 with
only to run into the
of Harder. The latter came in with a raise to 400,000, Santoro called and the flop came down
. Harder picked up the nut-flush draw and led out for 340,000, which Santoro raised by moving all in. Harder made a quick call and was an 83 percent favorite to double on the hand. Neither the
turn nor
helped Santoro and Harder doubled to 3.96 million on the hand.
Santoro's Turn to Double: After the blinds went up to 40,000/80,000 with a 10,000 ante, Santoro opened for 160,000 with
. Harder looked down at
and moved all in, which Santoro called. It was a classic race and both players were on their feet. Much to Santoro's delight, the board ran out
and he doubled back into the chip lead.
And the Winner Is: In the final hand of the tournament, Harder opened for 160,000 and was met with a three-bet to 425,000 by Santoro. Harder responded by moving all in 2.41 million and Santoro snap-called.
Showdown

It was another classic flip, and Santoro could clinch victory if he could improve. He couldn't do it on the
flop, nor the
turn, but the
spiked on the river to give him the win. "Unbelievable heartbreak for Christian Harder," Mike Sexton said as the crowd reacted in disbelief.
"It was a coinflip, so I wasn't way ahead or anything," Harder said in his post-elimination interview. "It's obviously frustrating to lose heads up in a big tournament, but I mean I ran pretty well early in the heads-up match and he won two flips to end it. It happens."
Tune in Next Week:
Next week, a whole new tournament will begin on FSN. Be sure to check your local listings for episodes of the Bellagio Five Diamond World Poker Classic from Las Vegas. If by chance you miss it, check back next week for the latest recap of all the action right here on PokerNews.
Past Foxwoods World Poker Finals Champions
| Season | Player | Entrants | Earnings |
| --- | --- | --- | --- |
| 1 | Howard Lederer | 89 | $320,400 |
| 2 | Hoyt Corkins | 313 | $1,089,200 |
| 3 | Tuan Le | 674 | $1,549,588 |
| 4 | Nick Schulman | 783 | $2,167,500 |
| 5 | Nenad Medic | 609 | $1,717,194 |
| 6 | Mike Vela | 575 | $1,704,986 |
| 7 | Jonathan Little | 412 | $1,120,310 |
| 8 | Cornel Andrew Cimpan | 353 | $910,058 |
| 9 | Jeff Forrest | 242 | $548,752 |
| 10 | Daniel Santoro | 189 | $449,910 |
If you love poker, be sure to follow us on Twitter and like us on Facebook for all the latest updates on the World Poker Tour.
*Picture courtesy of World Poker Tour.