Five Thoughts: The 2012 WSOP Player of the Year Race is Heating Up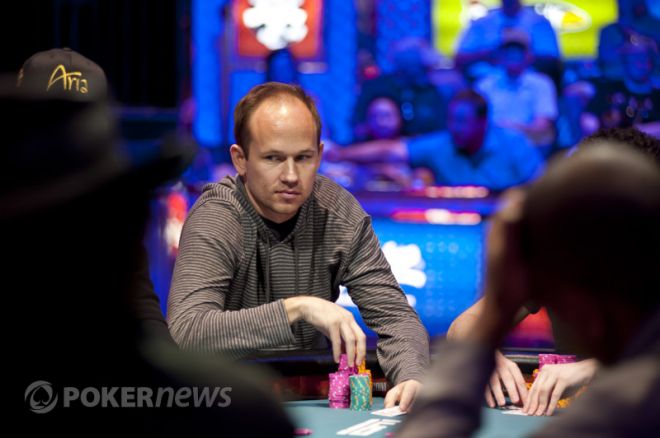 On Tuesday night, Phil Ivey locked up his fifth final table at the 2012 World Series of Poker, and in doing so, he also recaptured the lead in the WSOP Player of the Year race. Ivey is guaranteed to bank at least 37.5 points with a ninth-place finish, increasing his total to 532.2 points, and could earn as many as 187.5 points with a victory. John Monnette, who surpassed Ivey when he finished runner-up to David "Bakes" Baker in Event #32: $10,000 H.O.R.S.E., currently sits with 524.25 points, and Andy Frankenberger is in a distant third with 384.66 points.
Ivey and Monnette are turning this into a two-player race, but there's always room for a comeback, especially with the Main Event and the World Series of Poker Europe in Cannes.
1. Ivey and Monnette try to separate from the field
Combined, Ivey and Monnette have reached eight final tables thus far at the 2012 WSOP, but only Monnette has walked away a winner. "Angry John" won Event #10: $5,000 Seven Card Stud, while Ivey's best finish was when he finished runner-up to Frankenberger in Event #17: $10,000 Pot-Limit Hold'em. Here's how Monnette and Ivey stack up right now:
Phil Ivey
| Event | Finish | Prize |
| --- | --- | --- |
| Event 14: $1,500 No-Limit Hold'em Shootout | 118th | $5,295 |
| Event 15: $5,000 Seven Card Stud Hi-Low Split 8-or-Better | 7th | $34,595 |
| Event 17: $10,000 Pot-Limit Hold'em | 2nd | $275,559 |
| Event 24: $5,000 Omaha Hi-Low Split 8-or-Better | 3rd | $136,046 |
| Event 32: $10,000 H.O.R.S.E. | 5th | $99,739 |
| Event 35: $2,500 Mixed Hold'em | TBD | TBD |
John Monnette
| Event | Finish | Prize |
| --- | --- | --- |
| Event 4: $1,500 Seven Card Stud Hi-Low Split 8-or-Better | 12th | $10,051 |
| Event 10: $5,000 Seven Card Stud | 1st | $190,826 |
| Event 15: $5,000 Seven Card Stud Hi-Low Split 8-or-Better | 3rd | $109,444 |
| Event 27: $1,500 H.O.R.S.E. | 94th | $2,676 |
| Event 32: $10,000 H.O.R.S.E. | 2nd | $279,206 |
Unfortunately for Monnette, who hasn't had a six-figure score in no-limit hold'em since 2006, there are only three events left that feature stud games; Event #37: $2,500 Eight-Game Mix, Event #42: $2,500 Omaha/Seven Card Stud Hi-Low 8-or-Better, and the $50,000 Poker Player's Championship. There are no stud games played at the WSOPE in Cannes, France.
Ivey has never won a hold'em bracelet at the WSOP, but he has had dozens of deep runs, including a seventh-place finish in the 2009 Main Event. He also has a seven-figure hold'em score this year, defeating Patrik Antonius heads-up in the Aussie Millions A$250,000 Challenge for AUD$2,000,000. This should give Ivey a slight edge, plus he'll be free rolling at the final table of Event #35.
There's still room for someone to come flying out of left field and enter the race though. Shawn Buchanan and Chris Moorman challenged Ben Lamb for the 2011 WSOP POY when they made deep runs in the WSOPE Main Event. However, even if one of them had won the tournament, Lamb's third-place finish in the WSOP Main Event would've propelled him into first place.
With over 20 events left here in Vegas, including the Main Event, and seven to go in Cannes, there's no telling what can happen. Ivey and Monnette are dominating the race for now though, and Ivey has a chance to extend his lead at his fifth final table of the summer.
2. Shulman ships the Senior's Event
Allyn Jaffrey Shulman, the wife of Barry Shulman, and the mother of Jeff Shulman won Event #29: $1,000 Senior's World Championship Event, earning her $603,713. She becomes the first woman to win a mixed-gender event at the WSOP since 2008, however Vanessa Selbst's victory came in an open event. Prior to Shulman's win, her largest career score was $41,285, which she earned for finishing sixth in a $2,500 Omaha hi-low split 8-or-better event at the 2005 WSOP. Shulman joked at her bracelet ceremony that it was hard to enter the Senior's World Championship because she had to admit how old she was — I'm sure that pill isn't as bitter today.
Shulman defeated Dennis Phillips, who finished third in the 2008 WSOP Main Event, heads-up to win the bracelet and the giant golden eagle trophy. Also at the final table was two-time WSOP bracelet winner Hoyt Corkins, who finished fourth for $199,023 — which is his biggest score since he won the 2010 WPT Southern Poker Championship for $713,986.
It was a great week to be a Shulman at the WSOP, because husband Barry and son Jeff also made final tables. Barry finished eight in Event #19: $1,500 No-Limit Hold'em, while Jeff finished third in Event #20: $5,000 Limit Hold'em. Jeff has yet to win his first gold bracelet, but Barry has two victories, including a massive, $1,321,534 score for winning the 2009 WSOPE Main Event.
3. Cada comes close
Less than three years removed from winning the 2009 WSOP Main Event, Joe Cada locked up his second largest career score early Tuesday morning, finishing runner-up to Carter Phillips in Event #31: $1,500 No-Limit Hold'em for $412,424. Cada hasn't boasted the best résumé since becoming world champion — this is only his fourth WSOP cash in three years — but things could be turning around. Earlier this year, he won a $2,000 side event at the PokerStars Caribbean Adventure for $175,550. He also had a few deep runs in 2011, finishing 11th in the $25,000 High Roller event at the PCA, 13th in the EPT San Remo Main Event, and 26th in in the $10,000 No-Limit Hold'em — Six-Handed Championship Event at the WSOP.
The burden of being world champion has to be difficult to deal with, especially in today's world where time moves at an insanely fast pace. Fellow world champion and Team PokerStars Pro Jonathan Duhamel went into a slump after winning a high roller event at EPT Deauville in January of 2011, only cashing twice at the WSOP. He went on a tear at the 2012 PCA, making four final tables and earning over $1.1 million in the process, but people still want to see him succeed at the WSOP.
Perhaps that's why we loved Greg Raymer and Joe Hachem so much. Sure Raymer and Hachem were great ambassadors, and they did a lot of good to help the game grow, but they also had results at the WSOP directly after winning the Main Event. Raymer made it all the way to the final three tables of the 2005 Main Event the year after becoming champion, and Hachem finished runner-up to Dutch Boyd in a bracelet event in 2006. Their results were both large and immediate, solidifying them as true champions of the game.
It's not easy to parlay multiple deep runs though, and Cada deserves a lot of credit for his second-place finish. I hope that the monkey on his back feels a little bit lighter today.
4. Bakes' second bracelet
The aforementioned David "Bakes" Baker won Event #32: $10,000 H.O.R.S.E., defeating Monnette heads-up to earn his second career WSOP bracelet. Baker's first bracelet came in 2010, when he won the $10,000 No-Limit 2-7 Draw Lowball World Championship, and $294,321. He made one final table last year (unsurprisingly in the 2-7 Draw Lowball World Championship) and this was Baker's fourth career WSOP final table appearance.
Less than 10 hours later, Baker registered for Event #36: $3,000 No-Limit Hold'em Shootout. It shouldn't be a surprise however, in his post-win interview, he spoke about grinding hard during the WSOP:
"You can do well here [at the WSOP], and not have to work for the rest of the year. I gotta keep going. There were some player of the year candidates at his table, but I'm still not out of it. That's still something that I'd like to do, so I'll still be playing."
Baker continued to "do well" in Event #36, he won his first table, guaranteeing himself at least $9,086 and a shot at his third career bracelet and potentially $368,593.
5. Lol chairaments
Huck Seed made Kristy Arnett stand on a chair during this interview, and hilarity ensues.
Follow PokerNews on Twitter for up-to-the-minute news.