The Nightly Turbo: Hellmuth and Mercier Sell Action, Pam Anderson's Poker Site, and More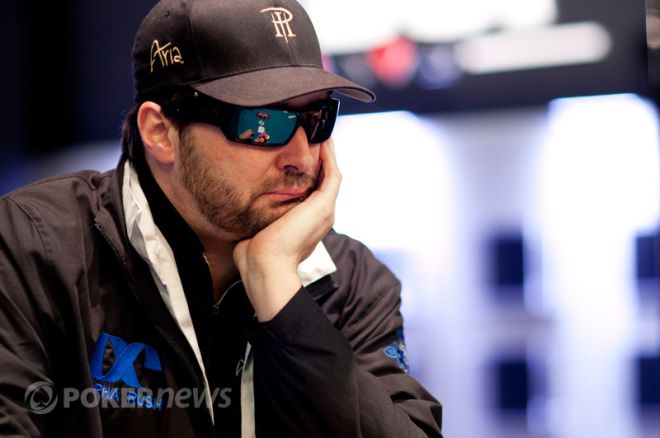 Players are gearing up for the $1 million buy-in Big One for One Drop at the World Series of Poker. Some are even selling pieces of themselves to anyone looking for a sweat. We're covering that story, plus Pamela Anderson's return to online poker, in this edition of the Nightly Turbo.
In Case You Missed It
A final table was reached in the World Series of Poker $50,000 Poker Players Championship. Who made the final eight? Find out in the WSOP Day 32 recap.
Can Michael Mizrachi win his third WSOP bracelet on Thursday? We take a look at that story and more in the PokerNews WSOP What to Watch For.
Looking for a fun, behind-the-scenes perspective of life at the WSOP? All Mucked Up has daily stories from inside the Rio, so check it out!
Selling Shares
The $1 million buy-in Big One for One Drop is just days away, and some high-profile players are working on finalizing their finances to buy into the event. This week, we saw Andrew Robl, Antonio Esfandiari and Daniel Negreanu show off their registration tickets. Other pros intend to buy in on Thursday and Friday, but not before selling off action to any interested buyers.
Ben Lamb, Jason Mercier and Phil Hellmuth announced via Twitter Wednesday that they are still selling off pieces for the Big One. Mercier is the only one of the three actually confirmed by the WSOP to be playing the event, but it seems Lamb and Hellmuth have spots secured.
[TWITTER=" https://twitter.com/BenbaLamb/status/218176085165211649"] img=http://a0.twimg.com/profile_images/2348296472/image_normal.jpg nick=BenbaLamb name=Ben Lamb date=Thu Jun 28 02:56:46 +0000 2012 text=I'm buying into #onedrop tomorrow no matter what. Have 7% more to sell at 1.1 of anyone interested. [/TWITTER]
I'm buying into ONE DROP tomorrow. No matter what as well. Following in the footsteps of @BenbaLamb still have a little left to sell at 1.1

— Jason Mercier (@JasonMercier)
I $600,000 so far for the WSOP $1 million "One drop," I need $400K more. If anyone wants to buy a big piece of $50K or more, let me know

— phil_hellmuth (@phil_hellmuth)
As of Thursday afternoon, 42 players were confirmed for the Big One for One Drop. We expect to have a confirmed final list of participants by Saturday. The event kicks off Sunday at 1:11 PM PST in the Amazon Room of the Rio Convention Center.
Be sure to follow the PokerNews Live Reporting page for up-to-the-minute updates on the richest event in poker history!
Poker With a Playmate
Former Baywatch star and Playboy model Pamela Anderson is the new face of an online poker site.
Anderson will serve as the ambassador of BamPoker, a new virtual gambling site available through social media giant Facebook. According to a press release, Bam Poker will be "the only place online where member can play Texas Hold'em poker with Pamela Anderson herself."
The new site offers play-money no-limit Texas hold'em tournaments around the clock. Anderson will also be an active member of the BamPoker community, keeping up with a fan page, playing on the site and periodically chatting with members via the BamPoker App.
"There is nothing like BamPoker out there today, and I am excited to be a part of such an innovative platform!" said Anderson.
This isn't the first time Anderson has ventured into the realm of online poker. You may recall that Anderson's poker room, called Pamela Poker, was affiliated with Doyle's Room. However, Pamela Poker was shut down after President Bush signed the Unlawful Internet Gambling Enforcement Act (UIGEA) into law in 2006.
Read more at BamPoker.com.
Denmark Blacklists Gambling Sites
The Danish Gambling Authority has blacklisted 12 websites that were offering services to residents in Denmark without an online gaming license.
Internet service provider Hi3G was ordered by a Danish court to block a dozen sites that had not complied with Denmark's law regarding local gaming licenses. Hi3G has 14 days to comply with the court order.
The following sites have been blacklisted:
amazingvideopoker.com
bet-at-home.com
casinodelrio.com
casinobellini.com
casinomel.com
casinoredvegas.com
casinotropez.com
casino-alhambra.com
coolhandpoker.com
europacasino.com
titanpoker.com
winner.com
The move by Denmark follows a similar decision by Belgium, which blacklisted 30 non-licensed sites including Bwin, Betsson, Betfair, William Hill and 888 last month. Under the Belgian Gambling Act, players are only allowed to play on licensed sites, and the nation's four largest Internet service providers are in the process of barring unauthorized domains.
Denmark's new regulatory framework went into effect on Jan. 1. Among the 38 operators awarded licenses were PokerStars, Betfair, 888, bwin.party, PKR and Unibet.
For more, check out the official statement by the Danish Gambling Authority at skat.dk.
Skrill's Big Purchase
Online payment company Skrill made a major acquisition on Thursday, paying €140m for complete ownership of paysafecard.com, an Austria-based provider of prepaid vouchers that enable consumers to shop online. The deal is the biggest in Skrill's history.
By acquiring paysafecard, Skrill combines its digital wallet and online payments services with paysafecard's extensive offline distribution network in 31 countries across Europe, North and South America. The combined group will have over 27 million end-users, almost 130,000 merchant customers and over 100 payment options in more than 40 currencies, according to a press release.
"The paysafecard acquisition establishes Skrill as a complete alternative payments platform, addressing both on- and off-line channels, and offering merchants and end-users much greater flexibility in making and receiving payments," said Hazem Ben-Gacem, nonexecutive chairman of Skrill. "The two companies' combined functionality will allow millions of people who are under-banked to benefit from Skrill's payment services, and therefore enjoy the many advantages of online shopping."
Don't forget, you have less than a week to become a Skrill VIP through PokerNews. Find out more at PokerNews.com.
Compete Against Your Friends With Social Slots
What would it be like to crush your friend's soul at poker and high-energy slots online? With Social Slots by Zeniz, you can take part in a totally free social gaming experience like no other!
Social Slots truly bring authentic casino action to your mobile device, where meeting and spinning your buddies along the way adds a whole new dimension to slot gaming. Download the app today, give it a spin and challenge your friends!
Read more about Social Slots here at PokerNews.com.
$50K Hand Controversy
An unusual hand took place during the $50,000 Poker Players Championship in Las Vegas this week. Kristy Arnett spoke with some of the key players involved to get their take on the controversy.
Follow PokerNews on Twitter for up-to-the-minute news.