The Nightly Turbo: PokerStars Files to Dismiss Charges, Phil Ivey Interview, and More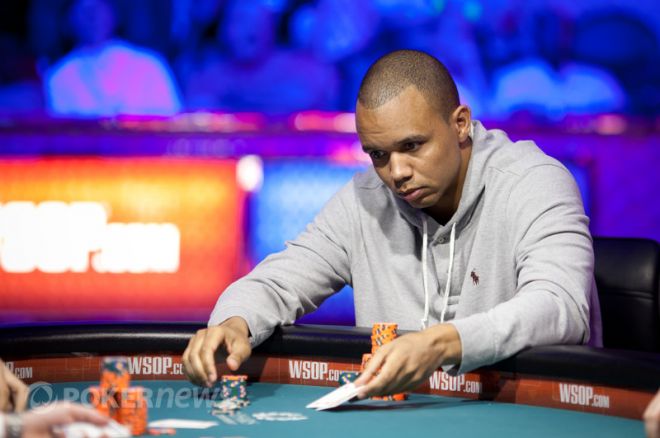 PokerStars and Full Tilt Poker were back in the news on Tuesday. Are the two companies still working out a deal? We're bringing you that story, plus an interview with Phil Ivey, in this edition of the Nightly Turbo.
In Case You Missed It
Day 1c of the World Series of Poker Main Event was the largest starting day in history. Find out who topped the leaderboard in our Day 44 WSOP recap.
Daniel Negreanu joined the PokerNews Podcast on Monday. Negreanu discussed how much fun he had on Day 1 of the Main Event, as well as several other topics.
How did Ben Lamb navigate the massive Main Event field last year? Lamb offered some advice in an interview with PokerNews' Sarah Grant.
ActorKevin Pollak is playing in his first WSOP Main Event. Chad Holloway caught up with Pollak to find out how he got his start in poker.
Wonder what it's like to play poker with 30,000 people at Wembley Stadium? Find out how to enter the International Stadiums Poker Tour.
Looking for a fun, behind-the-scenes perspective of life at the WSOP? All Mucked Up has daily stories from inside the Rio, so check it out!
PokerStars, Full Tilt Poker Execs File Motions to Dismiss Civil Case
According to eGaming Review, PokerStars has filed a motion to dismiss civil charges filed against a number of the company's subsidiaries last September.
PokerStars argues that the amended civil complaint invokes "shady dealings and far-reaching conspiracies" regarding PokerStars' prior operations in the U.S. According to eGaming Review, PokerStars says the complaint suffers from three major flaws:
First, it does not provide adequate detail to satisfy the heightened pleading requirements applicable to civil forfeiture and fraud actions. This vagueness fails to do what pleading rules require: Let PokerStars know what it is alleged to have done wrong so that it can marshal its defense.

Second, the Complaint fails to state a legally viable theory of how PokerStars violated the Illegal Gambling Business Act, the wire- and bank-fraud statutes, and the money-laundering statutes.

Third, although the Government admits that PokerStars operated legally throughout the world – and has implicitly conceded that it has lawfully provided services in much of the United States – it seeks to seize all of PokerStars' assets without showing that this Court has in rem jurisdiction over those assets and without attempting to separate PokerStars' lawful income from the income that the Government alleges PokerStars earned through illegal activities.
eGR suggests that the filing could pose a threat to the pending discussions with the Department of Justice over the purchase of Full Tilt Poker. However, if the motion is approved by a federal judge, it could open the door for PokerStars to complete the takeover of its former competitor.
Meanwhile, as Ray Bitar's attorneys were working out a bail package with federal prosecutors on Tuesday, three other members of the Full Tilt Poker board of directors filed motions to dismiss the civil charges brought against them by the Department of Justice.
Howard Lederer, Chris Ferguson and Rafe Furst each filed motions to dismiss the amended civil charges claiming they defrauded players out of more than $300 million and operated "global Ponzi scheme." The motions are based on two arguments. First, that the allegations that the men participated in a scheme to defraud FTP's customers are nowhere to be found. And second, that Full Tilt Poker did not fall under the Illegal Gambling Business Act.
"The Government has not proven that the alleged 'gambling business' conducted by Full Tilt Poker is illegal in the place where that business is conducted," states the filing.
Here's an excerpt from Lederer's motion to dismiss:
How, exactly, did he mislead players regarding their deposits and accounts? What did he say to them, and when did he say it? Was any information Lederer allegedly provided false when given, and if so, did Lederer know it? The government doesn't say. The only specific factual allegations against Lederer are that he co-founded FTP and helped build it into a successful business, and that he received distributions as part-owner of the company. These allegations fail to state a fraud claim—or any claim—against Lederer.
Similar filings were submitted by Ferguson and Furst on Monday. A motion was also filed on behalf of Telamonian Ajax Trust, a bank account in Switzerland that was tied to Furst. The bank account was seized last September when the DOJ filed an amended civil complaint against the FTP board members.
For a closer look at the filings, check out dockets.justia.com.
A Chat With Phil Ivey
Phil Ivey isn't the easiest guy to sit down for an interview. Trust us — we've tried many times this summer.
However, World Series of Poker Media Director Nolan Dalla was fortunate enough to have a one-on-one chat with the world's greatest poker player last week. The interview was posted at WSOP.com on Tuesday. It was the first interview conducted with Ivey in three years.
Ivey spoke willingly with Dalla about his success — or lack thereof — during the 2012 WSOP. The 36-year-old made an astounding five final tables in 13 days last month, but fell short of a bracelet each time. What made it worse for Ivey was hearing about Phil Hellmuth winning bracelet No. 12, leaving Ivey four behind the "Poker Brat" for the all-time mark.
"I congratulated him," Ivey said about Hellmuth's 12th bracelet. "I was really impressed. He's been playing very well this year. ... Now, I have four more bracelets to go to catch him."
Did Ivey's runner-up finish on the same night give him any enjoyment? Not a chance.
"It's all about winning," Ivey said. "I don't get any satisfaction from second place at all."
Dalla's interview with Ivey is a must-read for any poker fan. Check it out WSOP.com.
Cyprus Eliminates Online Poker
The small island country of Cyprus has passed a bill that prohibits online poker and most forms of gambling. The controversial decision was made because of concerns the nation was losing billions of pounds in tax revenues each year to offshore betting sites.
The bill was approved by the House of Representatives Legal Affairs Committee last week before advancing through a full parliamentary vote on Friday. The bill prevents betting companies from offering all forms of gambling other than sports betting, which has been regulated with a 10 percent tax levy on operators.
Online betting company Betfair is considering legal action against Cyprus, arguing that the new bill is in violation of European Union law. Betfair claims that it generated approximately 4 percent of its revenue from Cyprus last year, accounting for approximately £9 million in revenues before allocation of central costs.
"Betfair is working with advisors to understand the potential implications on its business and will be taking all necessary steps to reduce the impact on profitability through both legal action and cost management," the company said in a statement.
OPAP, the national lottery operator in Cyprus, will be exempt from all of the new laws. The organization will continue to operate games of chance because of a bilateral agreement between Greece and Cyprus.
Read more at iGaming Business.
Online Poker Traffic Report
PokerScout.com released its weekly online poker traffic rankings on Monday. The tracking site reported an overall increase of 1.7 percent, marking the second straight week of growth worldwide.
PokerScout reported a big week for the top 10 sites, six of which gained at least 5 percent traffic over the previous week. PokerStars claimed the top spot by a wide margin over PartyPoker and the iPoker Network, which landed at No. 2 and No. 3, respectively. 888poker and the Ongame Network rounded out the top five.
The battle between the Merge Gaming Network and Revolution Gaming continued this week, with Revolution surging past Merge and the Microgaming Network for ninth place in the rankings. Revolution has grown rapidly since Lock Poker defected from Merge and re-branded the Cake Poker Network, and is now contending with PokerStars.fr for No. 8 worldwide.
As for year-over-year numbers, online poker traffic (excluding Italy) has decreased by 15 percent in the last year. Each of the Big Three (PokerStars, iPoker and PartyPoker) are down since this time last year, but Revolution Gaming (up 29%) Bodog/Bovada (up 16%) and Winamax.fr (up 14%) have seen significant growth. The International Poker Network (down 57%), Everest Poker (down 41%) and PKR (down 27%) have seen the biggest dropoff since last July.
Read the full report at PokerScout.com.
Calling The Clock
PokerNews' Sarah Grant caught up with Team Bodog Pro Jay Tan for the latest edition of Calling the Clock.
Follow PokerNews on Twitter for up-to-the-minute news.