This is How We Troll: Scam by Moneymaker's Friend, Brunson on FTP, and More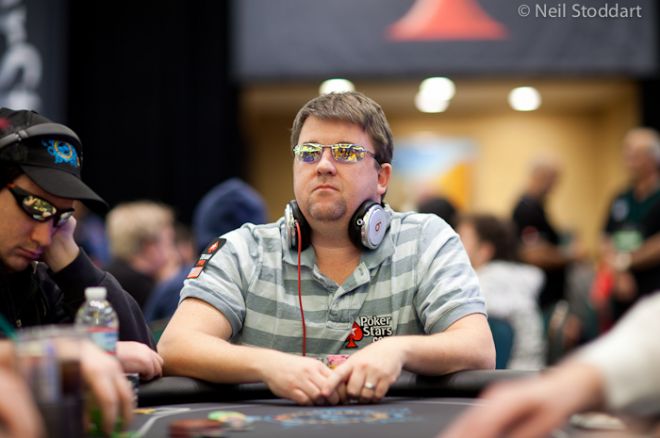 Forums like TwoPlusTwo and PocketFives can be scary. If you're a first-time visitor, it's hard to process all of the threads, and if you post you could be flamed. Badly. Posters have no mercy. So, if you're afraid to lurk, or you're just looking for the best threads at the moment, we thought we would lend a helping hand — and add our input.
Let the trolling begin.
1. Dave Whitis, Chris Moneymaker's best friend is a scammer — TwoPlusTwo
Cliffs:

Original poster is 2003 World Series of Poker Main Event champion Chris Moneymaker (dunlap is his handle)
Dave Whitis allegedly stole $50,000 from Mike McNeil (potodds3)
McNeil will settle for $10,000 from Moneymaker
Posters believe McNeil is trying to blackmail Moneymaker, when really the two just want to find Whitis
So a gentleman named Mike McNeil sends a Facebook message to Chris Moneymaker, and rather than wait it out, Moneymaker immediately posts it on TwoPlusTwo. This is very smart and respectable because transparency is key in situations like these. Moneymaker admits that Whitis is his best friend, but Whitis also owes him $24,000, and he's no longer associated with him. Moneymaker added a warning to the end of his post: "After April 15th Dave lost his income and turned super sleezy [sic] so I would heed the warning below if you run across him. This is the 3rd guy approaching me since April 15th complaining about Dave. I hope he turns things around and pays what he owes."
Posters are upset, however, because in McNeil's Facebook message he states that Whitis was playing under Moneymaker's PokerStars handle, "money800," during Event #5 of the 2008 World Championship of Online Poker. Moneymaker is very troubled by this allegedly false accusation, and some posters believe that McNeil is blackmailing Moneymaker for $10,000. McNeil denies this claim.
Scammer threads pop up frequently — the Nick Rainey thread on TwoPlusTwo has nearly 150,000 views now — however Moneymaker handled this perfectly. He didn't wait until McNeil posted, he took the initiative and made the information public himself. A poster named youtiltyoudie discovered that Whitis was arrested in Florida on Feb. 19 on charges of domestic violence. Perhaps justice will be served after all.
2. Doyle's blog on FT — TwoPlusTwo
Cliffs:

People are pissed
Doyle doesn't know who Full Tilt Poker's board of trustees was
Doyle handwrote this blog
Doyle had $28,000 on FTP, Todd $30,000, and Pamela $5,000
Doyle Brunson is a legend, but he's also very good friends with Howard Lederer, and he defended him in a recent blog post. This didn't make posters — some of whom have money on FTP, while others pretend to, or have nothing in limbo — very happy.
But let's be honest, nothing that's pro-FTP is going to receive rave reviews these days.
Posters are mainly upset with Brunson's inability (or unwillingness perhaps) to think critically about the situation. We all know, thanks to Manhattan U.S. Attorney Preet Bharara's amended complaint, that the board of directors consists of Ray Bitar, Howard Lederer, Chris Ferguson, and Rafe Furst. We also know that FTP was not a "success," because countless players may never receive their account balances. And, it's hard to agree with someone who's key argument is that "[Lederer] looks me dead in the eye and says he didn't know about the financial problems."
What if he was bluffing, Doyle?
There is a valid argument that the shareholders were actually blind to the wrongdoings. Unfortunately, DoTheMath's well-written, thoughtful post will probably fall to the wayside because there are so many angry people. No one is safe from defending FTP, even an iconic figure like the godfather of poker.
3. Who is RaiseOnce on PokerStars? — TwoPlusTwo
Cliffs:

Thread started in 2010 when someone noticed the handle playing $200/$400 pot limit Omaha and $1,000/$2,000 deuce to seven triple draw
It's widely suspected to be Phil Ivey
Hasu (known as both IHateJuice and Kagome Kagome) told Der PokerStratege that he knows for a fact that it's Ivey
With FTP out of the picture, Mr. Ivey has to play online somewhere, right? Initially, the account's location was Vegas (makes sense), and now it's Mexico. Ivey has a place in Cabo, and with so much drama in the U.S. — the post-FTP collapse and his divorce must be a great combo — why wouldn't Ivey want to escape the country and enjoy himself?
If you aren't a believer yet, and you can speak German, then you should check out this interview given by Kagome Kagome. If you can't speak German, then here are some cliff notes provided by Posemuckel: "Kagome Kagome plays less since the FTP shutdown, he recently played against Phil Ivey and Patrik Antonius on PokerStars, and he is pretty sure that RaiseOnce is (was) a shared account, but at the moment just Ivey plays on it."
Of course, Kagome Kagome's word isn't the end-all-be-all, but the evidence is daunting. You can form your own opinion, but the next time you're sweating the nosebleeds on PokerStars and RaiseOnce sits down, then you can assume that it's the man, the myth, the legend:
Phil Ivey. (Probably.)
Want more PokerNews? Then follow us on Twitter and like us on Facebook!