The Nightly Turbo: Daniel Negreanu vs. TwoPlusTwo, PartyPoker's Facelift, and More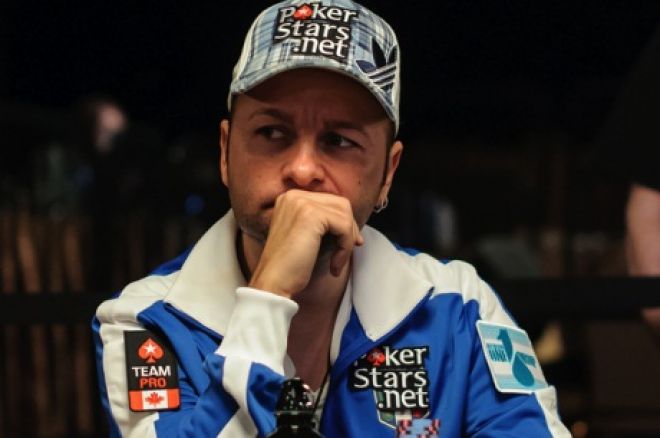 We've officially made it to the weekend. And for us, it's a three day weekend! But before we take off until Tuesday, we're bringing you the day's biggest news stories in the Nightly Turbo. What's Daniel Negreanu's latest beef with TwoPlusTwo? Find out below!
In Case You Missed It
The WinStar World Casino's 2012 River Poker Series Main Event kicked off Thursday. Take a look at the action from Day 1a in our recap from Thatcherville, Okla.
En route to his deep finish in the World Series of Poker Main Event, David Randall had to face off against the talented Ben Lamb under the bright lights of the feature table. Randall discussed one memorable hand he played against Lamb for the latest Strategy with Kristy podcast.
Day 1b of the PokerStars.net Asia Pacific Poker Tour Melbourne Main Event concluded on Friday. Find out which pros bowed out early in our daily APPT recap.
Earlier this week, the Republican Party called for a prohibition of online gambling in the U.S. Matthew Kredell takes a look inside the 2012 GOP platform.
The NFL regular season is right around the corner. Rich Ryan looks ahead at Week 1 and pick some future bets in the latest Pigskin Diaries.
Did you miss anything from the past week? Don't worry, we've got you covered. Sarah Grant breaks down all the big stories in the PokerNews Weekly.
"Stop Being Nits"
Daniel Negreanu has certainly had issues with the powers that be at TwoPlusTwo.com. A few months after receiving a one-day ban from the site for "spamming," Negreanu has taken a shot at the forum again, this time involving a deleted thread regarding a charity benefitting the 22Q Foundation.
For a long time, TwoPlusTwo has had a policy to not support charities. Reasons for that haven't been made public, but the site has had issues with scammers taking advantage of fake charities in the past. This particular charity is being supported by several poker players who will be participating in a 50-hour poker podcast show beginning on Sept. 3 to raise money for children who suffer from 22Q.11 deletion syndrome.
Shortly after a thread about the benefit was created at TwoPlusTwo, it was shut down. Once Negreanu found out, he posted his thoughts in a thread at Full Contact Poker.
"Have a heart. It's for charity. Stop being such nits," Negreanu wrote. "I get along fine with David Sklansky and feel like he really isn't too involved with all this crap, but Mason Malmuth and that kook moderator are greasy, slimy, nerdy, nutcases and they make me sick."
The "kook" Negreanu is referring to is the same TwoPlusTwo moderator that banned him in March when Daniel was trying to post his Weekly Rant in the News, Views and Gossip forum. Negreanu was warned about spamming because the video included an ad for iSeriesLive, and he was subsequently banned when he tried to post the video a second time.
The Examiner has more.
PartyPoker's Transformation
On Friday, online betting firm Bwin.Party Digital Entertainment PLC reported a significant decline in poker revenue during the first half of 2012. The company's primary poker offering, PartyPoker, has struggled to keep pace with industry leader PokerStars of late, dropping 43 percent in real-money cash game traffic since this time last year, according to PokerScout.com.
Nevertheless, Bwin.Party co-CEOs Norbert Teufelberger and Jim Ryan say they are determined to make PartyPoker the world's favorite poker room all over again.
"Poker is a key area of focus and we are determined to return it to growth through execution of a detailed plan that includes pooling our poker liquidity as well as repositioning our flagship PartyPoker brand," the co-CEOs said in a joint statement. "We expect both initiatives to have a positive impact on our performance, along with our recently launched FastForward Poker product."
As part of its resurgence plan, Bwin.Party plans to relaunch PartyPoker with new software early next year. Said the company in a press release, "Having last relaunched PartyPoker in 2009, we have been working on the next generation version that will be rolled out during the first quarter of 2013. Comprising many new features and a new look and feel, our objective is to once again make PartyPoker the world's favorite poker room and return poker to growth."
Bwin.Party is also preparing for a launch in the U.S., where it has partnered with MGM Resorts International and Boyd Gaming in an "anticipatory" move for legalized online gambling in Nevada. Bwin.Party is expected to be one of the key players in the U.S. market, but its share of the market could slide if PokerStars returns, as expected.
The full press release can be found at BwinParty.com.
The Multi-talented Matros
Lately, Matt Matros might best be recognized for his play at the poker table. Matros has won three World Series of Poker bracelets in the past three years, and in 2013 he'll attempt to equal the record held by Doyle Brunson and Bill Boyd with bracelets in four consecutive years.
But Matros is also a respected writer and author, and to the delight of many, Matros recently offered his thoughts about last week's federal ruling that poker is a game of skill.
"I've made my living over the past nine years by having an edge on my opponents," Matros wrote in a piece at the Washington Post. "I didn't somehow get lucky over hundreds of thousands of hands, and I've yet to meet a person who thinks I did. Poker is a strategy game, requiring logic, mathematics, psychology and intuition to play well. This statement is hardly debatable — but it was still nice to hear a federal judge agree with it."
"Having a court decide whether poker is a game of skill is bizarre to most professionals," he continued. "Are judges asked whether investment bankers' jobs are legitimate? Of course not, nor should they be. And neither should players rejoice at a very small piece of bureaucratic validation."
We highly recommend you check out the rest of the piece. You can find it was WashingtonPost.com.
Welcome to WinStar!
The PokerNews Live Reporting Team is in Oklahoma for the WinStar World Casino's 2012 River Poker Series Main Event. As Sarah Grant found out, the WinStar has everything your heart desires — from golf, to clubs, to cowboys.
Follow PokerNews on Twitter for up-to-the-minute news.