Aaron Massey On Winning the 2012 Winstar World Casino River Poker Series Main Event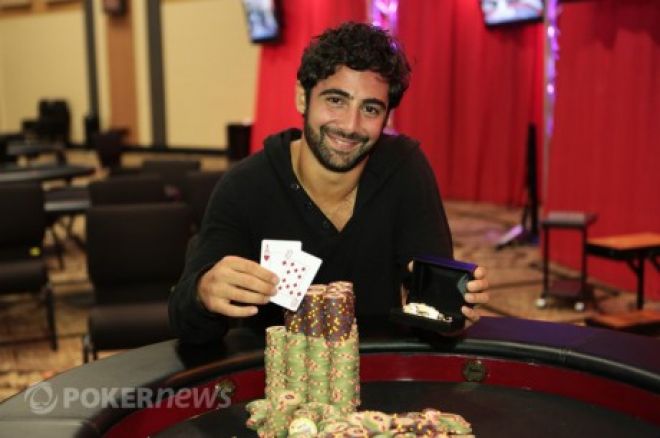 The 2012 Winstar World Casino River Poker Series Main Event is in the books, but the effects of the tournament will be long lasting for Aaron Massey, who topped a field of 1,396 players to capture the $651,559 first-place prize.
For the past two years, Massey has been grinding the circuit in search of a big score. Along the way he amassed a little more than $350,000 in winnings, including wins in the 2011 Indiana State Poker Championship $300 Re-Entry No-Limit Hold'em for $60,461 and 2012 Chicago Poker Classic $350 Pot Limit Omaha Rebuy for $40,940. However, it wasn't until 2012 Winstar World Casino River Poker Series that he struck it big, almost doubling his career earnings in one fell swoop and bringing his lifetime earning to $1,035,448!
The win clearly meant a lot to Massey, as evidenced by his emotion-filled winner's interview, so PokerNews reached out to the game's latest millionaire to find out how he's dealing with the win.
Can you start by telling us a little about yourself?
I'll try and make this brief and not sound like a sob story because it's not; in fact, it's a great story. My brother and I grew up with a single mom. Our dad lived in a different state, was in and out of our lives, and then disappeared for good when I was 15. We were broke but grew up in a very nice neighborhood, which was both a gift and a curse. It was very beneficial because I was able to go to great schools but also sucked because our friends had so much more than us.
I always knew I wanted to have the finer things in life and was willing to work hard for it. I went to Fenwick High School for two years and Elmwood Park High School for two years. I wrestled at both and was a two-time conference champion. After that I went to NIU where I got a degree in finance, and it's where I found poker. Well, not exactly, but its where I found no-limit hold'em. I first learned poker from my grandma who played five-card draw and always cheated. She always lied about having an ace so she could draw four.
Funny story, she actually tried to cheat my brother, Ralph, on her death bed two days before she died, but he wouldn't let her get away with it. Swear to God, he called her out and made her show her hand on her death bed! As expected, she showed a
, and grinned at Ralph as he dealt her three cards.
As a sophomore some friends and I rented a townhouse just off campus, next to the bar — yeah buddy. My friend, Mike Costello, walked in the first day with a silver briefcase of poker chips. He taught me how to play and everyday we would play four to eight handed tourneys at the table for beers and for fun.
Sometimes I would have marathon heads-up matches with my buddies, Chris and Kamal. Soon I was playing these freeroll bar tourneys — I had a fake ID — and playing a small cash game at this kid Scott's apartment. It was legit, $.25/$.50 no-limit. He took a small rake and offered drinks and snacks. Then at 19, I started frequenting the casino to play $5/$10 limit hold'em. I graduated to $1/$2 no-limit and then eventually found tournaments.
How does it feel to win the 2012 Winstar World Casino River Poker Series Main Event?
Winning the Winstar Main Event was genuinely the best moment of my life. It still hasn't really set in yet. People are asking me how it feels, I can only respond "I don't even know yet." I really don't. Everything is happening so fast right now it is kind of overwhelming — for real.
What are your thoughts on the Winstar?
The tournament series at the Winstar is a ridiculously good value. Every tourney is good and the Main Event is beyond great. I bet next year the fields are even bigger. The staff was great, the dealers were great, and everything was just great. I can't believe I got first place. It's so sick.
Can you tell us a little bit about the tournament and more specifically the final table? Any memories/big hands/tough opponents/etc.?
The tournament didn't start off great for me. After bricking Day 1a and 1b, I made the money on the last try. I was down to 5,100 at 150/300 and I even took a pic of my stack of two chips on my phone. The next pic on my phone is my stack when I got to a million. When I got to the final table I was very confident and prepared. I have come up short at the final table several times. Some have been my fault, and I have left a lot of money on the table in my short career. Some haven't, and as I have had to continue the humble grind.
You busted on both Day 1a and 1b before entering for a third and final time on Day 1c. Did you go to the WinStar with the intention of firing three bullets if necessary? What are you thoughts and strategies for these reentry events?
As far as this reentry goes, I always planned on firing three barrels. I always fire every barrel in the chamber wherever I go. Bang, bang, bang!
Prior to this score, which was your first six-figure score, you had $357,709 in winnings. You nearly doubled that at WinStar. What does that sort of money mean to you and how will it change your life?
I can't lie the money is definitely going to change my life. There will be a lot less pressure on me, that's for sure. Having a little security for the first time in the 28 years I have been on this earth may actually help me play better in the future. I'll most likely be super relaxed now, and will not have as many emotional highs and lows. Who I am I kidding? I too competitive, I'm still gonna go out there and play for souls. It's the only way I know how.
Did you have backers or sell pieces of yourself, or did you have all of your action?
I do have a backing deal. I play for the best of the best. I play for Cliff "Johnnybax" Josephy. The deal I play for is 50/50 with makeup. Luckily for me, I have been very consistent the last two years and don't play many big buy-in tournaments, so my makeup has never been high at any point. My number with "Bax" was very small when I won, so that's good.
Do you have any big plans for the money? Will you be making any big purchases?
I do not have any plans for the money at this point except to earn more. I'm a workhorse, I'm a mule. I wanna roll this up, I don't wanna go in the other direction. The one thing I am obligated to do is take Kurt Jewell and Jake Bazeley, sigh, and my brother, to Hawaii for an all expenses paid skydiving trip. We made a deal on the way to Vegas this summer. If anyone of us wins a bracelet, he has to take the other two on the trip and pay for it.
Well, that loser Bazeley only managed a second in the first $1,500 bracelet event of the World Series of Poker. He didn't win so he didn't have to take us on the trip even though he chopped the money. What a loser. As for us, we bricked the summer ourselves. When the three of us were driving to Winstar from Biloxi, we made the same deal, only this time it was based on this Main Event. Well, I won and they just luck boxed themselves a little vacation. Kurt keeps bugging me by showing prices for the flights he keeping researching. "Look how cheap it is! We could leave this day!" Shut up, Kurt.
What was the reaction of your family and friends after your win?
I have gotten an overwhelming influx of support and love from the friends and family that really matter. There are several people who have been so supportive of me through the good times and bad. There are others who I expected to be there for me but weren't. For the ones that were, it is you, and you know who you are, that I humbly thank. Thank you for sticking it out with your boy. Thank you for believing in me.
Can you comment on what life is like traveling the circuit, who you room and spend time with, and what you like about it?
Life traveling the circuit is great for the most part. Some of the stops are boring as hell outside of poker but I love being on the road, living in hotels and meeting new people, more specifically new women in every city. My mom calls my brother and me gypsies who live out of suitcases. I usually travel with Kurt Jewell, Jake Bazeley and my brother.
Kurt and I have been doing it together for two years straight, and we always have a blast talking poker strategy, making fun of each other and kicking each other out of the room when one of us brings a girl back. Not Jake though, he has a girlfriend. There's usually non-stop laughs and non-stop ball busting. It's great.
What's next for Aaron Massey? Will you be playing any bigger buy-in events? Will you be on the WSOP Circuit looking to qualify for the National Championship?
What's next for me is basically the same thing I've been doing for the last two years. I don't plan on playing that many bigger buy-ins. I've seen people have big scores like this then rack up huge make-up figures by playing $5,000 and $10,000 buy-ins. Maybe I will after my next big score but for now I'm still the same old circuit grinder.
I'm gonna get my first ring and make sure I'm back in that National Championship this year because, as far as I'm concerned, I could have won that event last year if I didn't lose that massive pot to David "ODB" Baker. I have unfinished business on the circuit this year that I need to take care of and I plan on getting it done. I'm on a mission.
Get all the latest PokerNews updates on your social media outlets. Follow us on Twitter and like us on Facebook now!