The Weekly Turbo: Phil Ivey Investigated, Howard Lederer Plays High Stakes, and More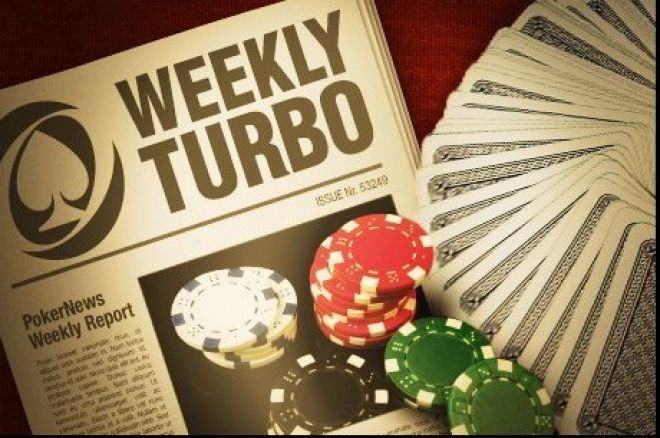 Did you miss any of the top poker news stories this week? Well you've come to the right place to get caught up. We're covering a casino in London withholding £7.3 million from Phil Ivey, Howard Lederer returning to the high-stakes cash games in Las Vegas, and more.
Poker Players
Ivey Owed Millions
Last Saturday, the Daily Mail reported that Crockfords, the oldest casino in London, is withholding £7.3 million (about $11.7 million) from Phil Ivey. Ivey wired £1 million to the club to play Punto Banco, a variant of baccarat, in August, and after his winning session, he requested that the club wire him the sum. They refused, saying they want to conduct an internal inquiry.
A source from inside the club, asking to remain anonymous, called the dispute "unprecedented," and it is unclear what Ivey has been accused of or why the inquiry is being made. Staff members have been interviewed regarding the incident, but thus far, no evidence of collusion has been made public.
Ivey was reportedly with a "beautiful" Asian woman during the session. Some believe she is responsible for the red flags. The woman in question has had her membership suspended at a separate Mayfair casino.
CNN picked up the story on Monday, reporting that the British Gambling Commission is now involved, but again, there was no comment as to why exactly the inquiry is being made.
Ivey, who has $17.5 million in career live poker tournament earnings, declined to talk with both the Daily Mail and CNN.
The Return of Howard
When former Full Tilt Poker executive Howard Lederer sat down with PokerNews for The Lederer Files last month, he told Matthew Parvis that he planned on returning to the poker tables after a 16-month absence. "I've been a poker player for 30 years," Lederer said about his imminent comeback.
Well, about a month later, he did make his return.
Following reports that Lederer had made appearances at Bellagio and Aria poker rooms this week, high-stakes regular "Crazy" Mike Thorpe tweeted a picture of Lederer playing in Bobby's Room with the likes of Eli Elezra, Doyle Brunson, David Oppenheim, Huck Seed and Nick Schulman on Thursday. The group was reportedly playing $400/$800 mixed games in the private room while watching the vice presidential debate on television.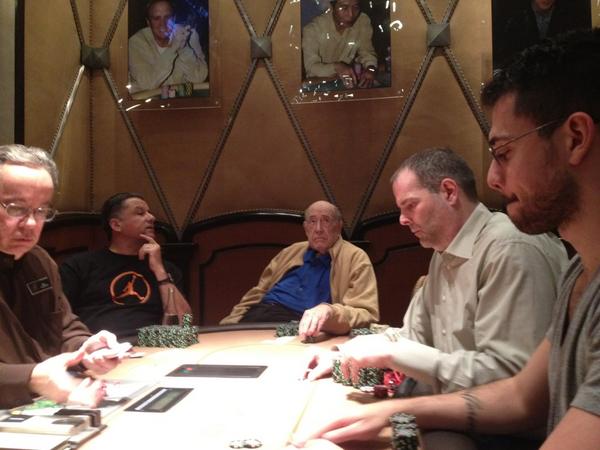 As you'd imagine, the reaction from the poker community has been hostile toward Lederer, who could be on the hook for more than $40 million in assets traceable to illegal activities while he was involved with Full Tilt Poker. While he's sitting down at the largest cash games in Las Vegas, FTP customers in the U.S. are still waiting to be reimbursed by the Department of Justice.
Voulgaris Speaks Out
Although he was never involved in the inner-workings at Full Tilt Poker, a recent blog by Haralabos Voulgaris is getting a lot of attention from the poker community this week. Voulgaris, best known for his sports-betting prowess, also rubbed elbows with many of the Team Full Tilt pros at the high-stakes poker tables and even had the opportunity to be shareholder of the once prosperous business.
Voulgaris claims he was offered a 3 percent stake in Full Tilt Poker when the company was first seeking investors, but Voulgaris passed because he was "less than impressed" with CEO Ray Bitar during a dinner meeting with Bitar and Chris Ferguson.
"In the end I decided that I wasn't really interested in doing any other non-sports betting work at that time, and I was not going to pay a markup to invest in what was at best a grey area gaming company headed by a (hardworking) Buffoon," Voulgaris wrote about Bitar.
It was a decision that likely cost Voulgaris around $10 million in shareholder distributions. And while he felt somewhat vindicated on Black Friday, he still regrets passing on the offer.
Much of Voulgaris' blog focuses on the overwhelming debts of former Team Full Tilt Pro Erick Lindgren, who supposedly still owes Voulgaris a large chunk of money. Many community members have piled on Lindgren regarding his outstanding debts, especially since Howard Lederer revealed a shocking piece of information about a double-credited loan Lindgren never paid back to Full Tilt Poker.
Be sure to check out Voulgaris' full blog at aloneinthecorner.com.
Russell Thomas Hires Somerville
Since the inception of the November Nine in 2008, we've heard many stories about the training and studying players have done in the months leading up to the World Series of Poker Main Event Final Table. Phil Hellmuth, Daniel Negreanu and other high-profile players have even been hired as coaches for November Niners.
This year is no different. Chip leader Jesse Sylvia told the PokerNews Podcast crew last week that he's hired Vanessa Selbst to give him pointers ahead of the final table. And on Tuesday, we learned that Russell Thomas has appointed Jason Somerville as his October Nine coach.
To make the experience more memorable, Somerville is filming the entire process and sharing it with the poker community. Said Somerville via Twitter, "I've spent more time on this project than anything else I've ever done and I'm really proud of it. My sincere thanks to all who've contributed!"
Thomas will enter the final table fourth in chips with 24.8 million. Here's a look at Part I of his training process with Somerville and others:
Keep an eye out for the rest of the series at Jason Somerville's YouTube page.
Online Poker
Full Tilt Poker Changes Rewards Program
With the relaunch of Full Tilt Poker less than one month away, Poker Room Manager Shyam Markus has unveiled information about a change in the site's rewards program.
In a thread at TwoPlusTwo.com, Markus said Full Tilt Poker had begun working on a new rewards system well before PokerStars had purchased the company in July. The new system will combine aspects of Iron Man, Black Card, and affiliate-paid rakeback that the site used for years. It is expected to be introduced some time after the site reopens on Nov. 6.
"By the time the PokerStars deal came along, most of the major work on this new program was done, and it was just a matter of deciding whether or not to go with it," Markus explained. "This was not a trivial decision, but in the end we decided that the benefits of having a unified program were worth the change. So when we relaunch on November 6th it will be without Iron Man, Black Card, or affiliate-paid rakeback.
"We aren't quite ready to give all of the details of the new rewards program, but the general idea is that it will be available to everyone, and the main benefit of the program is weekly cash payments that are based on the number of Full Tilt Points earned that week. The program tops out at paying $2.50 for every 100 Full Tilt Points earned (which works out to 25 percent)."
Markus added that it will be a rewarding transition for Iron Man and Black Card players, saying, "long-term players of both promotions will likely get a leg-up in the new program from the start."
For more information on the new rewards system, read the post at TwoPlusTwo.com.
FTOPS XXI Coming in December
In addition to a new rewards system, the Full Tilt Poker will be rolling out the popular Full Tilt Online Poker Series (FTOPS) shortly after the site's relaunch next month.
According to Markus, FTOPS XXI is scheduled to run from Dec. 2 through 16. The quarterly series became a staple on the poker site's annual calendar and the company is wasting little time in restoring it to the schedule.
The official slate of events for FTOPS XXI hasn't been announced, but players can likely expect a similar variation of games and buy-in, as well as the flagship Main Event to round out the series. Earlier this year, more than $9 million was awarded in the $640 buy-in FTOPS IX Main Event alone, with Blair Hinkle collecting the largest share ($1.1 million) after negotiating a deal at the final table. The most recent series, FTOPS XX, ran post-Black Friday and saw much small prize pools because of the absence of U.S. players.
For more information on the relaunch of Full Tilt Poker, visit Shyam Markus' thread at TwoPlusTwo.com.
Poker Legislation
Making Amends?
Over the past month, Senators Dean Heller and Harry Reid have bickered over a bill that would permit regulated federal online poker in the U.S. Heller has accused Reid of attempting to push the bill through Congress preemptively while Heller and Sen. John Kyl were trying to coax Republican leaders into clearing the way for Internet poker legalization.
On Thursday, though, Heller said he is confident he and Reid will be able to move the bill through Congress after the upcoming election. Heller told the Las Vegas Review-Journal that the squabble with Reid was due to their opposing political allegiances. Heller, a republican, is running for a Nevada Senate seat against Democrat Shelley Berkley, whom Reid is backing.
"I have no doubt when this race is over, Senator Reid and I will sit down and say, 'OK, we got this behind us now, let's work together and get this done,'" Heller told the Las Vegas Review-Journal. "And I have no doubt that it needs to get done by the end of the year. And I fully support working with Senator Reid in making that happen."
The bill would seek to legalize online poker and establish a framework for it to be regulated on the federal level. Heller believes there is enough support in Congress to approve Internet poker because it is a game of skill, unlike other casino games where gamblers play against the house.
The Las Vegas Review-Journal has more.
Poker Tournaments
World Poker Tour Heading to Slovenia
On Oct. 18, the PlanetWin365 WPT National Slovenia will kick off at the beautiful La Perla Casino. The PlanetWin365 WPT National Main Event buy-in is €1500+€150, and is accompanied by a packed schedule for players of all levels. In particular, the Enjoybet.it €660 side event is sure to attract a lot of players from nearby Italy, Austria, Croatia, Slovakia and Hungary.
WPT Champions Club Member James Dempsey is an ambassador for the WPT National Slovenia series. In a press release, Dempsey said, "I can't wait to visit the casino as I'm told the venue is first class and the people are so friendly there. I hear they love donating chips so I expect to run deep and see a lot of chips coming my way!'
For more information on Planetwin365 qualifiers check out PlanetWin365WPT.com, and for the full schedule of all WPT National events including the WPT National Vienna (Oct. 12-16) and WPT National Barcelona head on over toWorldPokerTour.com.
Follow PokerNews on Twitter for up-to-the-minute news.