The Weekly Turbo: Viktor Blom's Incredible Heater, Erick Lindgren in Rehab, and More
Did you miss any of the top poker news stories this week? Well you've come to the right place to get caught up. We're covering Viktor Blom's unbelievable run at Full Tilt Poker, Erick Lindgren getting help for his gambling problem, and more.
Poker Players
Viktor Blom Crushing on Full Tilt Poker
Earlier this month, Viktor "Isildur1" Blom elected to skip the PokerStars Caribbean Adventure in order to play online and rest up before the NBC National Heads-Up Poker Championship.
It may end up being one of the best business decisions of Blom's life.
After profiting $2.7 million at Full Tilt Poker's high-stakes tables during the first week of 2013, Blom's incredible run continued Tuesday when he took a combined $1,356,296 from two of 2012's biggest earners, Phil "OMGClayAiken" Galfond and Ben "Sauce1234" Sulsky. It was Blom's biggest daily win since Black Friday.
i am on the sickest run of cards ever! had one of biggest winning days of my life today. i'm having fun too :)

— Viktor Blom (@ViktorBlom)
First, Blom scooped $317,000 from Galfond at two tables of heads-up PLO in just over an hour. Galfond accepted his loss graciously, telling Blom, "You win this time Viktor." Galfond then returned later to face off against the Swede, only to lose an additional $132,000 in just over a half hour at two tables of heads-up 2-7 triple draw.
Bad first "real" session on FTP. Got beat up by my friend, @ViktorBlom. Glad it was to him, but very disappointed w/ how I played. #ohwell

— Phil Galfond (@PhilGalfond)
It was during a three-table session of $400/$800 heads-up PLO with Sulsky that Blom scored his biggest pots of the night, collecting $743,000 in two hours. Feeling the rush, Blom ended the night taking $89,200 from Alex "Alexonmoon" Leneau during 90-minute session of triple draw.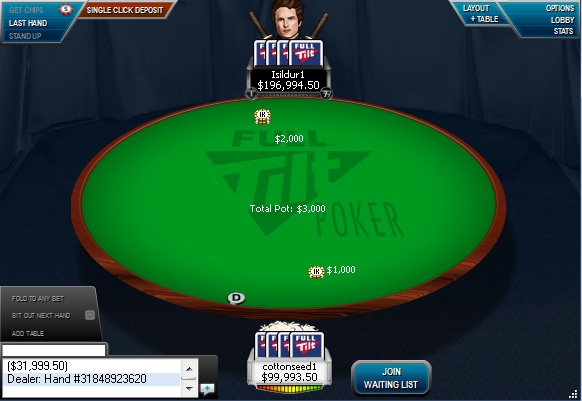 Only eight days into the New Year, Blom profited $4.1 million, easily topping the entire 2012 high-stakes leaderboard. For a closer look at Blom's wins, check out the Online Railbird Report.
HighStakesDB.com has more on Blom's incredible run.
Erick Lindgren Comes Clean
Four years ago, Erick Lindgren was on top of the poker world. Coming off his first World Series of Poker Player of the Year award in 2008, Lindgren was virtually printing money at the tables, and earning even more as an owner and sponsored professional of Full Tilt Poker.
However, after Black Friday, several flaws in Lindgren's "All-American" image were exposed. In March 2012, Max "$kill Game" Weinberg started a thread at TwoPlusTwo.com, which outed Lindgren for welching on fantasy football bets. From there, many others came forward with similar accusations, and it was becoming clear that "E-Dog" had a serious gambling problem.
The biggest hit to Lindgren's reputation during PokerNews' exclusive interview with Howard Lederer. Lederer claimed that Lindgren received a double-credited loan from Full Tilt Poker by mistake, and Lindgren kept the extra $2 million despite Lederer's efforts to retrieve the money.
Lindgren had been silent regarding his outstanding debts until he spoke with Bluff Magazine last month. Editor-in-Chief Lance Bradley interviewed Lindgren at Morningside Recovery, a rehab facility in Newport Beach, California, where Lindgren has been working through his gambling addiction.
Lindgren told Bluff that his gambling debts climbed as high as $10 million at one point, and while he's been working on making good on all of his debts, it hasn't been an easy process without having a bankroll. Lindgren filed for Chapter 7 bankruptcy last year, and paying his bills has been difficult since last February.
Said Lindgren, "I owed people a bunch of money, and it's something that I've been working on for a long time, but I definitely slipped up, made some really bad mistakes and I needed to address that."
Bluff's feature piece on Lindgren is definitely worth a read. Check it out at Bluff.com.
Sin City Flops
Sin City Rules, a reality TV show featuring one poker pro Jennifer Harman, is only five episodes in, but is already rumored to have been cancelled by TLC.
According to Vegas DeLuxe, either last Tuesday's or this Tuesday's episode will be the last one aired on the network, but the remaining three will air on TLC's U.S. website. The network will also reportedly fulfill previous overseas syndication deals for the first season (eight episodes) in its entirety.
The show is centered a group of high-powered women in Las Vegas. Joining Harman on the cast is designer Lana Fuchs, Rain Cosmetics owner Lori Montoya, entertainment reporter Alicia Jacobs, Kimberly Friedmutter (who is married to an architect responsible for much of the Las Vegas skyline), and businesswoman Amy Hanley.
The rumored cancellation came from two of the cast members who said they were informed of the show's fate from the network. However, neither TLC nor the production company (Evolution Media) has made an official announcement.
Cast member Alicia Jacobs, a Las Vegas TV reporter, issued the following statement:
"TLC & Evolution Media are two incredible powerhouses, both of whom create some of the best programming on TV. They have also afforded me the opportunity to work with some of the most talented and hard-working crews I've ever known ... true perfectionists.
"It is a privilege to be invited into viewer's homes, and that is something I always take very seriously. I hope that my cast mates are appreciative of this fact."
The Las Vegas Sun has more.
PokerStars' New Triple Crown Winner
PokerStars unveiled Jake Cody as the newest member of Team PokerStars on Tuesday. The Triple Crown winner from the U.K. was introduced by fellow PokerStars pro Daniel Negreanu shortly before the start of Day 1b of the PCA Main Event.
"Team Pokerstars Pro is the holy grail of poker sponsorship," Cody said in a press release. "It has been a long term goal for a while now and for it to finally happen feels like a dream come true."
Cody has major wins at the World Series of Poker, European Poker Tour, and World Poker Tour, and boasts career live tournament winnings of more than $3 million. In addition to his live success, Cody won a $2,100 buy-in event at the 2011 PokerStars Spring Championship of Online Poker (SCOOP) for $235,000.
Cody entered the free agent market in November after parting ways with PKR.com, where he was a sponsored pro for a year. A number of U.K. pros split with PokerStars over the past year, includingJ.P. Kelly and Jude Ainsworth, but the country is still well represented by Cody, Liv Boeree and Victoria Coren.
"Jake is such great ambassador for poker in the UK – he's a great player but he's also a humble guy," said Boeree. "He's incredibly competitive, and is always striving to improve his game. With so many titles under his belt at such a young age, he's going to have a very long and successful career ahead of him."
Read more about Cody at the PokerStars Blog.
#TeamIvey Gets Stronger
The yet-to-be-launched IveyPoker.com added three more pros to its ever-expanding roster this week, signing Jackie Glazier, Griffin "Flush_Entity" Benger and Christian "charder30" Harder to represent the site. The additions bring the number of IveyPoker pros to 21 before the site has even gotten off the ground.
Glazier is one of the most respected and admired Australian poker players. She has almost doubled her total tournament cashes in each of the last four years. A second-place finish at the 2012 World Series of Poker added $458,996 to her bankroll, bringing her live tournament winnings to nearly $1 million.
Benger has almost $4 million in online cashes and won more than 100 tournaments on the virtual felt. He was formerly ranked No. 1 online tournament player in the world by PocketFives.com.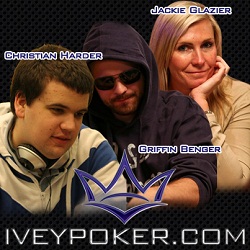 Last but certainly not least, Harder has established himself both online and in live, cashing for a combined $4 million with deep runs at the World Series of Poker, World Poker Tour and European Poker Tour. His biggest score of $571,965 came at the $25,000 buy-in WTP Championship Event in 2009.
The three new pros join the likes of Patrik Antonius, Jen Harman, Greg Merson, Dan Shak and James Dempsey on the IveyPoker team.
Phil Ivey's new website is dedicated to teaching people how to play poker the "right way." Ivey and his team of pros and instructors will provide free, downloadable video instruction to the poker community. The site will also offer an interactive social poker game in the near future.
The site will be getting off the ground on Jan. 14, according to IveyPoker pro Jon Eames. To read more about the site, check out IveyPoker.com.
Poker Tournaments
See You On NBC
The NBC National Heads-Up Poker Championship is less than two weeks away, and the list of confirmed participants is growing by the day.
While neither NBC nor Poker PROductions has unveiled an official list of 64 players just yet, several have announced intentions to play the $25,000 buy-in event after receiving an invite from the network.
Great visit to KC, with family for Xmas. Now heading home to Raleigh. Next poker trip might not be til NBC HU end of Jan.

— Greg Raymer (@FossilMan)
Skipping #PCA for the first time in 4 years. Making my live poker debut with the NBC HU this month. Gl to my friends in the Bahamas!

— Yevgeniy Timoshenko (@JovialGent)
Selling a package for 25k PCA + 25k Aussie High roller and 25k NBC Heads UP. If interested post in thread or reply here http://t.co/E1LDT0hr

— Faraz Jaka (@FarazJaka)
i will play NBC Heads up in Vegas this month. playing heads up very well right now

— Viktor Blom (@ViktorBlom)
Others reportedly confirmed for the event include Chris Moneymaker, Will Failla, Andy Frankenberger, Olivier Busquet, Dan "Jungleman" Cates, and reigning world champion Greg Merson.
After a one-year hiatus, the NBC National Heads-Up Poker Championship will run from Jan. 24 through 26 at Caesars Palace in Las Vegas. Stay tuned for the full 64-player roster, which is expected to be released soon.
Romanello's Multi-Prize Pool Poker a Success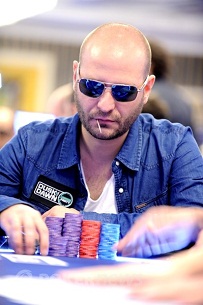 Multi-Prize Pool Poker (MPP), a new poker format created by poker pro Roberto Romanello, made its debut at the Dusk Till Dawn poker club in Nottingham on Thursday. The inaugural event proved to be successful as 177 players generated a prize pool of £10,400 — more than double the £5,000 guarantee.
Romanello was joined by a cast of top players at the event, including Rupinder Bedi, Chris Sly, Ben Vinson, Waheed Ashraf, Robert Cowen, recent WPT National Dublin champion Simon Deadman, and high-stakes superstar Sam Trickett.
The first MPP tournament ever offered three buy-in options for players to choose from: £25, £50 or £100. The £25 entry was a guaranteed buy-in by default, so a player who bought into the £50 prize pool was entered into the £25 prize pool and had £25 invested into Prize Pool 2. Those who bought into the £100 prize pool saw £25 of their buy-in invested in Prize Pool 1, £25 into Prize Pool 2 and the remaining £50 invested into Prize Pool 3.
To help the tournament run smoothly, every player received an identity card after buying in to clearly show which prize pool he or she had bought into.
David Manning was a prime example of how the prize pool was distributed. He bought in for £100 but was unable to cash in Prize Pool 3, finishing 12th. Only nine spots paid; however, because he was also invested in Prize Pools 1 and 2, he was able to cash in those fields – finishing 14th in Prize Pool 1 and 19th in Prize Pool 2.
| Buy-in | Entrants | Prize pool | Places paid |
| --- | --- | --- | --- |
| £25+£6 | 177 | £4,425 | 24 |
| £50+£8 | 111 | £2,775 | 14 |
| £100+£10 | 64 | £3,200 | 9 |
In the end, Brian Sheppard took the top spot for the first-ever MPP poker event. Because he bought into the top prize pool, he won the first-place prize from the £100 buy-in, the £50 buy-in and the £25 buy-in, giving him a total cash prize of £3,040.31. Sheppard had to defeat Romanello heads-up to win the title, leaving Romanello with second-place money from each of the three prize pools.
Now that the first event has been deemed a success, an MPP tournament is scheduled to take place every Thursday at the Dusk Till Dawn poker club. Room officials said that higher buy-ins and a substantial guaranteed prize pool will be implemented in the "not too distant future."
Get a full recap of the first event at UK PokerNews.
Poker Legislation
Nevada to Share Online Poker Liquidity?
A bill has been introduced in the Nevada General Assembly which would allow for the state to enter into gaming compacts with other states, increasing the liquidity pool for states that legalize online gambling.
The bill, titled Assembly Bill 5, changes language to existing regulations that permit online gambling offerings only to residents in the Silver State. Should the bill pass, Nevada will be able to work together with other states to provide online poker.
Assembly Bill 5 is expected to be heard after the legislative session begins on Feb. 4, 2013.
Nevada and Delaware are the only two states to approve online poker in the U.S., but other states have shown interest in the market since the Department of Justice reversed its opinion of the Wire Act in December 2011. New Jersey and California are among the other states to propose bills which would legalize intrastate online poker. Last month, the New Jersey state legislature passed a law legalizing online gaming and the bill is now waiting to be signed by Gov. Chris Christie.
For more, check out the story at the Las Vegas Review-Journal.
Chad Elie Catches a Break
Attorneys for Chad Elie, a former payment processor for PokerStars and Full Tilt Poker, have convinced a federal judge to recommend that Elie serve his five-month prison sentence in less severe surroundings than the maximum security prison he was originally assigned to late last month.
Elie, who last March pleaded guilty to conspiring to commit bank fraud and operating an illegal gambling business in the United States, was set to begin his five-month sentence on Monday. However, Judge Lewis Kaplan delayed Elie's reporting date by three weeks to allow prison officials to review Kaplan's recommendation. If he is assigned to a minimum security prison, Elie will be allowed more regular visits from his family, as well as other privileges not permitted in a maximum security facility.
Elie was furious upon hearing his original assignment to the Brooklyn Metropolitan Detention Center, a place allegedly referred to as "Hell" by former guards, according to Elie. "I kept our freedoms open, and now I get to go to PRISON with rapist and murders," Elie wrote via Twitter on Dec. 23.
His tone was much different after learning of Kaplan's recommendation:
The Judge in my case postponed my reporting date to end of January. He does not want me in Maximum Security Prison. #JudgeKaplan

— Chad Elie (@BlackFridayChad)
Online Poker
Betfair Migrating to iPoker
On Monday, online gaming and sportsbook operator Betfair announced that its poker room will join the iPoker Network later this this month and will ultimately leave the Ongame Network after a two-year partnership.
According to a press release, New Betfair Poker will launch later this month on the iPoker Network and run alongside Ongame's Classic Betfair Poker, offering customers a "varied, feature-rich poker playing experience on the two leading poker networks."
All of Betfair's poker players will then transfer to iPoker in July 2013, according to a Playtech press release issued Monday.
"We're delighted to announce Betfair's migration to iPoker.com," said Roei Gavish, head of Playtech's iPoker Network. "Our network continues to see positive development from both a liquidity and technological standpoint, which not only benefits a large operator like Betfair but also secures Playtech's leadership in the Poker B2B market."
Betfair Poker will likely join Bet365, Everest Poker, Paddy Bower, Poker770, Titan Poker, William Hill and Winner Poker on iPoker's top tier. iPoker divided into two tiers last September, sending the larger skins into the top level and smaller skins into the lower level.
"Our intention has always been to offer our customers a rewarding and varied poker experience," said Sam Hobcraft, Betfair's director of gaming launching. "New Betfair Poker on Playtech's platform will help us to continue to achieve this goal. It's a world-class product, offering unique and innovative features. This coupled with Betfair Poker's renowned community and loyalty offerings will help us better retain our existing player base and attract a new audience to Betfair poker."
Read more at the Betfair Poker blog.
Get all the latest PokerNews updates on your social media outlets. Follow us on Twitter and like us on Facebook today!