WPT on FSN Borgata Poker Open Part III: Marine Mammals, Heads-Up Blunders & a Champion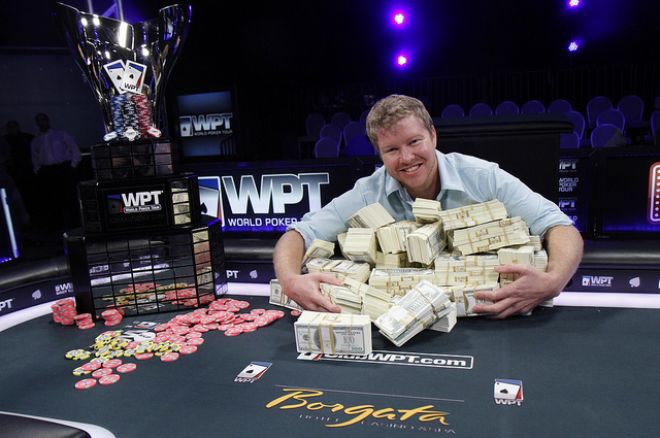 A new episode of the World Poker Tour Season XI aired Sunday night on Fox Sports Network. This week, the Borgata Poker Open, a $3,500 Main Event that drew 1,181 entries (the second largest in WPT history) to the Borgata Hotel Casino in Atlantic City, N.J., in September of 2012, came to an end.
In our recap of Part I, we highlighted the early stages of the tournament, which included tips on bubble etiquette and the final-table fashion report, and followed that up with a recap of Part II, which featured the eliminations of David Diaz and Steve Brecher in sixth and fifth place, respectively.
Here's how things stacked up at the top of this week's episode, which recommenced with the blinds at 120,000/240,000/30,000:
WPT Season XI Borgata Poker Open Final Table

| Seat | Player | Chips |
| --- | --- | --- |
| 1 | Matthew Burnitz | 13,115,000 (54 BBs) |
| 2 | -empty- | -- |
| 3 | -empty- | -- |
| 4 | Ben Hamnett | 15,720,000 (65 BBs) |
| 5 | Ofir Mor | 3,420,000 (14 BBs) |
| 6 | Tyler Patterson | 3,195,000 (13 BBs) |
Big Action on the First Hand: It's rare to have four players remaining in the third part of any WPT broadcast, so it's no surprise that the very first hand was a doozy. It began with Matthew Burnitz opening for 600,000 under the gun holding the
only to have Ofir Mor move all in from the small blind for 3.39 million with the
. Tyler Patterson then picked up the
in the big blind and called off his remaining 3.165 million. Burnitz got out of the way and Mor discovered the bad news. Mor had spiked a nine in a similar spot earlier in the tournament, but lightening wouldn't strike twice as the board ran out
.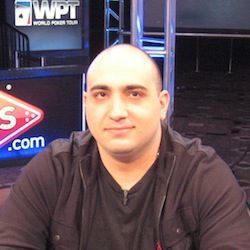 No More for Mor: In the very next hand after doubling Paterson, Mor put in his last 165,000 under the gun holding the
and received three callers, all of whom checked the
and
turn. When the
peeled off on the river, Patterson bet 400,000 after action checked to him and the other two players folded. Patterson tabled the
for the nuts and Mor, who had finished in third place in the same tournament in Season IX, exited in fourth place for $250,065.
"Honestly this table was, I think, a lot tougher than my other [final] table," Mor said in his post-elimination interview. "But I played the best I could, and my hands the best that I can. It just worked out that way. Nothing I could do in that spot with two nines but get it in."
RFGs Get Stranded: At every stop the WPT visits, the WPT Foundation works with local charities to bring awareness and funds to its cause. This week, the Royal Flush Girls visited the Marine Mammal Stranding Center, a cause supported by the Borgata Heart & Soul Foundation. The RFGs got a tour of the facility courtesy of Founding Director Bob Schoelkopf, who explained how the center, which tries to get sick or injured animals off the beach, had rescued 122 seals in the past year, 90% of which were released back into the wild. He then encouraged the RFGs to join their adoption program, which they did. It's not often the RFGs aren't the attractions on screen, but the seals shown in the montage unquestionably stole the show.
Ones to Watch: A.P. Phahurat from Tulsa, Oklahoma is a rising star in the poker world. We conducted an interview with him after he won the 2012 Chad Brown Challenge, and more recently he was selected as a member of Ones to Watch for the WPT Season XI.
"They think I'm crazy aggressive. I'm young, Asian, you know they just think I'm going to punt off stacks," Phahurat explained before revealing that he was born in Thailand and lived there until the age of 10. He also disclosed that he looked up to and was mentored by Ben Lamb. That fact alone certainly makes him one to watch.
Bye-Bye Patterson: Chip leader Ben Hamnett opened for 600,000 on the button holding the
and was met by an all-in three-bet to 3.05 million from Tyler Patterson, who held the
in the small blind. Hamnett took his time before making the call, and Patterson was a 41% favorite to double, though there was a 34% chance of a chop. The
flop made a chop unlikely, and Patterson seemed fine with that. What he wasn't fine with was the
that spiked on the river to give Hamnett the lead with a pair. The
river failed to change anything, and Patterson shook hands with both his opponents, paid them compliments, and then made his way to the payout desk in third place to collect $298,950.
Show Me the Money: It's a WPT tradition for the first-place prize money to be brought out on the table at the start of heads-up play. In this case, the $818,847 made a big pile of cash, but I couldn't help but reflect on some other not-so-big prizes that have been brought out in the past. Although $100K or $200K is a nice payday for anyone, the pile it makes isn't all that impressive. In fact, it's almost embarrassing to bring it out on the table for all to see. Perhaps it's time to put tradition aside for the sake of saving face and only bring out the first-place prize when it creates a big pile of money—say half a million or more.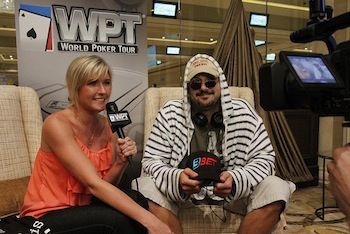 Heads-Up Blunders: Ben Hamnett began heads-up play with nearly a 2-to-1 chip lead, and he did nothing but extend that as Matthew Burnitz made a lot of mistakes. He made so many—nearly one in each hand he played—that Tony Dunst was inspired to point them all out in his popular segment, The Raw Deal. According to Dunst, Burnitz made a bunch of amateur mistakes such as no continuation bets, limp-called weak hands, zero equity bluffs, and stack-sizing. "Simple rule," Dunst offered, "If you're heads up with 10 blinds or less, and you have a face card, just go all in."
A Champion is Crowned: A couple of seasons back Olivier Busquet came back from a 19-to-1 chip deficit to win the Borgata Poker Open, but there would be no miraculous comeback in Season XI. After the blinds had gone up to 250,000/500,000/75,000, Matthew Burnitz raised to 1.05 million from the button with the
and then called off for 5.7 million when Hamnett moved all in with the
.
"King queen and I'm doubled suited," Hamnett said with extreme excitement upon discovering that he was ahead. "He's only got one flush draw." Both players made their way to the rail for consolation from their supporters and then met back in the table just in time to see the flop come down
. Hamnett and his rail erupted in celebration, and they continued to cheer when the
turn left Burnitz drawing to a nine. The dealer burned one last time and put out the
on the river. Hamnett pumped his fist in the air before being bum rushed by his buddies.
Hamnett was then presented with the WPT Champions Cup by Vince Van Patten and hoisted it in the air as the broadcast came to a close.
Tune in Next Week: The first part of the Five Diamond World Poker Classic, the tournament that started the WPT, is set to air on Sunday, May 19 on FSN, so be sure to check your local listings. If by chance you miss it, check back next week for the latest recap of all the action here on PokerNews.
Past Borgata Poker Open Champions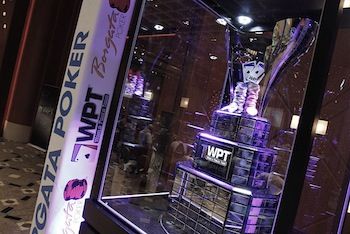 | Season | Player | Entrants | Earnings |
| --- | --- | --- | --- |
| 2 | Noli Francisco | 235 | $470,000 |
| 3 | Daniel Negreanu | 302 | $1,117,400 |
| 4 | Al Ardebili | 515 | $1,498,650 |
| 5 | Mark Newhouse | 545 | $1,519,020 |
| 6 | Roy Winston | 560 | $1,575,280 |
| 7 | Vivek Rajkumar | 516 | $1,424,500 |
| 8 | Olivier Busquet | 1,018 | $925,514 |
| 9 | Dwyte Pilgrim | 1,042 | $733,802 |
| 10 | Bobby Oboodi | 1,131 | $922,441 |
| 11 | Ben Hamnett | 1,181 | $818,847 |
*Pictures courtesy of World Poker Tour.
Get all the latest PokerNews updates on your social media outlets. Follow us on Twitter and find us both Facebook and Google+!