Introducing the $500,000 Midsummer Classic on DraftKings
DraftKings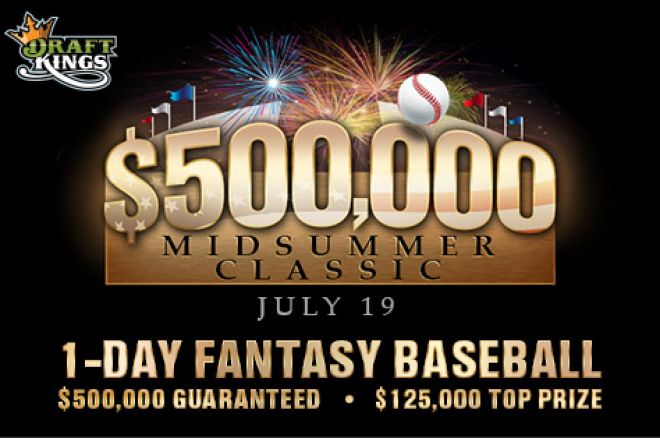 At this time last year, daily fantasy sports leader DraftKings.com was just getting off the ground. Today, they're offering a $500,000 one-day fantasy event that pays out $125,000 to the winner!
In the year DraftKings has been in business, they've learned that poker players adapt especially well to daily fantasy sports. The winner of their last enormous contest, the $250,000 Main Event during the NFL season, was a poker player playing daily fantasy for the first time, and many of their biggest winners come from a poker background.
DraftKings wants poker players involved in the industry, so they're offering up a great offer to start out. DraftKings has a 100% Deposit Bonus on all deposits up to $600.
There are more goodies for poker players available.
There's another goodie for poker players. If you played at a WSOP event this summer and haven't signed up yet at DraftKings.com, then sign up and email support@DraftKings.com a photo or scan of your receipt to get a free $500,000 Midsummer Classic ticket (worth $200).
DraftKings is 100% legal. In 2006 the United States Federal Government specifically defined fantasy sports as a game of skill and therefore made it 100% legal to play. The earning potential is both unlimited and straightforward, and the payouts are instantaneous. DraftKings is venture capital backed and based in the USA. These guys have deep pockets and are absolutely committed to providing users the best gaming experience on the web. The legality, venture funds and segregation of user accounts from operating budgets ensure that under no circumstances will your money be at risk.
Click here to create your account, claim your bonus, and start winning today.