WPT on FSN Bay 101 Part III: Techies vs. Pros; Poker Hall of Famer Downed & More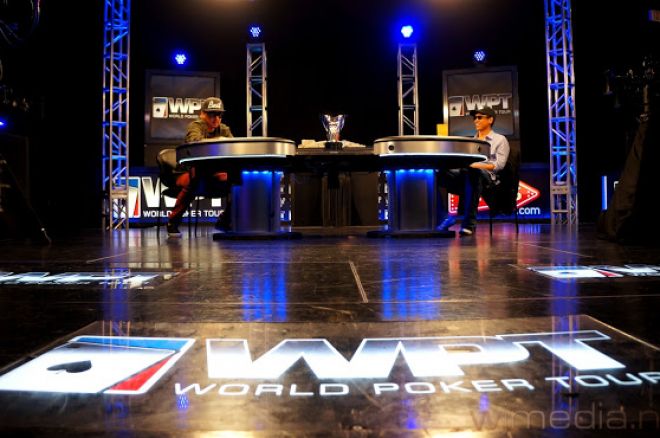 The World Poker Tour Season XI on Fox Sports Network continued Sunday night with the conclusion of the Bay 101 Shooting Star, one of my favorite tournaments of the year as explained in my recap of Part I, which is also where I gave me patented final table fashion report. Then in last week's recap of Part II, I highlighted the eliminations of Joe Kuether and Chris Johnson as well as the Royal Flush Girls playing laser tag.
Keep reading to find out my thoughts on this week's episode, which began with the blinds at 40,000/80,000/10,000:
WPT Season XI Bay 101 Shooting Star Final Table
| Seat | Player | Chips |
| --- | --- | --- |
| 1 | Joe Nguyen | 10,000,000 |
| 2 | Erik Seidel | 1,200,000 |
| 3 | -empty- | N/A |
| 4 | Paul Volpe | 2,00,000 |
| 5 | Kai Chang | 6,000,000 |
| 6 | -empty- | N/A |
May the Odds Be with You: Erik Seidel, who on the Season VI WPT Foxwoods Poker Classic for $992,890, moved all in from the small blind for 1,205,000 on the second hand of the broadcast holding the
and received a call from Paul Volpe, who found the
in the big blind.
According to the PokerNews Odds Calculator, Volpe was a 57.27% favorite to win the hand while Seidel had a 42.31% chance of surviving. The
flop was actually quite exciting because while it gave Seidel the lead with trips, making him the 75.05% favorite, it also gave Volpe a flush draw, which he'd hit 24.95% of the time.
The crowd was into the hand and calling for various cards for their respective man, but it'd be Volpe's contingent that went wild on the
turn. Volpe hit his flush to become the 77.27% favorite and left Seidel in need of either a jack, king, seven or ten on the river, which would come 22.73% of the time. The dealer burned one last time and put out the
. The Poker Hall of Famer missed and was eliminated in fourth place for $295,590.
Seidel, the last Shooting Star bounty in the tournament, then signed the traditional elimination t-shirt and handed it over to Volpe, who was being paid the $2,500 bounty in $100 bills. "How come I didn't get paid like that?" Seidel joked.
"It was fun, it was a great atmosphere," Seidel said in his post-elimination interview with Matt Savage. "The guys are awesome over here. I wish I'd done a little better but you can't win every time you play, so what do you do."
Ones to Watch: The latest installment of Ones to Watch featured Jason Somerville, who placed 42nd in the Bay 101 Shooting Star. Somerville became the first openly gay male poker player after coming out the year before, which was highlighted in the montage. Have a look:
Flopped Three of a Kind: Do you know what the odds are of the board flopping three of a kind? The only reason I ask is because it happened twice on this week's broadcast, first with queens and then with jacks. The answer is 424:1.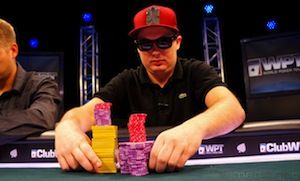 Volpe Vanquished: With the blinds at 50,000/100,000/15,000, Paul Volpe moved all in for 1.54 million from the small blind holding the
and Kai Chang, who had pulled out to the chip lead, called from the big blind with the
. Both players were on their feet as the flop came down
. Volpe stared at the screen over the table and then worked his way back to the table when the
turned. The
river failed to help Volpe, who was coming off a runner-up finish in the L.A. Poker Classic the week before, and he hit the rail in third place for $435,610. That left the guys who began the final table in fifth and sixth place to battle it out heads up.
"Came in, I had two shots in back-to-back weeks coming in as the chip leader and couldn't finish," said Volpe, who had taken over the WPT Season XI Player of the Year race. "I'm actually not super upset, but I kind of am, it's bittersweet again."
Tech Titans vs. Poker Pros: The WPT Foundation helped raise money for the Computer History Museum, which has the largest collection of computers in the world, in the 3rd Annual Silicon Valley Poker Challenge, which brought together top poker pros with Silicon Valley executives for a fun poker tournament. Some of the pros in attendance included Amanda Musumeci, Joe Serock, Tommy Vedes, AP Phahurat, Faraz Jaka, Noah Schwartz and Tony Dunst.
Unfortunately none of them were able to make it the final table, which included tech execs Nancy Albertini (Albertini Group), Amar Anand (Twitter), Zach Coelius (Triggit), Jeff Fluhr (Spreecast), Shishir Mehrotra (Google) and Sam Pullara (Sutter Hill Ventures). To find out how they each did, you'll have to watch the clip:
The End is Near: In a day and age when it takes players to act on hand (i.e. David "Doc" Sands and Marvin Rettenmaier), it's refreshing to see a player who acts quickly and decisively. "It's the fastest bettor we've ever had in the history of the tour," Mike Sexton said of Joe Nguyen.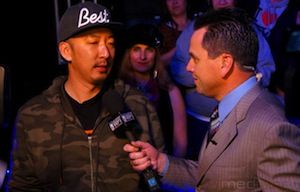 "It's like he's playing for $0.05-$0.10, I love that," Vince Van Patten added.
The hand they were commenting on began when Nguyen looked down at the
and raised to 250,000, which Chang called with the
. The
flop had a little something for both players and Nguyen promptly bet 325,000 with top pair after action checked to him. Chang called with his open-ended straight draw, which he hit when the dealer burned and turned the
. The card also gave Nguyen a flush draw.
"We could see more fireworks here than on the fourth of July," Sexton said. Sure enough, Chang checked and Nguyen came out firing 530,000. Chang made it a hefty 2.53 million and then snap-called when Nguyen moved all in for 7.01 million.
Both players were on their feet, as was the crowd, in anticipation of the river, which came the
. The crowd, which was largely comprised of Nguyen supporters, fell eerily quiet before their man stood, congratulated Chang and then exited in second place for $666,740.
"I feel real good, man," Nguyen said after the lose. "I'm sky high right now. I wish I could have won the whole thing, but I'm a winner in my book."
Meanwhile, Chang joined Sexton for his winner's interview.
"I wanted to play the same and play aggressive and pick my spots. Turns out I was picking them all the time," Chang said. "It feels fantastic. It's unreal, I'm super excited."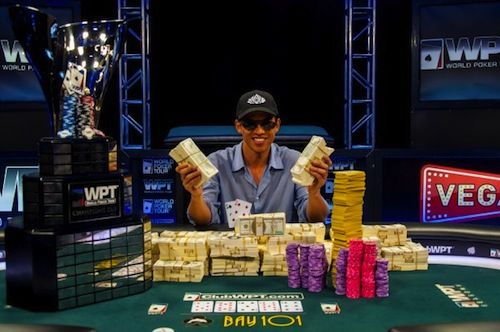 Tune in Next Week: The first part of the Venice Grand Prix, which took place in Italy, is set to air on Sunday, July 21 on FSN, so be sure to check your local listings. If by chance you miss it, check back next week for the latest recap of all the action here on PokerNews.
Who will be the next player to add his name to this prestigious list of champions?
Past WPT Bay 101 Shooting Star Champions
| Season | Player | Entrants | Earnings |
| --- | --- | --- | --- |
| 2 | Phil Gordon | 243 | $360,000 |
| 3 | Danny Nguyen | 438 | $1,025,000 |
| 4 | Nam Le | 518 | $1,198,300 |
| 5 | Ted Forrest | 450 | $1,100,000 |
| 6 | Brandon Cantu | 376 | $1,000,000 |
| 7 | Steve Brecher | 391 | $1,025,500 |
| 8 | McLean Karr | 333 | $878,500 |
| 9 | Alan Sternberg | 415 | $1,039,000 |
| 10 | Moon Kim | 364 | $960,900 |
| 11 | Kai Chang | 643 | $1,138,350 |
*Pictures courtesy of World Poker Tour and Bay 101 News.
Get all the latest PokerNews updates on your social media outlets. Follow us on Twitter and find us both Facebook and Google+!