Jamie Gold's 2006 WSOP Main Event Bracelet Sells for $65,725 on Heritage Auctions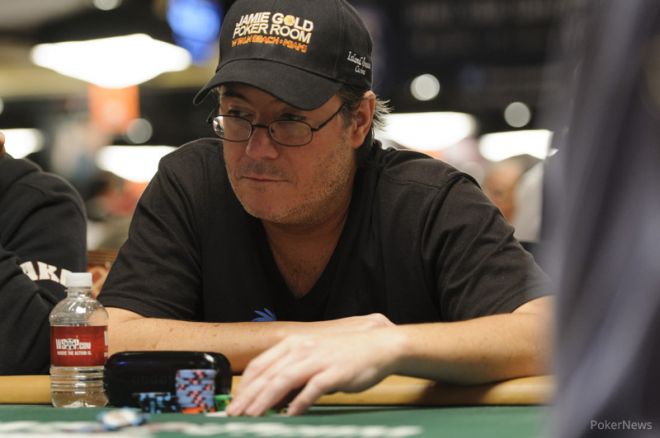 In May, PokerNews reported that Jamie Gold's championship bracelet for his win in the 2006 World Series of Poker Main Event was being auctioned on Heritage Auctions, which bills itself as "The World's Largest Collectibles Auctioneer." Bidding on the item began on July 13, 2013, and after nine different bids, the bracelet sold Thursday night for $65,725.
At this year's WSOP, Gold had stated that he was not the one offering the bracelet for auction and that it was out of his hands. PokerNews confirmed with Noah Fleisher, the Director of Public Relations for Heritage Auctions, that this was indeed the case. "Not much I can say other than that the current owner, who wants to remain anonymous, brought it to us for consignment," Fleisher said. "It is not Mr. Gold auctioning it, but he obviously sold it to someone, for some reason, at an earlier point, but I do not known any details beyond that."
Prior to Thursday night, the auction was featured solely a three-week online bidding period, which garnered eight different bids and brought the price up to $26,000. On Thursday, the lot was re-opened for a live event that allowed bids from online, the phone or in person. More bids ensued, including one new bidder, and the price ultimately reached $65,725, which includes the action house's fee.
Fleisher also confirmed that the winner of the auction wished to remain anonymous. "My experience has been that the buyers of most any item very, very rarely care to be identified as having such expensive items, not to mention the perception of conspicuous consumption," he said. "I can tell you, though, the person is a fan of the game."
According to the Heritage Auction listing, the bracelet "features 259 stones including over seven carats of diamonds and 120 grams of white and yellow gold. Rubies are inset to create the red of the heart and diamond suits, while a sapphire represents the spade and three black diamonds the clubs. The clasp is stamped '14K.'"


Gold, who won the largest-ever WSOP Main Event (8,773 players) in 2006 for $12 million, joins the likes of Peter Eastgate, T.J. Cloutier, Brad Daugherty, Paul "Eskimo" Clark and Jerry Yang as notable players to have their bracelets auctioned off. Perhaps the most notable of those was Eastgate, who auctioned his 2008 WSOP Main Event bracelet on eBay to raise money for charity. The auction garnered 116 bids and sold to William Haughey for $147,500. Haughey has since told PokerNews that he wishes to offer the bracelet in a charity event with the cooperation of the WSOP.
Requests for comment from Gold on the bracelet's sale were unsuccessful.
For those who'd like to get to know Gold a bit more, check out the commentary he did on the 2006 WSOP Main Event final table:
Get all the latest PokerNews updates on your social media outlets. Follow us on Twitter and find us on both Facebook and Google+!