The WSOP on ESPN: Salaburu Lost (Bro), Obrestad Calls the Clock on Timoshenko, and More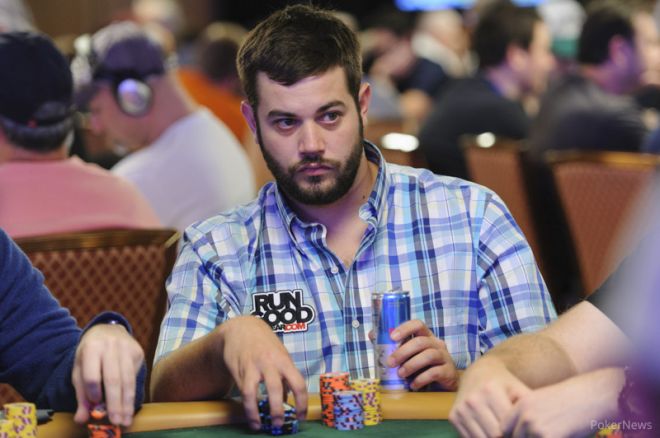 ESPN's coverage of the 2013 World Series of Poker continued Tuesday night with two new episodes of the Main Event. Last week's episodes saw Michael "The Grinder" Mizrachi make his way to the payout desk in 473rd place to collect $24,480, along with the legendary Doyle Brunson, who left the biggest tournament of the year in 409th place for $28,063.
This week's coverage continued with Day 4 with 388 players remaining in the field and the average stack at 491,000. It was pointed out that four of the 2012 Octo-Nine Main Event final tablists were still in contention to make the final table of this year's event. Rob Salaburu, Russell Thomas, Greg Merson and Steve Gee were all fighting for a chance to make the final table back-to-back, something that hadn't been done since 2004.
Here's a look at the top 10 chip counts from the start of the broadcast.
| Place | Player | Chip Count |
| --- | --- | --- |
| 1 | Max Steinberg | 1,804,000 |
| 2 | Kevin Williams | 1,625,000 |
| 3 | Jay Farber | 1,589,000 |
| 4 | Jonathan Lane | 1,490,000 |
| 5 | Josh Prager | 1,431,000 |
| 6 | Jason Cohen | 1,409,000 |
| 7 | Matthew Huey | 1,399,000 |
| 8 | Victor Cianelli | 1,398,000 |
| 9 | Umang Dattani | 1,350,000 |
| 10 | Philip Long | 1,343,000 |
Slapped with Despair: Carter Gill was sitting comfortably after moving all in for 372,000 with top two pair holding the
on a
board. David Paredes, who held the
for only top pair, went into the tank, contemplating a call or fold. Gill looked to Paredes to say, "All you need is a queen. If you call all you need is a queen." The banter prompted Paredes to call and Gill quickly flipped his hand to show the best of it. Paredes looked pained and put his head down as Gill smiled boldly saying, "Put a five of clubs out there." The river card broke his excitement as the
completed the board. You virtually could see Gill's heart stop before shattering into a thousand pieces. "Wow" was all he could say as Paredes reached over the table to shake hands in good sportsmanship. Gill was stunningly knocked out by Paredes in 371st place and exited the table.
You Lost, Bro: At the 2012 WSOP Main Event, Rob Salaburu made his presence known by being very vocal at the table. The catchphrase heard around the world was one coined by Salaburu after he politely but directly informed David Balkan that his set of tens wasn't the best hand against Gaelle Baumann. In reaction to what he saw he said, "You lost bro." Last year's infamous phrase became his demise at this year's event.
Salaburu raised to 17,000 with pocket tens. Alexander Roumeliotis called in position with pocket sevens. "What? That doesn't make any sense," is all that came from Salaburu's mouth. In a heads-up pot, a seven spiked on the flop giving Roumeliotis a set to flip the tables on Salaburu. Salaburu checked and Roumeliotis bet 22,000 and before the chips could even settle on the table Salaburu announced an all-in raise with a snap call from Roumeliotis. Salaburu's plan was to check-raise all-in and found himself in trouble in doing so. The
on the turn and the
on the river were of no help to Salaburu who left the stage with a $32,242 prize for 355th place. Norman Chad couldn't resist saying, "You lost bro." And that was that for the 2012 Octo-nine eighth-place finisher.
Calling the Clock: It's not uncommon for the clock to be called in big buy-in tournaments such as the WSOP Main Event. This year was no exception as Annette Obrestad called the clock on Yevgeniy Timoshenko, and she wasn't even in the hand to begin with. Timoshenko, who sat in early position, raised to 22,000 with
. Adam Friedman called from the big blind with pocket queens. With 58,000 in the pot the flop came [109sJs]. Friedman with no spade but an open-ended straight draw checked his over pair to Timoshenko who bet 30,000 with two pair. Friedman called. The turn was another jack, giving Timoshenko the full house, and once again Friedman checked. Timoshenko reached for his chips to drop a 54,000 bet to see Friedman call yet again. Obrestad could be heard in the corner talking with her boyfriend about her dissatisfied with the slow pace of play. "Maybe the next hand will only take five minutes."
Meanwhile, a
fell on the river, killing Friedman's hand, and he checked a last time. You could hear Obrestad complain once again, saying, "This is ridiculous." In all fairness, Timoshenko did go into the tank for about two minutes with his jacks-full. What took so long? The network even had to cut into break with the commentator leaving off, "We'll come back with hopefully a decision." Obrestad did end up calling the clock, which prompted Timoshenko to act quickly and reach for his chips to bet 90,000. Norman Chad stated, "It took him about two minutes to make that decision." Friedman didn't need a clock as he made the call to see the full house take the pot. Timoshenko was stacking his chips while he said, "That's not cool Annette. I don't think I took too long." Obrestad fired back with, "You always take an absurd amount of time. I mean no offense but we'd like to see more hands. At least I do." It's just another case of poker squabble. It's happened before and it'll happen again.
The second episode of the night showcased more standard hands, such as aces versus kings, flopped sets versus overpairs or two pairs. Among the eliminations were Lauren Kling (388th, $28,063), Jake Cody (400th, $28,063), former chip leader Dick van Luijk (300th, $32,242), and Friedman (286th, $37,019).
The storyline was centered around Anthony Forsyth-Forrest, who managed to fold the best hand not once, not twice, but three times — twice against 2012 October-Niner Steve Gee. In the first hand, Gee had pocket kings on the button and raised to 25,000. The 25-year-old Forsyth-Forrest reraised from the small bind with
. Gee called instead of raising and both players checked the
flop. Forsyth-Forrest checked the
turn and Gee shoved all in. Forsyth-Forrest entered the hand with a weak ace and decided it wasn't strong enough to continue, resulting in him folding the best hand.
The second hand saw Forsyth-Forrest mix it up with Gee again. From the big blind Forsyth-Forrest called Gee's raise with another weak ace (
), while Gee had pocket deuces on the button. In a rematch of weak ace versus a pocket pair, the flop showed
. Forsyth-Forrest checked his midpair and Gee bet 35,000 with the worst hand. Forsyth-Forrest called and the turn came
. Still with the best hand, Forsyth-Forrest checked once again and pushed Gee to use his position and test the Brit by betting 57,000. Forsyth-Forrest quickly folded his hand without much hesitation, mucking the winner yet again.
In hand No. 3, Forsyth-Forrest went up against Grayson Ramage. He opened 27,000 with
, an upgrade from his other ace hands, but Ramage reraised to 65,000 with
. Forsyth-Forrest re-popped it to 132,000, going into attack mode rather than being passive and just calling. Ramage came back with a five-bet to 240,000 rather than opting to fold his hand, and Forsyth-Forrest slid his two cards into the muck.
The completion of these two episodes marked the passing of the halfway point of the Main Event. You see the fall of Rob Salaburu and Russell Thomas, leaving two 2012 Octo-Niners in the field hoping to repeat last year's performance.
"One thing remains constant. Every pot is absolutely critical," Lon McEachern said to close out the broadcast.
Tune in Next Week: The WSOP on ESPN will continue every Tuesday through November. You can check out the full schedule by clicking here. Next week's episodes will feature the start of Day 5 of the Main Event. If you happen to miss it, check back right here on PokerNews for a full recap of the action.
Get all the latest PokerNews updates on your social media outlets. Follow us on Twitter and find us on both Facebook and Google+!