Online Poker How-To: Navigating the WSOP.com Lobby and Finding a Game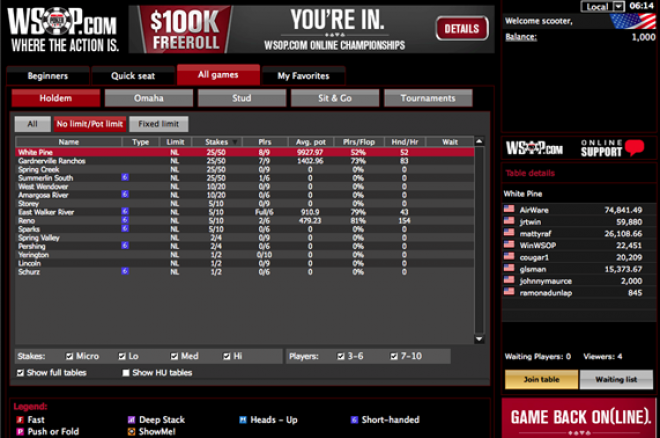 WSOP.com is the leading poker site in Nevada. The site offers several game variants at different limits available for both cash games and tournaments, and the software is user friendly and easy to navigate.
After you've downloaded and installed the client, registered and logged in, and made a deposit onto the site, the next step will be finding out how to navigate the WSOP.com online poker lobby and find a game on the site. You'll find out how to do all of that right here.
Navigating the Lobby and Finding a Game
The WSOP.com lobby is very easy to navigate. Tabs are labeled clearly, and the visuals are not busy. All games are just a few clicks away and include Texas Hold'em, Omaha, and seven-card stud.
On the site, you will find options for the three main types of online poker formats: cash games, sit-n-gos, and multi-table tournaments. Commonly, cash games can be referred to as ring games, sit-n-gos are abbreviated to SNGs, and multi-table tournaments are often called MTTs.
With the WSOP.com software, there are four main tabs for "Beginners," "Quick seat," All games," and "Favorites." These tabs are all very self explanatory, and the most commonly used one is the "All games" tab as that is where all games are displayed.
Under the "All games" tab, one can find the aforementioned game variants of Texas Hold'em, Omaha, and seven-card stud via their individual tabs. The tabs for these individual games correspond to cash games and there is also a subcategory to differentiate between no-limit and pot-limit games versus fixed-limit games. Then, you will find a tab entitled "Sit & Go" which is where the sit-n-go tournaments are held, and a fifth tab for "Tournaments" for the multi-table tournaments.
Cash games run around the clock and only require you to find a table and limit that you like before opening the table to sit down and play. Sit-n-gos and multi-table tournaments run on a more structured schedule. Sit-n-gos begin when a predetermined number of players full up the event. Once the full roster is complete, most often times one table of either six or nine players, the sit-n-go begins and plays out until a winner is determined.
On the other hand, multi-table tournaments run on the site's schedule, but do run around the clock. These events only need a minimum amount of registered players in order to kick off, and they are scheduled to begin at a certain time of the day. As long as the minimum requirement is achieved at start time, the event will begin. Multi-table tournaments often have a late-registration period allowing players to hop in even after the event has begun. This period generally lasts an hour.
WSOP.com offers cash games ranging from $0.01/$0.02 stakes to $10/$20, sit-n-gos with buy-ins from $1.10 to $55, and multi-table tournaments for as little as $0 for the freerolls all the way up the Sunday major event that costs $215 to enter.
Needless to say, there is something on the site for everyone.
If any problems are had, you may contact WSOP.com customer service at support@wsop.com.
For more online poker tips and tricks, be sure to follow us on Twitter and like us on Facebook now!