Online Poker Shared Liquidity Insight with Ty Stewart and Seth Palansky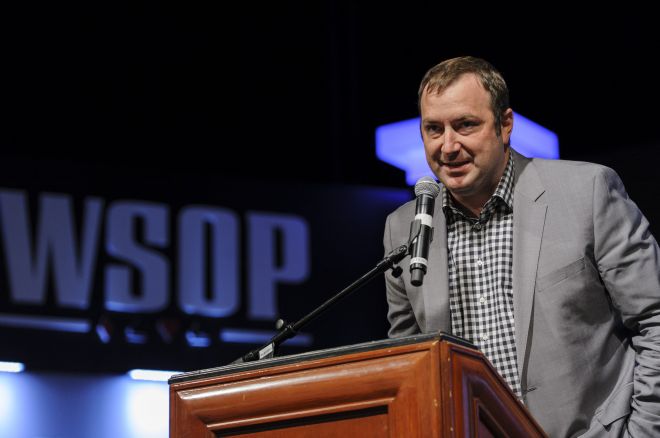 On Thursday, Sept. 19 at 9:19 a.m. PT, Nevada will officially have two legally regulated online poker sites running in full effect. While the idea has been lingering for quite some time — and will continue to do so — federal regulation of the online poker market in the U.S. still seems fairly distant. Rather, regulation will come on a state-by-state basis. At the time of the official launch of WSOP.com on Thursday, only three states have legalized online gambling — Nevada, New Jersey, and Delaware.
On a conference call earlier this week surrounding the launch of WSOP.com, Caesars Entertainment Interactive Chief Executive Officer Mitch Garber stated, "This is really the beginning of a domino effect, the same way that the state of Nevada started land-based casino gaming and you've seen the proliferation of casino gaming across the U.S. We believe that the digital age will repeat that very same pattern."
On the conference call, Garber said shared liquidity with other states will happen, but couldn't promise a pact between Nevada and New Jersey. He did say that small states need to opt in, though.
As my colleague Rich Ryan wrote in his Five Thoughts piece, "New Jersey's online floodgates are scheduled to open toward the end of November, and Atlantic City plays host to five Caesars properties. Both Caesars Atlantic City and Harrah's Atlantic City have WSOP-branded poker rooms and host World Series of Poker Circuit stops that residents could satellite into."
When it comes to shared liquidity, it's no secret that states with smaller populations will benefit, including Nevada. With a population roughly three and a quarter times the size of Nevada, a state like New Jersey could offer quite the influx of players if a site were to share player pools between the two states. What are the greater benefits of shared liquidity besides the common idea of larger player pools for the online sites, though? According to WSOP Executive Director Ty Stewart and VP of Corporate Communications Seth Palansky, it's variety.
"I think it's just not about tournament prizing. Although I agree it's powerful, just look at the [World Championship of Online Poker]," said Stewart. "It's about variety — the more players, the more games, and the more buy-in tiers you can have."
Palansky added, "It's giving people the variety they wish — immediately. And when I say variety, that is three-fold: 1. Buy-in level, 2. Game variant, 3. Cash game vs. tournament vs. sit-n-go vs. satellite. And when I say immediately, that is very important, too. No one wants to waste time sitting around waiting for others to show up. You log on, you want to get into action."
Variety is good, and being able to have a growing variety comes as a direct result of having a larger player pool to pull from, but it could also lend itself to a competitive edge amongst the sites. Right now, Ultimate Poker — the first legally regulated online poker site in the U.S. and WSOP.com's direct competitor — only offers no-limit and limit hold'em. WSOP.com has said it will have a few more poker variants available in pot-limit Omaha, limit Omaha eight-or-better, limit seven-card stud, and limit seven-card stud eight-or-better. This favors WSOP.com it terms of shared liquidity. When you increase your player pool, you need more options to satisfy your customers. Without those options, customers will head elsewhere. WSOP.com is also Mac-compatible, and Ultimate Poker is not. It may seem as though Ultimate Poker breaking the first-to-launch barrier and becoming the first to deal 10 million hands has put them far ahead in the game, but WSOP.com looks more prepared to handle growth.
"When you think of all the options that players expect, it's a wide variety," continued Palansky on the idea of providing options for players. "Players need that because they log on with different goals in mind. Some folks have only 30 minutes to play. Some have high-stakes ambitions in mind. Some prefer stud over no-limit [hold'em] and vice versa. You just need to have enough full tables at all possible combinations to satisfy the varying demand at all levels for all games. To offer folks a choice of vanilla, chocolate, or strawberry may work when you are selling milkshakes, but poker is a skill game requiring much more to quench a player's thirst."
Other benefits to shared liquidity include awareness of how lucrative online poker can be to not only other states, but also on a federal level. This is exactly the "domino effect" Garber was talking about. Shared liquidity can also mean more live tournaments held at land-based casinos in the involved states and increased tax revenue for those states involved, although the latter can be directly tied to the increased player pools.
With New Jersey hoping to launch online poker later this year in November and Caesars owning several properties in the state, it's really only a matter of time before WSOP.com expands to a second state. Whether or not the two states will share player pools is still yet to be determined and would hinder on an interstate pact between Nevada and New Jersey.
When asked about WSOP.com's future plans in terms of shared liquidity, Palansky said that is "impossible to answer now." He went on to add, "We're happy to get our feet in the water with our launch in Nevada and see what that brings, and we hope to grow with the Nevada market and any other future markets that open up in the U.S. We will obviously take a position that favors the poker community and poker players."
The last line is something the WSOP has always toted, and that is looking out for the poker community and the players. Like any product or venture in the world, there is always going to be criticism, which there has over the years of the WSOP. Despite the criticism, the WSOP has grown year after year to the massive spectacle it is today and now has marquee events in Australia and Europe on a regular basis to go along with the summer in Vegas. WSOP.com is highly expected to follow along with the same goals of keeping the best interest of the players and the community in mind.
Another big point to make is that online poker — a projected $7.4 billion business by 2017 — can create many new jobs. At a time where the job market isn't exactly booming and the economy is still building itself back up, it could almost be viewed as downright ignorant for states to ignore the idea of online gambling, let alone actually putting it into practice. This point can also be made on a federal level. WSOP.com is hoping it can help spread awareness of what online gambling, specifically poker, can do on both the state and eventually the federal level.
"If [the government] chooses to offer some legislation federally, it would likely make shared liquidity on a state level moot," said Palansky. "With no federal legislative input, states will do what is in their best interests. We as a company will be patient. We are happy to prove the marketplace, the technology, etc. We are happy to help educate and show folks this is a smart, viable opportunity for states to keep and create jobs and taxes in the U.S. This will all lead to what poker players want, we just will have to be more patient."
Palansky later added that there are no specific targets for WSOP.com outside of New Jersey and Delaware being at the forefront. "We believe this is a 35-45 state industry in due time," he said. "We can't control the timing. We'll help do what we can to help states see the benefits. We will apply for licenses when the opportunities present themselves, and we'll participate in markets that want to have us. Liquidity is really a poker, and to a lesser extent, bingo issue. States will all do things a bit different, and we understand that liquidity shouldn't be the priority for them."
California is one of the states closest to legalizing online gambling, and with a population more than four times that of New Jersey would be paramount in terms of shared liquidity for a site. While Palansky didn't cite any specific plans for WSOP.com and California, he did say, "When a law is passed, we will prepare for the opportunity that presents itself if we are able to do so."
It's not going to be all about the push from the online sites, though, and Palansky pointed that out, citing that involvement and interaction from the poker-playing community itself is needed.
"We would hope that poker players can help be the early adopters in this new, regulated world in the U.S., support an operator in their market, and help prove it to those who passed laws for it and are regulating it that it is working and working well," said Palansky. "It is that which will lead to states eventually working together on liquidity and giving the players what they seek. But if players don't start playing from the get go, the message to other states will be that this isn't a viable business worth exploring, and that will be detrimental."
One of the things to help entice players to get involved, and get involved early, will be the WSOP Europe satellites available at launch on WSOP.com. Following that, 2014 WSOP satellites are expected to be available shortly after WSOP Europe takes place "at the very, very latest" according to Stewart. There's no question that live events all over the world benefit from online satellites, and even the WSOP Main Event has in the past. Still, the WSOP Main Event never had any online satellite winners that qualified through the company's own platform, and this could be a game changer moving forward.
"We know the demand is there," said Stewart in regards to how much the WSOP Main Event could benefit from the WSOP.com online platform and shared liquidity in the future. "We just have to be able to supply the service. I think the 2014 Main Event will benefit immediately from Nevada — and hopefully New Jersey — as we'll be offering year-round satellites and promotions. I can't yet speculate on how many seats we can generate, but consider we created approximately 400 seats for the Main Event just through live satellites of persons physically in the Pavilion Room from June to July. Obviously it's much more convenient to play from home and have multiple buy-in tiers."
"Perhaps those who operated in the U.S. pre-Black Friday have a better sense of the player pool that existed, etc." added Palansky. "We have never been in this business in the U.S. before. We're excited for the opportunity. Like Ty said on the call, we have qualified zero players to the Main Event in our 43-year history via an online platform. We will definitely be doing so now, so we're pleased at that, and we hope we're faced with the dilemma of needing a bigger venue than the Rio to host this event one day."
The big WSOP boom is often credited to the effect Chris Moneymaker's famous win in the 2003 WSOP Main Event had on the game. Both Stewart and Palansky agree that online poker at WSOP.com being coupled with future shared liquidity will lend itself to an uptick in numbers once again.
"Ultimately, we will see more players actually enter the Main Event through Internet qualification — more than even pre-UIGEA," said Stewart. "It may take five years, it may take 10, but it will happen. I truly believe it. What people don't realize is that much of the time players who supposedly won entry to the WSOP through an offshore site never played, they never came to Vegas. In most cases, the operators used the tournament name solely for their benefit to acquire customers, but the tournament and the prize pool didn't benefit. We have a vested interest in seeing the Main Event grow and break records, and we plan to be committed to that all year round."
"I think back in 2003, a match was lit and it caused an explosion," added Palansky, referencing the poker boom attributed to the "Moneymaker Effect." "In 2013, a match will be lit and it will cause a fire to start. The fire will keep burning and growing. It will be a slow burn, but one that snowballs as opposed to getting extinguished."
It's still left to be determined as to whether or not various states that legalize online gambling will participate in shared liquidity through common online poker sites, but with so many properties around the U.S. and a platform built to handle growth, it surely looks as though WSOP.com is prepared and ready. It's clear that shared liquidity has far more benefits than not for the poker community, and should be something promoted by the poker-playing community, the sites themselves, and the states involved.
Get all the latest PokerNews updates on your social media outlets. Follow us on Twitter and find us on both Facebook and Google+!