Inside Gaming: Las Vegas Sands Earnings Report, Seminole Expansion, and VA Gaming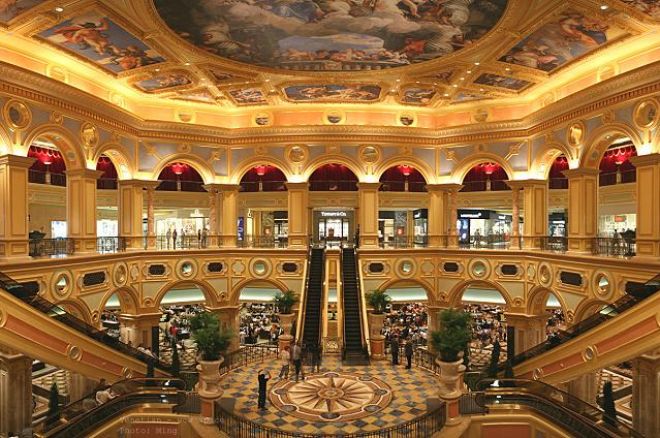 This week, Inside Gaming takes a look at the Las Vegas Sands earnings report, potential Seminole expansion, and a report on Virginia gaming prospects.
Las Vegas Sands Earnings Top Estimates in Asia
On Friday, Bloomberg reported that Las Vegas Sands Corp. (LVS) posted third-quarter profit that topped analysts' estimates, raising its dividend by 43 percent.
Due to continued growth in Asia, profits raised to 82 cents a share. This is five cents higher than the 77-cent average compiled by 21 analysts on Bloomberg. Revenue increased 32 percent to $3.57 billion, according to statement from the company.
In a conference call, billionaire owner Sheldon Adelson contributed growth to improve rail and airport links to Macau and China's gambling enclave. Adelson will continue to favor growth in Asia, allowing the company to repurchase stock and increase dividends, even when Las Vegas is struggling.
"These infrastructure investments include the world's most expensive and extensive high-speed rail system," said Adelson. "[A new bridge] will allow passengers arriving by plane at the Hong Kong International Airport to reach Macau in as little as 20 minutes."
Adelson also says that LVS repurchased nearly $300 million of stock during the quarter and has committed to spending another $75 million a month under its $2 billion buyback authorization. The 80-year old, who recently released a poll which showed "universal opposition to online poker," owns 51 percent of the stock in the company and will consider paying a special dividend later this year.
For more, head on over to Bloomberg.com
Florida Lawmakers Discussing Seminole Gaming Expansion
Florida state senators are discussing the latest draft of a statewide gambling study last week, and Miami Democrat Gwen Margolis believes there is a place for roulette and craps in Seminole casinos.
If the two table games become available, Margolis says, "we would probably, without opening one new casino, have much more money."
Seminole Tribe spokesman Gary Bitner agrees.
"At any casino, the addition of a new game requires the hiring and training of dealers to ensure the best possible costumer experience," he told The Tampa Tribune. "[It] means more jobs, too. Adding new tables to the gaming floor is the least of it."
According to Bitner, the tribe isn't negotiating for the expansion though – they are happy with the games they have now, which are predominantly slot machines and blackjack tables.
A bill is likely to be introduced during the 2014 legislative season, and state legislators are examining gaming expansion, including a Las Vegas-style destination casino-resort. The problem is there is an agreement in place with the Seminole Tribe of Florida, which guarantees the state a minimum of $1 billion from the tribe's gambling income over five years. The tribe has exclusive rights to offer Las Vegas-style gambling outside of Miami-Dade and Broward counties.
If there is expansion outside of the tribe, the Seminoles can halt the payments to the state.
"If you gave them the opportunity to do a few more things in their casinos, we wouldn't have to sit around here and worry about [new] casinos," Margolis argues.
Virginia Study Shows Casino Could Benefit State Roads
On Tuesday, the Hampton Roads Transportation Planning Organization (HRTPO) released a study, saying that a locally based Hampton Roads casino and resort could result in $113 million in tax revenue a year that could be used for roads.
The study was commissioned by a state senate committee to mitigate regional tolls, and it suggests that casino gambling would generate substantial revenue and jobs. It also highlights the social, economic and criminal issues associated with casino gambling, but calls them "unquantifiable."
Casino gaming is currently not permitted in Virginia.
According to the HRTPO study, a casino in the region would create between 1,900 and 2,400 jobs.
"There would be additional revenues for the Hampton Roads gaming industry depending on the mix of restaurants, entertainment venues, and accommodations that were included in the casino," the report says.
Dwight Farmer, executive director of HRTPO, understands that while the study highlights potential revenue, it's up to state lawmakers to secure funds for transportation.
Chris Freund, Vice President of the Family Foundations of Virginia, believes that the benefits of casino gambling aren't worth the "unquantifiable" costs.
"The gambling lobby offers casinos as a panacea for every financial issue the state has," he said. "But the reality is the costs in crime, in broken families, and lost production always exceed what little casinos have to offer. You don't have to go far from the Atlantic City Boardwalk to see what a casino brings to a city, and it isn't pretty.
For more, check out the Daily Press.
Photo courtesy of http://twistedsifter.com
Get all the latest PokerNews updates on your social media outlets. Follow us on Twitter and like us on Facebook today!