Inside Gaming: Nevada Casino Fined $1 Million, Singapore Sits in Third, and More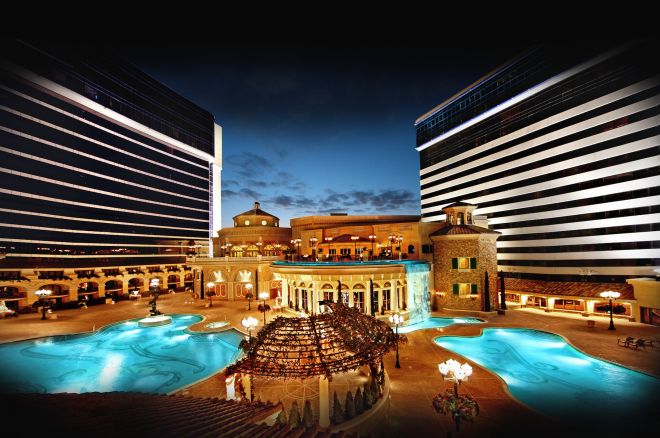 In this week's edition of Inside Gaming, the Peppermill Casino owners are fined, Singapore ranks right behind Las Vegas, and casino developers eye India.
Nevada Regulators Affirm $1 Million Fine for Peppermill Casino Owners
On Thursday, Nevada State gaming regulators signed off on a $1 million fine against owners of the Peppermill Casino in Reno. The property's owners admitted to stealing proprietary information from rival Northern Nevada casinos, allowing an employee to use a common slot machine "reset" key on machines operated by competing properties.
Members of the Nevada Gaming Commission disputed the size of the fine, but Attorney Frank Schreck, the Peppermill representative, informed the regulators that the actions were not deemed criminal by the Washoe Country District Attorney.
"I'm not trying to make excuses of the seriousness of the action," Schreck said. "It was abject stupidity on their part. This wasn't a crime, but it was felony stupid."
The commission accepted the settlement on a vote of 3-0 – Chairman Pete Bernhard recused himself because of a conflict, and Commissioner Joe Brown abstained.
"I'm sorry for the embarrassment this has caused," Peppermill President William Paganetti said at the hearing. "It was inappropriate of the Peppermill to be involved in this type of action."
Slot machine technicians use the "reset" key to collect information or reset a machine after a customer hits a jackpot. Most keys work on slot machines from all manufacturers. Peppermill received play history, hold percentages, event logs, and game configurations, but Schreck says that they never actually used the data.
"The information was never used to gain a competitive advantage," he said. "It was to satisfy curiosity."
The $1 million fine was not levied to "financially harm or bankrupt" the Peppermill, according to Gaming Control Board Chairman A.G. Burnett, but to send a message to other casino operators.
"I knew the number had to be high and high enough to send a message," Burnet said.
According to the complaint, corporate analyst Ryan Tors was caught in July using a reset key on several slot machines at the Grand Sierra. The board discovered that Tors gathered information from 10 other Nevada casinos, including the Eldorado, Circus Circus Reno, Siena, Atlantis, and Rail City.
Tors had been gathering information since 2011, and has been placed on administrative leave.
The Peppermill is a privately owned property with 1,600 hotel rooms, an 80,000-square-foot casino, and 106,000 square feet of convention space.
The Las Vegas Review-Journal has more
Singapore Generates $6 Billion in Gaming Revenue
Singapore only has two casinos, and together they experienced a 3.8-percent increase in gaming revenues in 2013, but the country still generated the third-most casino revenue in the world; $6.077 billion.
Marina Bay Sands, owned by Las Vegas Sands, was responsible for $3.135 billion, a 6.6-percent increase from 2012. Resorts World brought in $2.942 billion, a one-percent increase.
At one time, gaming analysts predicted that Singapore would surpass the Las Vegas Strip ($6.5 billion in revenue in 2013) and become the No. 2 gambling destination in the world, but now they are unsure.
"Generally speaking, the mass-market story in Singapore has now entered into a flattish period at best," Union Gaming Group managing director Grant Govertsen said. "The VIP story is a bit rosier, although we don't think VIP [play] in Singapore is likely to be as robust as it is in Macau."
Govertsen is confident that Singapore, which opened its two casinos in 2010, will retain the world's No. 3 ranking, unless casinos are approved in Japan.
"The good news for Singapore is that we don't view any other Asian markets threatening its hold as the No. 2 gross-gaming revenue market in Asia," Govertsen added.
The No. 1 gaming market in Asia and the world is Macau — the former Portuguese colony generating an astounding $45.2 billion in gaming revenue in 2013.
For more, head to the Las Vegas Review-Journal
Daman and Silvassa Could Hosts Casinos
While East Asia grows exponentially in the gaming world, some casino operators are eying India as the next great opportunity to increase revenue.
Currently, the cities of Goa and Sikkim play host to gaming venues like Casino Royale and Casino Pride, but the Union territories of Daman, Diu, Dadra, and Nagar Haveli could also become casino hotspots.
The Hotel and Restaurant Association of Western Indian (HRAWI) has requested the Central government to allow gaming machines to be installed in the above territories to attract more tourists. The regions have also asked the government to make more important brands of spirits and winds available, improve road networks, and implement a master plan for increased tourism.
The territories have touted 2014-15 as "tourism years."
"The Union Territories could be developed as gambling hot spots as they are strategically located between Gujarat and Maharashtra," Vishamber Shewakramani, chairman of a HRAWI sub-committee told The Times of India. "Enabling gaming machines and casinos in Daman and Silvassa will help attract more tourists."
A Daman hotelier added, "Goa is the only destination in the country where casinos and gambling are allowed. The gamblers have to go all the way to Goa to get that ultimate gaming experience. If Daman and Silvassa get the casinos and gaming facilities, then these places could attract big hotel chains too."
Industry sources believe that a well-known gaming and hospitality firm plans to construct a casino in Daman. This unknown company has a major share in Goa's gaming industry. The Indian government earns $2.175 million per year from taxes in Goa.
The Times of India has more
Photo courtesy of Peppermill
Get all the latest PokerNews updates on your social media outlets. Follow us on Twitter and like us on Facebook today!