Venetian Confirms Adelson's Anti-Online Gambling Stance Caused PokerNews Ban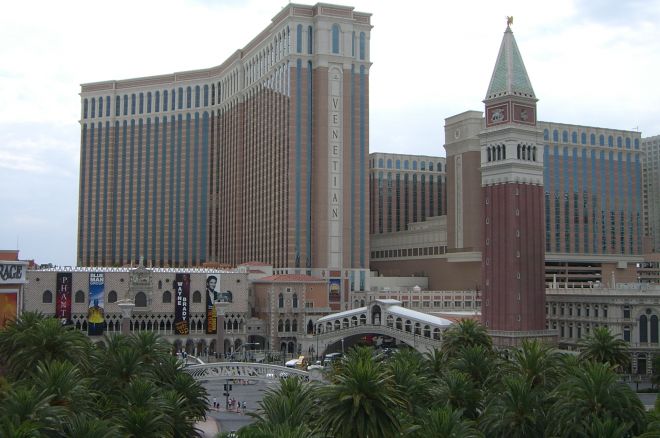 Less than a week after The Venetian excluded PokerNews from providing live coverage of a Mid-States Poker Tour event inside its casino, the company issued a statement which confirmed that the ban was related to to PokerNews' business relationships with online poker sites.
"Given our Chairman's clear position on the matter of online gaming, the Venetian/Palazzo made a business decision to not allow an online blog during the Mid-States Poker Tour event," Kathy Raymond, executive director of poker operations at The Venetian, told PokerNews in a statement.
Raymond is referring to Las Vegas Sands Chairman Sheldon Adelson, the driving force behind the proposed Internet gambling ban in the United States. Adelson, whose company owns the Venetian and Palazzo resorts in Las Vegas, is backing a bill designed to strengthen The Wire Act to ban all forms of Internet gambling.
The 80-year-old billionaire has committed to spend millions of dollars to "prevent the world's most vulnerable people from being exploited."
PokerNews was originally unaware of the specific reason behind the decision to cancel the live reporting services for the MSPT. PokerNews contacted The Venetian for comment earlier in the week and it took a few days for casino representatives to respond.
"It is now clear this was another political stiff arm against our industry that Sheldon Adelson is behind," said PokerNews Editor-in-Chief Donnie Peters on Saturday. "It is unfortunate that one man's stance against poker holds such strength — and yes, I do mean poker as a whole and not just online poker, because Adelson is without a doubt hurting the overall growth of the game the more he fights against the virtual variant."
Adelson and his team have leaned heavily on Internet gambling scare tactics, claiming that online poker could allow Al-Qaeda to extract enough untraceable money from the United States in just a few days to fund several 9/11-sized attacks. Adelson's Coalition to Stop Internet Gambling also called on the Pennsylvania legislature to pass a bill that would establish criminal penalties for individuals who participate in online gambling.
"The time is now for the poker industry to take a stand and fight for the preservation of our game and its growth," Peters added. "While it may be Adelson's right to speak out on matters however he sees fit, his views are self-serving, hypocritical, and false. He has called the game of poker — our game — 'just a bunch of baloney' and has stated in the same breath, 'To get a card is not skill base. I know people say it is skill based, but it's just so they can categorize it in a certain segment.'
"These words are not only wrong, but they are insulting to the millions upon millions of poker players that work day in and day out to perfect their craft. Poker is without question a competitive game of skill."
PokerNews had provided live reporting coverage of each of the first eight stops on Season 5 of the MSPT. The ninth stop, held in Las Vegas for the first time ever, attracted a record-setting field of 854 players and was won by Drake Bronk for $163,870.
Lead image courtesy of Ricky Barnard at Wikimedia Commons.
Get all the latest PokerNews updates on your social media outlets. Follow us on Twitter and find us on both Facebook and Google+!