Five Thoughts: Danzer Wins WSOP Player of the Year, Hall of Fame Selections, and More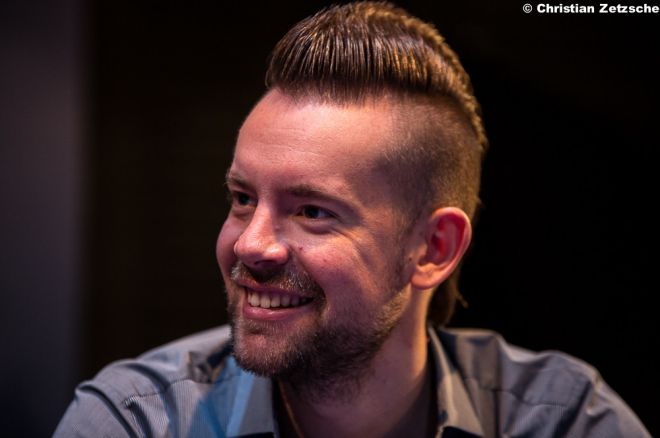 Despite cashing for less money than the four previous winners of the award, George Danzer locked up 2014 World Series of Poker Player of the Year honors in Australia earlier this month, winning his third gold bracelet in WSOP Asia-Pacific Event #8: $5,000 8-Game Mixed. Danzer needed to fade Brandon Shack-Harris, the leader going into the final 10 events at Crown Casino, in both the $25,000 High Roller and the Main Event, and the Chicagoan was only able to muster a 17th-place finish in the latter.
Danzer is only the third non-American to win the award — Canadian Daniel Negreanu (2004 and 2013) and Australian/Italian Jeffrey Lisandro (2009) both captured the Player of the Year title without an eagle on their passport — and the German is the first player since Lisandro to win three bracelets along with POY honors. Danzer's 10 cashes and five final table appearances both tie records for POY winners, but the $878,933 he earned in both Las Vegas and Melbourne is the lowest total since Lisandro ($807,521) in 2009.
In fact, only two players, Tom Schneider (2007) and Negreanu (2004), earned less money the year that they won Player of the Year. Schneider cashed three times for $416,829, while Negreanu earned $346,280 over six cashes.
The race between Danzer and Shack-Harris saved what was an otherwise lackluster festival Down Under. While I was initially knee-deep in the live updates, somewhat gutted because I was missing out on a tournament series in my favorite city on the planet, my excitement tailed off as the days passed by. Perhaps it was the time zone difference or the fact that I was getting hitched during the latter days of the Main Event and the High Roller, but WSOP Asia-Pacific didn't come off as a must-watch affair. It was fun to see Danzer and Shack-Harris go back and forth during the first few tournaments, but once the German locked up his third bracelet Shack-Harris was drawing very thin.
I've always been in favor of hosting bracelet events outside of Las Vegas. It is the World Series of Poker, after all. If you're concerned about the value of the gold bracelet, then crusade against the increased number events at the Rio, not the handful of events that take place abroad. Since Chris Moneymaker won the 2003 WSOP Main Event, the number of events held in Sin City has nearly doubled from 36 to 65.
Still, even Danzer isn't sure if the bracelet he won in Australia is worth as much as the two he captured in Nevada.
"I think there should be two different bracelets for the WSOP events in Vegas and other WSOP events," Danzer said on the PokerNews Podcast. "It's just so hard to travel over here. I wouldn't have made the trip if it wasn't for the Player of the Year race. It forces people to have huge expenses if they want the same chance of winning a bracelet, so I would like it to be like a silver bracelet or something."
Danzer added that he wished that the Player of the Year race ended in Las Vegas as well, even though he was able to make a comeback at WSOP Asia-Pacific.
"But it worked out for me," Danzer said, chuckling.
1. WSOP Asia-Pacific Recap
Scott Davies and Mike Leah captured the final two bracelets up for grabs at Crown, winning the Main Event and the $25,000 High Roller, respectively. For Davies, it was his second six-figure score of the year — he busted in the semi-finals of the WSOP $10,000 Heads-Up Championship — and his first major victory. The American defeated Jack Salter heads up, earning AU$850,136. Salter was also denied a championship earlier in 2014, finishing runner-up in the European Poker Tour Grand Final Main Event for just over $1 million.
| Place | Player | Country | Prize (AU) |
| --- | --- | --- | --- |
| 1 | Scott Davies | USA | $850,136 |
| 2 | Jack Salter | UK | $516,960 |
| 3 | Henry Wang | Taiwan | $343,805 |
| 4 | Kyle Montgomery | USA | $231,287 |
| 5 | Frank Kassela | USA | $164,089 |
| 6 | Ang Italiano | Australia | $118,769 |
On the final hand, Davies flopped a set of sixes and turned a full house when Salter made trip tens. The Brit used his "one time," but a meaningless
completed the board and ended the tournament.
I have to give props to PokerNews Senior Editor and 2013 WSOP bracelet winner — yes, I will always refer to him as such — Chad Holloway, who profiled Salter before his recent run in a piece titled "Worth His Salt: The UK's Jack Salter is Looking to Make a Name for Himself." Since that article was published, Salter has won $1,533,095.
The aforementioned Kassela was arguably the biggest name at the final table, but he fell in fifth place. Other players who just missed the final table and an opportunity to appear live on ESPN were Jackie Glazier (12th), JJ Liu (13th), Gary Benson (15th), Shack-Harris (17th), and Tobias Reinkemeier (20th).
For Reinkemeier, it was his first cash since finishing fifth in the $1 Million BIG ONE for ONE DROP.
Leah topped an unsurprisingly stacked final table to capture his first gold bracelet and AU$600,000. The young and impressive Kiwi [Removed:17] finished runner-up, earning AU$360,025, and Jesse Sylvia, Jonathan Duhamel, Brian Roberts, and Andrew Hinrichsen were all at the final table.
| Place | Player | Country | Prize (AU) |
| --- | --- | --- | --- |
| 1 | Mike Leah | Canada | $600,000 |
| 2 | [Removed:17] | New Zealand | $360,025 |
| 3 | Jesse Sylvia | USA | $216,811 |
| 4 | Jonathan Duhamel | Canada | $145,003 |
| 5 | Sam Khouiss | Australia | $110,078 |
| 6 | Brian Roberts | USA | $85,027 |
| 7 | Sam Higgs | Australia | $65,035 |
| 8 | Andrew Hinrichsen | Australia | $50,021 |
2014 has been a banner year for Leah, who won a side event at the Fallsview Poker Classic for $108,465, won two WSOP Circuit rings on the very same day at the Bicycle Casino, finished runner-up in the Seminole Hard Rock $10 Million Guarantee for $1,047,638, and now is a WSOP bracelet winner. The Canadian rocketed to No. 22 in the Global Poker Index and No. 16 in the 2014 GPI Player of the Year race, and now has almost $4 million in career live tournament earnings.
Phil Hellmuth bubbled the $25,000 High Roller, missing out on the AU$50,021 and a chance to appear on ESPN. The Poker Brat was all in and at risk with the
on a board of
, and unfortunately for him Leah had flopped a set with the
. Hellmuth needed a heart on the river to double through or any non-heart
to chop the pot, but all the
did was improve Leah to a full house. Earlier in the festival, Hellmuth reached the final table of another event but fell in fourth place, so WSOP bracelet No. 14 will have to wait until at least summer of 2015.
Congratulations to Davies and Leah on their big wins in Melbourne, and thanks to Danzer and Shack-Harris for an exciting finish to the 2014 Player of the Year race. I look forward to seeing where the non-American WSOP festival will take place in 2015, and the ensuing bracelet debates as well.
2. EPT London
WSOP Asia-Pacific wasn't the only major tournament to wrap up while I was on a mini hiatus, EPT London also came and went. The EPT London Main Event final table featured two EPT champions, Jake Cody and Kevin MacPhee, but it was Sebastian Pauli who captured the first-place prize of £499,700. The German defeated the aforementioned MacPhee heads up to win the event and his second tournament of 2014. During EPT Barcelona, Pauli took down a turbo side event for $52,833. The German now has over $1 million in career live tournament earnings.
| Place | Name | Country | Prize |
| --- | --- | --- | --- |
| 1 | Sebastian Pauli | Germany | £499,700 |
| 2 | Kevin MacPhee | USA | £308,500 |
| 3 | Kevin Killeen | Ireland | £220,500 |
| 4 | Artur Koren | Germany | £168,900 |
| 5 | Jake Cody | UK | £133,800 |
| 6 | Jakub Mroczek | Poland | £104,200 |
| 7 | [Removed:119] | France | £75,900 |
| 8 | Pablo Gordillo | Spain | £51,900 |
When Cody crept into the top 100 at EPT London in 2010, there was a bit of a buzz surrounding the Brit as he eyed his second title on home turf. Unfortunately, he busted in 99th place, but he returned to an EPT final table in Season 9 at the Grand Final in Monaco. By that time, Cody had added a WSOP gold bracelet and a World Poker Tour title to his trophy case, becoming the youngest Triple Crown winner in history.
Cody was a bit overshadowed at that final table by fellow Team Pro's Jason Mercier, Johnny Lodden, Negreanu, and eventual winner Stephen O'Dwyer. Cody didn't seem to mind this, admitting recently on an upcoming episode of the brand new Remko Report that it was nice to share the spotlight. He finished fifth, earning $329,124.
Now a father of a lovely little girl, Cody continues to focus on his game and compete at a high level. Along with this final table appearance, the Brit finished runner-up in the 2014 Florida State Poker Championships, earning $76,960. He now has over $4 million in career live tournament earnings at the ripe old age of 26.
Like WSOP Asia-Pacific, the EPT London High Roller final table was filled with legends. Canadian Andrew Chen emerged as the champion, defeating Fady Kamar heads up, and they were joined by Craig McCorkell, Salman Behbehani, and WSOP Main Event chip leader Jorryt van Hoof.
| Place | Player | Prize |
| --- | --- | --- |
| 1 | Andrew Chen | £394,200 |
| 2 | Fady Kamar | £267,000 |
| 3 | Craig McCorkell | £178,000 |
| 4 | Leonid Markin | £145,800 |
| 5 | Salman Behbehani | £117,000 |
| 6 | Martin Quack | £90,700 |
| 7 | Philippe D'Auteuil | £67,200 |
| 8 | Jorryt van Hoof | £49,400 |
With the win, Chen now has more career earnings ($4.11 million) than Cody. Chen has eight six-figure scores dating back to 2008, and scores of $98,754 and $96,430 as well. The Canadian nearly captured a bracelet in 2009, finishing runner-up in a $1,500 buy-in event, and has a second, third, and fifth in EPT Main Events.
Chen's largest score came in 2012 when he finished runner-up to Davidi Kitai in the EPT Berlin Main Event, earning $801,391. Quite an impressive list of accomplishments for the Canadian.
3. Negreanu and McClelland Nominated to the Poker Hall of Fame
"Kid Poker" was always a shoe-in to make the Hall of Fame the millisecond he turned 40 years old, but the second spot was up for grabs. There were several international candidates, including Bruno Fitoussi, Marcel Luske, and Chris Bjorin, three-time WPT champion Carlos Mortensen, Main Event champion Huck Seed, and Texas road gambler Bob Hooks. In the end, the voters chose to honor someone on the operations side of the industry, giving the nod to legendary Bellagio poker room director Jack McClelland.
McClelland, who retired from the Bellagio after the WPT Five Diamond World Poker Classic last December, was a poker tournament director for three decades. Long before Chris Moneymaker was a world champion and millions of Americans were playing poker from sea to shining sea, McClelland was running tournaments at the Golden Nugget Casino in the 1980s. He was the first tournament director to run an event at Commerce Casino in Southern California, and helped to spread the game across the United States and into foreign destinations from Aruba to St. Petersburg.
It's appropriate that McClelland was selected for the Hall of Fame just two years after Eric Drache, because Drache helped him cross over from playing to directing. McClelland would run a few shifts for Drache during the WSOP, then eventually climbed the ranks and became the tournament director. During his tenure at Bellagio, McClelland developed a great relationship with Steve Lipscombe and the WPT, and the casino became the flagship property for the tour. Bellagio has been featured on the WPT during all 12 seasons — a streak that will extend to 13 come December — and McClelland has been the tournament director for three dozen WPT Main Tour events.
When the 10 finalists were named, I once again called for Fitoussi's selection because I dislike the American bias in the Hall of Fame. I am happy with the voters' decision to put McClelland through, however, because his achievements and contributions are both measurable and unique. Ted Forrest and Mike Matusow have impressive tournament accomplishments, but so too do hundreds of other poker players. What McClelland did at Bellagio and beyond has only been replicated by a few individuals, and it feels right to honor him in this way.
As for Negreanu, there were some rumblings that his vote count was lower than suspected, but that's only because of voter fatigue. Everyone knew that he was going to be enshrined come November, so a few voters reduced the amount of points for Kid Poker in order to spread the wealth. It didn't matter, the winningest tournament poker player of all time, six-time WSOP bracelet winner, and two-time WPT Champions Club member will be among poker's greats in less than a week's time.
4. Ivey Loses to Crockfords
Just hours after 60 Minutes Sports aired an exclusive interview about him and his edge sorting complications, Phil Ivey lost his £7.7 million court battle against Crockfords Casino. According to Judge John Mitting, Ivey's tactics were constituted as cheating under civil law.
"He gave himself an advantage which the game precludes," Mitting said, according to Bloomberg Businessweek. "This is in my view cheating."
What a Crock of poop.
The multi-million-dollar loss for Ivey isn't what upsets me. Ivey is a gambler, and he's won more money than I will ever see in my lifetime. The precedent that this court case sets is what's bothersome.
Casinos are built to win. They have the advantage, and we know that going into the situation. These buildings wouldn't stand in cities across the world if, on average, they lose money to the players. So, in my opinion, if a player finds a small advantage then they should be allowed to exploit it until the casino stops them. Crockfords, like other casinos, has the right to refusal unlike other public places. They can tell Ivey to take his money and go home. It's criminal that they are able to basically freeroll Ivey and others who may be advantage players, taking their money if they lose and refusing to pay them out when they win.
Unfortunately for Ivey, and anyone else looking to build a case in advantage-play scenarios like this, casinos pay a massive amount of taxes to public entities. Now, this shouldn't influence the court of law, and this is pure speculation on my part, but it seems like the house's advantage extends beyond the Punto Banco table and into the courtroom as well.
In the wake of the decision, Ivey has decided to temporarily close Ivey Poker. There's no way of telling if this is a direct result of the court case, but the timing is surely suspicious.
Ivey's battle with Borgata Hotel Casino & Spa is also still up in the air, but again this precedent could have adverse effects on that case and any other case involving advantage players.
5. Blom and Hansen Gone
When Viktor Blom and Gus Hansen were scheduled to have a heads-up competition on Full Tilt Poker and cancelled it because Hansen was a no-show, I bit my tongue. Without knowing Hansen's situation, I thought it unwise to lash out with a hot take about how irresponsible it was for him to skip out on something that the fans were looking forward to. Hansen could've been dealing with family or personal issues, and in the past Hansen has been more than reliable when it comes to marketing events.
I'll never forget FTP UKIPT Galway where the Great Dane participated in basically every event on the schedule.
Now, with the recent news of Hansen and Blom's departure from Full Tilt, methinks Hansen simply overslept.
Last week, Full Tilt announced that they chose not to renew the contracts of Hansen and Blom, putting an end to The Professionals. Tom Dwan was dropped a few months ago.
"Full Tilt will celebrate the excitement, fun, and intrinsic enjoyment of playing our poker, blackjack, roulette, and slots games," the spokesperson went on, hinting at some of Full Tilt's future plans. "A new TV campaign will launch imminently, representing this new approach. There will be more news on this later in the week."
Blom and Hansen didn't help their own cases, rarely attending live events and, in 2014, losing hand over fist, but this decision is yet another bad sign for the contemporary "sponsored pro." In this year alone, Marvin Rettenmaier, Brent Hanks, William Reynolds, Phil Collins, Jeremy Ausmus, Jason Somerville, Marcel Luske, Alex Kravchenko, Joe Cada, Nacho Barbero, Angel Guillen, and Humberto Brenes have all lost their sponsorships to various virtual card rooms.
What is the value of a sponsored player? We are moving into a world where, for better or worse, advanced statistics and operationally defined measurables rule. Executives are focused on conversion rates and dollar signs, and both are negatively affected by most sponsored poker players. Outside of Negreanu, Ivey, and Hellmuth, which players can directly drive revenue for companies?
I honestly don't know. If you have any suggestions, go ahead and pop them into the comments below.
There is also a direct initiative from Amaya Gaming to focus more on casino gaming and sports betting. This isn't a good sign for poker, but there is still room for growth through regulation and legalization. Unfortunately, those two things are going to take a long time in the United States — we're 3/50 since Black Friday — and companies like Amaya need to show profits right now.
Get all the latest PokerNews updates on your social media outlets. Follow us on Twitter and find us on both Facebook and Google+!