The Online Railbird Report: Phil Ivey Follows Up Last Week's Big Win by Dropping $357K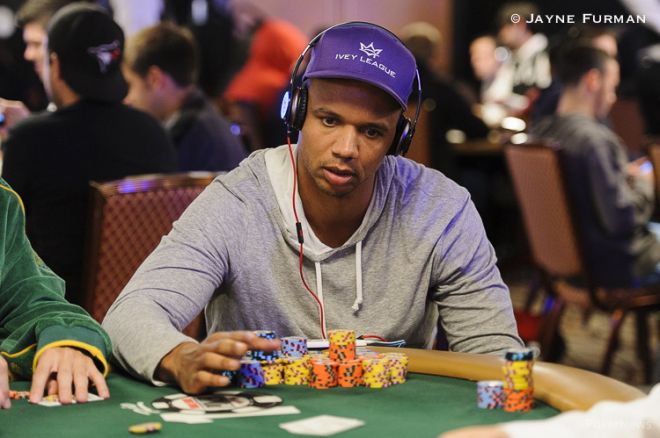 In last week's Online Railbird Report we reported that the online high-stakes action picked up on both Full Tilt and PokerStars, which was due in no small part to Phil "Polarizing" Ivey.
Ivey put in a lot of hours grinding the virtual felt and finished as the week's second-biggest winner with $472,073 in profit. Unfortunately for the 10-time World Series of Poker bracelet winner, he gave a lot of it back this week when he dropped $357,209 in 4,492 hands over 32 sessions, which was more than enough to make him the week's biggest loser. In fact, the next biggest loser was Alex "IReadYrSoul" Millar, who lost a modest $40,481 in 715 hands over two sessions.
On the flip side, the two biggest winners of the week both came from PokerStars. "Terryhsu" took top honors with $227,465 in profit, which came from 8,350 hands over 56 sessions; while Dan "w00ki3z." Cates wasn't too far behind with $188,211 in winnings from 3,724 hands over 23 sessions. On Full Tilt, "bbvisbadforme" was the biggest winner with $153,074 in profit from 313 hands over nine sessions.
In other online news, PokerStars once again made headlines on several occasions. First, they stated their intention to ban seating scripts, and then they strengthened their online poker partnership in California by allowing the San Manuel Band of Mission Indians to join them and the Morongo Band of Mission Indians. However, perhaps most exciting to online players was the announcement of the Billionth Tournament Carnival from Nov. 17-30, which will culminate with their billionth tournament! You can find details on that by clicking here.
Ivey Losses; Kagome Kagome Wins & More Saturday Action
On Saturday, Nov. 6, Phil "Polarizing" Ivey took on "Kagome Kagome" at the fixed-limit Omaha hi/lo (FLO8) and 2-7 triple draw tables, but things didn't go according to plan. In fact, Ivey lost all of his profit from the previous day and then some.
The two played three sessions over three hours and coincidentally Ivey dropped $333,000. Kagome Kagome went on to win $162,800 from Alex "Alexonmoon" Luneau, which put him over half a million in the black, but then he lost $185,000 playing triple draw against the likes of Alex "PostflopAction" Kostritsyn, who won $205,000, and "Sanlker." Kagome Kagome still finished as the day's biggest winner with $310,800 in profit.
Speaking of Kostritsyn, he and Ivey played some $1,000/$2,000 mixed games, which is where the biggest pot of the day took place. It happened in the $200/$400 pot-limit Omaha round when Ivey ($163,628.75) opened for $1,200 only to have Kostritsyn ($43,791.50) three-bet to $3,600. Not to be outdone, Ivey four-bet to $10,800, Kostritsyn called and the flop came down
.
Kostritsyn led out for $21,600 and then called off for $32,991.50 total after Ivey raised to $43,200.
Kostritsyn:

Ivey:
Kostritsyn flopped top pair and a straight draw, but he was in dire straits as Ivey flopped the nut flush. The
turn left Kostritsyn drawing dead, and he watched the $87,583 pot pushed to Ivey after the
was put out on the river.
AckmaJin Cleans Up at PokerStars
Last weekend "AckmanJin" won $163,300 playing $50/$100 PLO over on PokerStars, most of which came on Saturday where he played 2,364 heads-up hands against various opponents and profited $137,400. Here's a look at three hands from those matches.
Hand #1: "knez1985" ($44,535.62) raised to $300, AckmanJin called and the flop came down
. AckmanJin checked, knez1985 bet $340.86, and AckmanJin check-raised to $1,200. Knez1985 pushed back with a three-bet to $2,908.86, AckmanJin four-bet to $9,324.58, and knez1985 called to see the
turn.
AckmanJin fired out $6,700, a call was made, and the
completed the board on the river. AckmanJin fired once again, this time moving all in for $12,398.02, and it did the trick as knez1985 released his hand. Ship the $32,649 pot to AckmanJin.
Hand #2: knez1985 ($37,611.24) opened for $300 and was met by a three-bet to $900 from AckmanJin. Knewz1985 responded with a four-bet to $2,700, AckmanJin called and the flop came down
, which they both checked.
When the
appeared on the turn, AckmanJin bet $3,400, knez1985 called, and the
completed the board on the river. AckmanJin bet again, this time $8,400, and again knez1985 called. AckmanJin tabled the
for a full house, and it was good enough to win the $29,000 pot as knez1985 sent his cards to the muck.
Hand #3:
Good Day for Kostritsyn at the 8-Game Tables
On Tuesday, Nov. 11, Alex "PostflopAction" Kostritsyn finished as the day's biggest winner with a $170,400 win. The Russian took Phil "Polarizing" Ivey for more than $250,000 at the $1,500/$3,000 8-Game tables, but finished with what he did having lost $83,000 at the $1,000/$2,000 stakes to Luke "_FullFlush1_" Schwartz earlier in the day. Not surprisingly, Kostritsyn won the day's biggest pot.
It happened in a round of $200/$400 pot-limit Omaha after Schwartz had actually took a seat in the game. It began when Kostritsyn ($40,798.50) raised to $1,200 on the button, Ivey ($83,391.25) three-bet to $4,000 from the small blind, and Schwartz ($64,737.50) folded from the big. Kostritsyn proceeded to four-bet to $12,400, Ivey called and the flop fell
. Ivey led out for $25,200 and then called when Kostritsyn moved all in for $28,398.50 total.
Kostritsyn:

Ivey:
The
river improved both players to a straight, but Kostritsyn's Broadway was best to take down the $81,997 pot.
Here are some other notes from Tuesday's action:
Schwartz finished the day with $58,500 in profit on Full Tilt, but he also won $97,800 on PokerStars where he plays under the handle "lb6121." Half of that came from the mixed games, and the other half came off Kostritsyn at the $300/$600 FLO8 tables.
"Sanlker" beat "Kagome Kagome" out of $186,000 at the $2,000/$4,000 2-7 triple draw tables in just over an hour, but he couldn't hold onto it all as the two met later in the afternoon and Kagome Kagome won back $99,000.
Biggest Winners/Losers from Nov. 6-12
| Winners | Profit | | Losers | Loss |
| --- | --- | --- | --- | --- |
| "terryhsu" | $227,465 | | Phil "Polarizing" Ivey | $357,209 |
| Daniel "w00ki3z." Cates | $188,211 | | Alex "IReadYrSoul" Millar | $40,481 |
| "bbvisbadforme" | $153,074 | | "ajve_xx" | $30,758 |
| Luke "lb6121" Schwartz | $87,270 | | "bcvernon" | $25,450 |
| "oogee" | $70,877 | | "RomanHLD" | $24,783 |
Year's Biggest Winners/Losers
| Winners | Profit | | Losers | Loss |
| --- | --- | --- | --- | --- |
| Dan "jungleman12" Cates | $2,807,509 | | Gus Hansen | $5,522,853 |
| Mikael "punting-peddler" Thuritz | $2,571,235 | | Phil "Polarizing" Ivey | $2,354,888 |
| Patrik "FinddaGrind" Antonius | $1,754,449 | | Viktor "Isildur1" Blom | $1,395,340 |
| Isaac "luvtheWNBA" Haxton | $1,299,576 | | Elior "Crazy Elior" Sion | $1,286,868 |
| Doug "WCGRider" Polk | $1,110,009 | | Phil "OMGClayAiken" Galfond | $1,082,089 |
| Alex "joiso" Kostritsyn | $788,794 | | "Sanlker" | $903,355 |
| Christoph "Tight-Man1" Vogelsang | $663,177 | | Paul "MalACEsia" Phua | $823,325 |
Data, hands, and replayer obtained from HighStakesDB.com
Get all the latest PokerNews updates on your social media outlets. Follow us on Twitter and find us on both Facebook and Google+!