The Online Railbird Report: "Sanlker" Steamrolls His Way to Massive $1.4 Million Win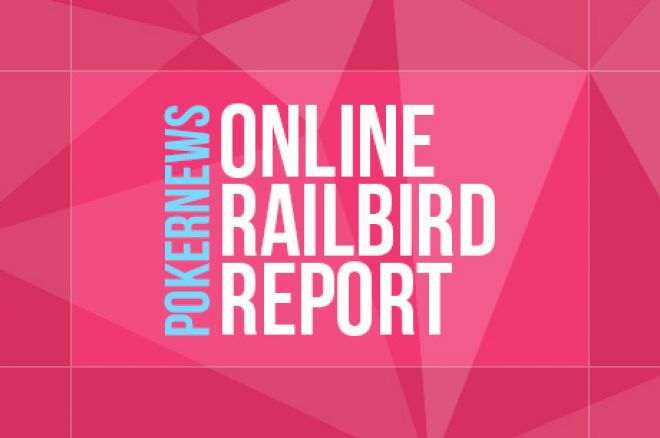 The Online Railbird Report returned last week after being on hiatus for the 2014 World Series of Poker. That edition focused on the action we missed over the summer, but now it's back to normal as we recap the weekly high-stakes cash-game action on PokerStars and Full Tilt Poker.
Far and away this week's biggest winner, German online pro "Sanlker" banked an impressive $1,401,100 in 5,562 hands over 30 sessions since July 30. The next biggest winner with less than a third of that was Viktor "Isildur1" Blom, who skipped the WSOP this year and instead won $567,862 playing online. This week the Swede added an additional $397,586 in winnings, which came from 14,620 hands over 80 sessions.
Blom recently did an interview with nutblocker.com in which he explained why he skipped this year's WSOP, stating that he prefers being home in Sweden during the summer months, especially when the World Cup is going on. Then, when asked who he thinks the best Swedish player is aside from him, Blom outed Mikael Thuritz as the man behind two screennames.
"Id have to say Mikael Thuritz. He plays online as "punting-peddler" and "ChaoRen160" and is a pretty big long-term winner," Blom said in the interview, which you can read here.
While those two players were busy cleaning up on Full Tilt, two others were doing well over on PokerStars. "Noobmare" was that site's biggest winner with $227,838 in profit over 10 sessions and 1,261 hands, while the aforementioned Thuritz won $220,632 in 2,813 hands over 25 sessions under his "ChaoRen160" moniker.
"Sanlker" Kicks Off the Week with $718K Win
Late Friday into the early morning hours of Saturday, July 26, "Sanlker" was busy playing at two tables of $2,000/$4,000 8-game against the likes of Blom, Chun Lei "samrostan" Zhou, and "Kagome Kagome." At one of the tables, "Sanlker" banked $322,900 in just 393 hands, and he profited an even bigger $394,000 at the other.
Blom, who was up $220,000 early in the match, ended up being "Sanlker's" biggest victim on the way to losing $496,000 in the game, despite winning the biggest pot of the day. It happened in a round of no-limit hold'em when Blom ($122,454) opened for $2,400 on the button and Thuritz ($61,000) three-bet to $6,000 from the big blind. Blom made the call, the flop came down
, and Thuritz continued for $7,800.
Blom called, the
appeared on the turn, and Thuritz fired out $11,800. Blom came along, the
completed the board on the river, and Thuritz moved all in for his last $35,400. Blom quickly called with the
for the flush, which was good enough to win the $122,000 pot as Thuritz could only muster trips with the
.
Blom Dominates the Weekend Action
Blom was back playing high stakes on Saturday, albeit at the 2-7 triple draw tables. It was there that the Swede took on "thecortster" and won at $33,500 at the $1,000/$2,000 limits, which he followed up with a $90,000 win at the $1,500/$3,000 limits. From there, the duo switched to the $2,000/$4,000 tables and it took Blom just 27 minutes to relieve "thecortster" of $105,000.
After he was done with "thecortster," Blom received a new opponent in Sebastian "taktloss47" Ruthenberg. The two played a swingy match at the $2,000/$4,000 limits that lasted several hours, but in the end Blom logged off a $33,000 winner. All told Blom won $237,700, which was enough to make him the day's biggest winner.
It also worth noting that "Sanlker" kept his momentum going on Saturday after winning $163,800, which came in just 35 hands of $2,000/$4,000 2-7 triple draw.
On Sunday, Blom once again finished as the day's biggest winner with $424,100 in profit, which came after a marathon session of 17 hours. Of that, $144,700 came from the 2-7 triple draw tables while $252,500 came from 8-game against Thuritz. Despite getting beat by Blom, Thuritz pulled in the day's two biggest pots.
Hand #1: In the $300/$600 no-limit hold'em round of the 8-game mix, Blom ($238,494.75) opened for $1,800 from the button, Thuritz ($152,936) three-bet to $6,000 from the small blind, and Chun Lei "samrostan" Zhou ($56,745) folded from the big. Blom made the call and it was heads-up action to the
flop. Thuritz ended up check-calling a bet of $7,800, and the led out for $18,000 on the
turn.
Blom called, the
completed the board on the river, and Thuritz returned to checking. Blom took the opportunity to bet $75,000, and then called when Thuritz moved all in for $121,136. Thuritz rolled over the
for a full house, which was good enough to win the $306,472 pot as Blom sent his cards to the muck unseen.
Hand #2:
Three Big Winners in Monday Action
On Monday, there was some big action on Full Tilt Poker at both the 2-7 triple draw and pot-limit Omaha tables, and it resulted in three big winners: "Follow The Hawk" (+$498,300), "Sanlker" (+$409,600), and Ben "Bttech86" Tollerene (+$302,400).
"Follow The Hawk" earned the title of "day's biggest winner" after tearing up the $2,000/$4,000 2-7 triple draw tables, and then prospering at the $500/$1,000 CAP PLO tables by taking $211,700 off a bunch of players that included Blom, Zhou, and Jens "Ingenous89" Kyllönen, just to name a few. It was during that time that "Follow The Hawk" won the day's biggest pot.
It happened at a six-handed table when "Follow The Hawk" ($111,569.50) opened for $3,500 from the hijack and Blom ($68,389.50) called from the cutoff. Zhou ($40,497) came along from the button, and then Tollerene ($206,679) popped it to $18,000 from the big blind. Two calls followed, Zhou got out of the way, and three players saw a flop of
.
Tollerene continued for $22,000, which capped the pot, and both his opponents called.
Tollerene:

"Follow The Hawk":

Blom:
Blom flopped best with a set of jacks, but the
turn gave "Follow The Hawk" a flush. The
river failed to pair the board, and the $124,000 pot was pushed "Follow The Hawk's" way.
Even though he lost that pot, Tollerene left the PLO games a $302,400 winner, most of which came in a heads-up match against Blom. It was a rollercoaster of a match, with both players being up and down six figures, but Tollerene hit a rush late to walk away the winner.
The other winner on the day was "Sanlker," who played 2-7 triple draw for eight hours and banked $409,600, which put him up more than $1.8 million in two weeks playing that particular game.
Bonus Hand of the Week
On Tuesday, the $100/$200 pot-limit Omaha games were going on PokerStars, which is where "Aron1206" won $141,300. Much of that came after he won the session's biggest pot. Have a look:
Biggest Winners/Losers from July 23-31
| Winners | Profit | | Losers | Loss |
| --- | --- | --- | --- | --- |
| "Sanlker" | $1,401,100 | | Niki Jedlicka | $66,000 |
| Viktor "Isildur1" Blom | $397,586 | | Sebastien "Seb86" Sabic | $49,440 |
| "noobmare" | $227,838 | | "WtFoMFgOAO" | $20,279 |
| Mikael "ChaoRen160" Thuritz | $220,632 | | "silvasilva88" | $18,685 |
Year's Biggest Winners/Losers
| Winners | Profit | | Losers | Loss |
| --- | --- | --- | --- | --- |
| Dan "jungleman12" Cates | $1,355,295 | | Gus Hansen | $3,545,491 |
| Alex "Alexonmoon" Luneau | $1,315,852 | | Phil "Polarizing" Ivey | $1,815,817 |
| Patrik "FinddaGrind" Antonius | $1,183,736 | | Elior "Crazy Elior" Sion | $1,048,475 |
| Niki Jedlicka | $1,039,214 | | Viktor "Isildur1" Blom | $892,281 |
| Doug "WCGRider" Polk | $755,773 | | Paul "MalACEsia" Phua | $823,325 |
| Christoph "Tight-Man1" Vogelsang | $649,240 | | Ben "Sauce1234" Sulsky | $716,267 |
| Mikael "punting-peddler" Thuritz | $622,522 | | "tyme2gamb0111" | $442,114 |
Data, hands and replayer obtained from HighStakesDB.com
Get all the latest PokerNews updates on your social media outlets. Follow us on Twitter and find us on both Facebook and Google+!