The Online Railbird Report: Heinecker, Blom & Hansen Experience Million-Dollar Swings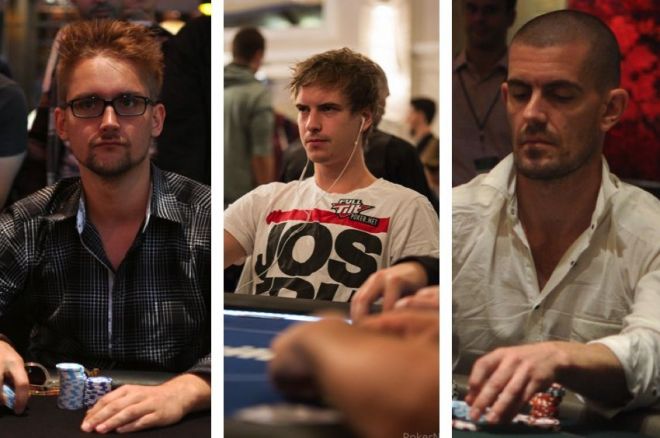 It's been a couple weeks since the last publication of the Online Railbird Report. The holiday preempted our weekly high-stakes cash game update, and that means this week's edition covers nearly two weeks worth of action!
Before I get to that, I encourage you to check out my recent Op-Ed titled The Problems of Opting Out from Online Tracking, which examines the recent trend of high-stakes players (i.e. Alexander "PostFlopAction" Kostritsyn and Kyle "cottonseed1" Hendon) deciding not to have their long-term results displayed – which of course has influenced the Online Railbird Report.
Alright, back to business. When we last left you, German pro Niklas "ragen70" Heinecker was on a heater topping the weekly leader board for the third week in a row and sitting with $4,654,242 in profit for 2013. Well, not much has changed other than the fact Heinecker has even more money. From Nov. 22 to Dec. 5, the German won $1,267,815 in 3,708 hands over 38 sessions, which made him far and away the biggest winner.
The only other two players to make waves in the last two weeks were Full Tilt Poker Professionals Viktor "Isildur1" Blom and Gus Hansen, albeit for being big losers. The Swede ended up losing $1,431,243 in 14,863 hands over 157 sessions, while the "Great Dane's" disastrous year continued when he dropped $1,413,435 in 6,388 hands over 58 session.
A Lot to be Thankful for in Thursday Action
On Thursday, Nov. 28, Alexander "PostFlopAction" Kostritsyn finished as the day's biggest winner after banking $165,800 at the 8-Game tables against Viktor "Isildur1" Blom. The two played for nearly four hours and the Russian got off to a hot start winning $171,000 in the first half. Blom managed to recoup $127,000 of that in the latter half of the match, but then Kostritsyn turned it on again and won $123,000 in the last 30 minutes.
Blom was down $400,000 at one point, but then found some luck at the fixed-limit Omaha hi/low (FLO8) tables against "SallyWoo." It took the Swede just 80 minutes to relieve his opponent of $305,000, and to top it off he won $30,000 from Rui Cao at the $50/$100 pot-limit Omaha tables. All told Blom finished the day down $71,000.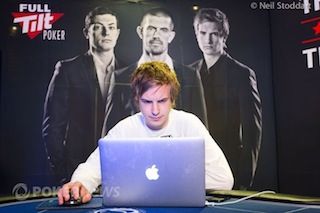 Thursday was also kind to "Bonfire_28," who won $105,600 at the $50/$100 PLO tables over on PokerStars, which is where he took down the biggest pot of the day. It happened at a six-handed table when "armdu" ($76,440.05) limped under the gun and "Bonfire_28" ($45,553.62) raised to $570 from the hijack. Andreas "Skjervøy" Torbergsen ($21,352) called from the big blind, "armdu" came along, and three players saw a flop of 7♠10♠K♥. Torbergsen checked, "armdu" bet $800, and "Bonfire_28" raised to $4,275. Both his opponents called, the K♦ turned, and two checks saw "Bonfire_28" bet $8,820. Torbergsen got out of the way, "armdu" called, and the 9♣ completed the board on the river. "Armdu" checked and then called when "Bonfire_28" moved all in for $31,888.63. "Armdu" tabled the 2♣2♦7♦7♥ for sevens full of kings, but it was no good as "Bonfire_28" held the K♣10♦9♥8♦ for kings full of tens. Ship The $96,077 pot to "Bonfire_28."
Heinecker vs. Blom in 2-7 Triple Draw War
On Friday, November 29, Niklas "ragen70" Heinecker and Viktor "Isildur1" Blom squared off at the $2,000/$4,000 2-7 triple draw tables on Full Tilt Poker. The dynamic duo played two sessions, with the first lasting 110 minutes. During that time Blom pulled out to a $60,000 lead, though it wouldn't last. In the afternoon, the pair met for another 80 minutes and over the course of 227 hands Heinecker won $382,000. Taking into consideration his earlier loss against Blom, as well as some other smaller hits, Heinecker ended the day $292,000 in the black.
A day later, the two were back at it and Heinecker won an additional $160,7000 in 110 hands. It was the final match of the month for both players, which meant Heinecker finished November up $2.4 million while Blom was down over $2 million.
A Rare $200/$400 NLHE Springs Up on PokerStars
Before Full Tilt Poker returned to the market last year, the $200/$400 no-limit hold'em games were regularly spread on PokerStars. After the cash games shifted back to FTP, the aforementioned $200/$400 game quickly dried up. That is why it was a bit of a surprise to see a $200/$400 NLHE game spring up on Monday, Dec. 2 with players like "wilhasha," Isaac Haxton, and Doug "WGC | Rider" Polk. Obviously that game produced some big pots. Here's a look at the two biggest.
Hand #1: Action was fourhanded when it folded to "wilhasha" ($178,052.54) in the small blind and he raised to $1,600. The annoyingly-named "26071985" ($95,946.69) responded with a three-bet to $4,500 from the big blind and then called when "wilhasha" four-bet to $13,600. When the flop came down 3♣6♥2♥, "wilhasha" bet $13,600, "26071985" called, and the 9♣ turned. "Wilhasha" kept the pressure on with a bet of $16,800, but he couldn't shake his opponent as "26071985" called. When the 5♠ completed the board on the river, "wilhasha" moved all in and "26071985" wasted little time in calling off for $51,946.69 to create a pot worth $191,893. "Wilhasha" rolled over the 4♦7♦ for a big straight, and it was good as "26071985" mucked.
Hand #2:
Heinecker and Blom Pick Up Where They Left Off
On Wednesday, Dec. 4, Niklas "ragen70" Heinecker and Viktor "Isildur1" Blom were back at the $2,000/$4,000 2-7 triple draw tables, and once again the German beat the Swede. In one hour, Heinecker won $150,000 before the two took a short break. Upon their return, Heinecker won $28,000 more in just two hands before Blom quit the game.
Here are some other highlights from Wednesday's action:
Blom finished the day down $51,000 after winning $123,000 from "tymetogamb0|111" at the $50/$100 PLO tables.
Patrik "FinddaGrind" Antonius won $90,000 from Rui Cao in three hours of $1,000/$2,000 2-7 triple draw.
Alex "Kanu7" Millar won $105,900 playing $50/$100 NLHE on PokerStars.
Biggest Winners/Losers (Full Tilt Poker)
Week's Biggest Winners (11/22-12/5): Niklas "ragen70" Heinecker (+$1,267,815), "n0d1ceb4by"* (+$327,777), Daniel "jungleman12" Cates (+$172,094), Noah "Exclusive" Boeken* (+$167,276), Doug "WCGRider" Polk (+$146,770)
Week's Biggest Losers (11/22-12/5): Viktor "Isildur1" Blom (-$1,431,243), Gus Hansen (-$1,413,435), Rui Cao (-$256,890), Patrik "FinddaGrind" Antonius (-$241,142)
Year's Biggest Winners: Niklas "ragen70" Heinecker (+$5,922,056), Ben "Bttech86" Tollerene (+$3,007,955), Alex "IReadYrSoul" Millar (+$2,007,052), Hac "trex313" Dang (+$1,886,417), "no_Ola" (+$1,868,146), "Odd_Oddsen"* (+$1,729,297), Patrik "FinddaGrind" Antonius (+$1,477,575)
Year's Biggest Losers: Gus Hansen (-$8,582,115), "samrostan" (-$4,409,927), "MalACEsia" (-$3,773,524), Phil "Polarizing" Ivey (-$2,433,773), "punting-peddler" (-$1,567,657), Ben "Sauce1234" Sulsky (-$1,434,932), "patpatpanda" (-$1,330,885), Scott "mastrblastr" Seiver (-$1,220,399), "davin77" (-$1,037,057), "Johnbest" (-$992,253)
*Denotes PokerStars
Qualify for EPTs, WSOPs, UKIPTs and many more live tournaments by signing up for PokerStars today!
Data, hands and replayer obtained from HighStakesDB.com
Get all the latest PokerNews updates on your social media outlets. Follow us on Twitter and find us on both Facebook and Google+!
Executive Editor US, PokerNews Podcast co-host & 2013 WSOP Bracelet Winner.