Inside Gaming: China President Jinping Visits Macau Amid Historic Decline in Gaming Revenue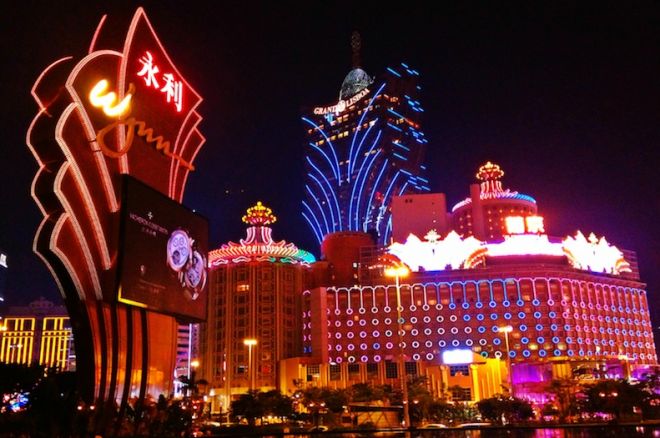 It has been a while since we last checked in on Macau and the struggles the island has been enduring during the second half of 2014 in terms of gaming revenue. While still the unrivaled gaming capital of the world with earnings roughly 6-7 times larger than Las Vegas, the Special Administrative Region of China has suffered monthly decreases since June, with the numbers getting progressively worse.
Earlier this month figures for November were released, with Macau's gross gaming revenue for that month falling a precipitous 19.6% year-over-year. Macau casinos earned 24.3 billion Macau patacas total in November (about $3 billion USD), the lowest earn since September 2012 when gaming revenue fell just shy of the $3 billion USD total.
The November decline followed monthly declines in June (3.7%), July (3.6%), August (6.1%), and September (11.7%), and October (23.2%), with the yearly total having now dropped close to the 2013 pace with gaming revenue only up about 0.3% over last year. As a result many forecasters are predicting Macau will end 2014 with totals coming up shy of last year's numbers, thereby representing the first annual decline in gaming revenue since 2004.
Reporting on the November totals earlier this month, Forbes spoke with various analysts predicting the downward trend will continue, with some anticipating as much as a 25% slide in December.
As it happens, this week China's president Xi Jinping is visiting Macau for the first time since taking office, the trip marking the upcoming 15th anniversary of the island returning to Chinese rule on December 31, 1999. Many of those looking for explanations for Macau's decline in gaming revenue have cited Jinping's anti-corruption campaign as having directly impacted the island's primary industry. In fact, some have even forecasted his visit will itself have further negative impact on December's numbers.
Jinping's domestic policies have included a variety of measures designed to eliminate certain types of graft and extravagance, including cutting down on governmental bureaucracy. Several industries have been affected, among them travel, catering, hotels, and high-end retail.
Also affected have been Macau's casino junket operators responsible for bringing high-stakes gamblers over to the island in exchange for commissions. Among the responsibilities of the junkets have been moving funds, settling debts, and managing loans so as to enable the high-rollers to gamble. But reforms focused squarely on making money laundering more difficult have made such efforts more difficult, thereby dissuading some VIP high-rollers from making their visits to Macau's casinos.
This week Reuters reported how such crackdowns have continued, including more recent measures coinciding with Jinping's visit signaling that "the message from Beijing is clear: the world's biggest gambling centre cannot remain a one-industry town."
Passing along a report from the South China Morning Post, Reuters notes how "China extended a crackdown on illicit money transfers into Macau, giving its Economic Crimes Investigation Bureau access to transactions made through the state-backed UnionPay credit card.... The move, timed just ahead of Xi's high-profile visit, is the latest in a string of actions aimed at curbing illicit funds leaving the country, a priority for Xi as he goes after corrupt officials who have fled overseas."
The measures have had the largest impact upon VIP players who routinely will buy into games of baccarat for HK$1,000,000 (about $130,000 USD) in high-roller rooms. But they've also had their effect on the so-called "mass market" gamblers betting HK$500 to HK$2,000 on their baccarat hands, with the restrictions on the UnionPay cards and other measures affecting them as well.
This morning Bloomberg reported further on Jinping's visit and "the central government's strategy... for the diversified development of Macau's economy." According to Bloomberg, the six major casino operators in Macau — Wynn Macau, Sands China, Galaxy Entertainment Group, SJM Holdings, MGM China Holdings, and Melco Crown Entertainment — have together "lost about $75 billion in market value so far this year."
VIPs make up about two-thirds of those who gamble in Macau, and thus does the decline of high-rollers have the most dramatic effect. SJM Holdings and the Galaxy Entertainment Group have been hit the hardest because a higher percentage of their players come from the VIP segment. Meanwhile Sheldon Adelson's Sands China and Melco Crown Entertainment are less reliant on VIP clientele, although still are considerably affected. As Bloomberg notes, SJM's shares have dropped 52%, while both Sands China and Wynn Macau are down 40%.
There are 33 casinos total in Macau, 23 on the Macau Peninsula and 10 on Taipa Island. The largest — and indeed the largest casino in the entire world — is the Venetian Macau.
Read more about Jinping's visit and the unsettled Macau gaming market at Bloomberg.
Photo "Casino Lights in Macau," Brendan Brain. Creative Commons Attribution-Share Alike 3.0 Unported
Get all the latest PokerNews updates on your social media outlets. Follow us on Twitter and find us on both Facebook and Google+!