Talking Full Tilt Poker Gold Rush, Black Card & More w/ Marc "PlayinWitDreams" Kennedy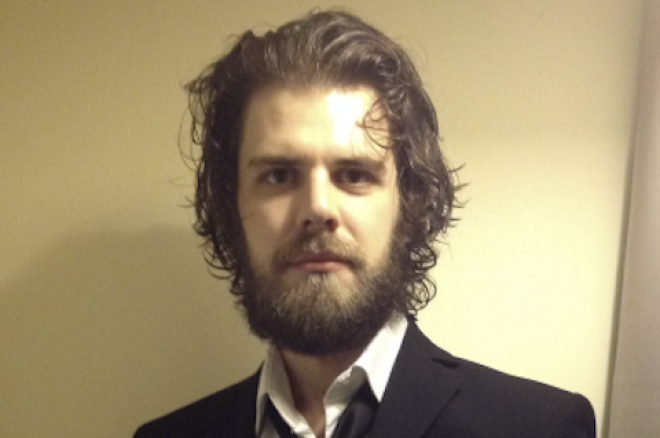 Right now Full Tilt Poker is hosting their popular Gold Rush Promotion in which those playing Rush Poker ring games automatically get a chance at an instant windfall including up to $10,000 in cash, tournament tickets, and Full Tilt Point bundles.
In addition, those who play Rush Poker ring games – including Adrenaline Rush – now through Sunday, Feb. 1 will have a chance to be whisked away to the Gold Rush table, which is where FTP awards a prize, which could very well be a 24-carat prize. For the UK's Marc "PlayinWitDreams" Kennedy, who has captured the Black Card Pro leaderboard for "Rush High" four times in a row, his best Gold Rush prize has been a smooth $1,000.
For more on FTP's Gold Rush promotion, which will end Sunday, click here.
PokerNews actually had the chance to chat with Kennedy, who has been playing professionally for six years, to get to know the Black Card Pro who has been dominating FTP.
PokerNews: Would you be so kind to tell our readers a little about yourself?
Kennedy: I grew up in England but moved to Perth, Australia after college to study Quantitative Economics and Finance at university before dropping out to pursue poker full time. I have two sisters – one is a nurse and the other an art teacher. My father is very successful in the retail pharmaceutical industry and my mother works for a veterinary company. None of them gamble or have the same enthusiasm for games as me — I really have no idea where I got that from. I have had a few part-time jobs while I was at school/uni – working in bars/supermarkets, etc. – but I've never worked a "normal" full-time job.
When and how did you first learn to play poker?
I was starting my final year at university when I first discovered poker by watching late-night airings of the World Poker Tour on TV. I remember seeing Gus Hansen doing really well and thinking, "This guy is just too cool." By sheer coincidence around this time I was walking past a local bar and they were advertising a free-to-play poker league. I asked a friend from uni if he wanted to try it out with me and after just one visit we were hooked.
We travelled around various pubs each night playing this free league for a while before beginning to dabble in real money games. Within six months I was playing the $500 buy-in cash game at the local casino 3-4 nights a week, playing some crazy long sessions, and making more money than I had ever seen.
Can you describe for us your introduction to online poker and your rise through the stakes?
Initially I played in small-stakes tournaments and sit-and-gos on a few different sites, but after a lot of run-good in those I decided to take a shot at some cash games. I had played a handful of tournaments on Full Tilt and luck-boxed hard, but had withdrawn all the winnings. After a sick run at the local casino cash games I decided to deposit $850 on FTP and sit in two $2/$4 full ring cash games, I doubled up quickly on those two tables, sat out and rejoined playing four tables. I continued to run well that entire weekend, playing virtually every waking second, and a few days later my $850 was more like $15,000.
What's the story behind your screenname "PlayinWitDreams"?
It's actually a take on a title to a Notorious B.I.G. track called "Just Playing (Dreams)," but "JustPlayinWitDreams" would have been too many characters.
What does it entail to make it to Black Card? You've done it by topping the 'Rush High' leaderboard four times in a row. Can you talk a little about that?
It requires total dedication to a single pursuit, a tremendous support network, and my incredible fiancée, Kym.
Kym took a career hiatus so that she could act as my personal assistant/chef/dog-walker and cleaner. I simply couldn't have done what I have without her. We sometimes joke that people aren't just trying to beat me, they are trying to beat Team PWD! I'm not embarrassed to say I have broken down in tears on more than one occasion since this all started (exhaustion and variance is a powerful combo) and Kym has always been the one to calm me down and get me back on track.
My friends and family have been awesome as well, never making me feel bad for not having time to hang out, always working around my schedule, and always keeping me grounded. That kind of thing is invaluable when you're playing at peak load.
When it comes to Rush poker, do you consider yourself the best in the world? Along those same lines, what other players do you highly respect in the Rush game?
When this competition started I was very likely one of the best Rush players, but I think it would be pretty arrogant to try and still claim that now. I've had so little time to improve due to the volume I've been playing, so for me to say I'm still the best would be a kick in the face for my opponents who have been studying day in, day out during the time. To be honest, though, I think it's a pointless question and one I only think about when someone asks me. How do you even define "best" anyway? I just try to be the best I can be – whatever that may be.
What sort of advice can you offer someone who may be playing Rush poker for the first time?
In poker the correct decision is a function of the initial parameters and subsequent actions. In Rush poker, for many players very small changes in the initial parameters can cause vastly different resultant frequencies on later streets. Try to identify these situations and use them to your advantage.
I understand you've been taking advantage of the Gold Rush promotion on FT this month. In what ways are you doing so?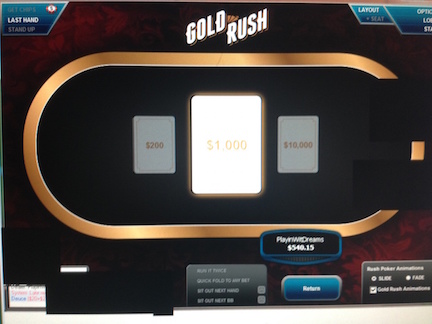 I've had to grind a lot of Rush Poker during this Gold Rush promotion due to the Black Card Leaderboard, but I've been trying to play more Rush Omaha when it is running in a bid to win a few extra prizes. My best score so far is $200 but I've still got some time to improve on it*. Overall it's been a great promo and has helped improve the number of games running and general quality, too. I hope more of these type of features are integrated into the software in the future.
*He actually did go on to improve upon it by winning $1,000 at a Gold Rush table.
What is your online setup (AKA grind-station) like?
I have a dedicated custom PC for poker that I bought as a present to myself for winning my first sponsorship deal. I've also got a secondary PC that I use for email/web and a couple of Dell 30-inch monitors to make sure I have plenty of screen space.
What sort of things do you like to do when you're not playing online poker?
I'm a try-everything-once kind of guy so it's really new experiences that I tend to enjoy, especially things with a bit of risk and adrenaline. I like all sorts of games and general competition, so I'm equally happy go-karting or just playing a game of Monopoly.
Do you ever get the chance to play live? If so, planning to play any upcoming events?
I played UKIPT Dublin last year but it's hard for me to justify travelling to live events – even the ones that are geographically very close. After you factor in the time I miss playing online, large-field MTT variance, travel/hotel and food costs, it's impossible for me to get a better hourly from a live event. If you're in poker to make the most money in the least amount of time, then online will always be the better option.
For more on the FTP Gold Rush and Kennedy check out this video:
Get all the latest PokerNews updates on your social media outlets. Follow us on Twitter and find us on both Facebook and Google+!