Five Thoughts: Ivey Loves Crown, Aussie Millions Wraps Up, WSOP Schedule, and More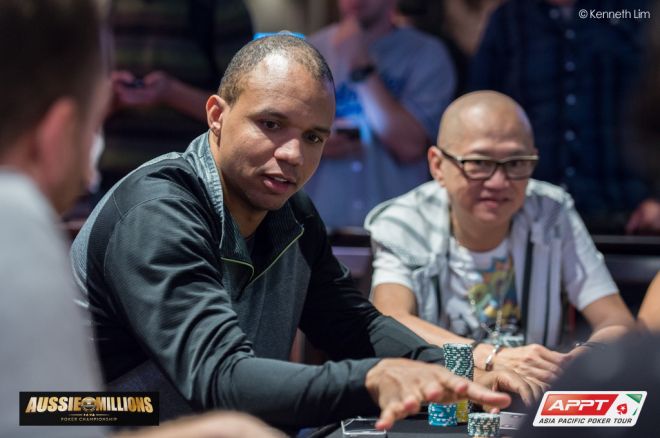 In 2011, just three months before Black Friday, the Aussie Millions announced its first-ever $250,000 Challenge. Initially the event wasn't even on the schedule, but with so many high rollers down under, Crown Melbourne wanted to meet the demand of their players.
The inaugural tournament attracted 20 entries, and Erik Seidel defeated Sam Trickett heads up to earn AU$2.5 million. From there on out, the $250,000 Challenge became the Phil Ivey show.
In 2012, Ivey made his triumphant return to poker in Australia after skipping the entire 2011 World Series of Poker. He finished 12th in the Aussie Millions Main Event (AU$100,000) and won the $250,000 Challenge (AU$2 million). Ivey defeated his friend Patrik Antonius heads up, and at one point during the match Ivey joked that they should just combine the first- and second-place prizes and play for it all.
Then again, maybe Ivey wasn't joking.
The following year, Ivey was forced to skip the $250,000 Challenge, unable to defend his title because he was still in the Aussie Millions Main Event. To add insult to injury, he busted in 30th place, pocketing just AU$35,000. Don't worry, though, a few months later he returned to Crown and captured his ninth WSOP bracelet.
In 2014, there were no scheduling conflicts in Australia to hold Ivey back. The $250,000 Challenge attracted a record-setting 46 entries, generating a total prize pool of AU$11,270,000, and he was the last player standing. Ivey defeated Ike Haxton heads up in the end, earning a mind-blowing AU$4 million. Haxton pocketed AU$2.82 million for his efforts, recouping all of his entries, and both Mike McDonald and Daniel Negreanu also banked seven figures. Negreanu, like Haxton, was in for multiple bullets.
While the 2015 Aussie Millions $250,000 Challenge wasn't as insane as the 2014 edition — seriously, 46 entries is absurd — the final table produced more of the same.
1. Ivey <3's Australia
For the third time in four years, and the third time in a row after skipping the event in 2013, Ivey reached the final table of the $250,000 Challenge last weekend. This year's event produced a field of 25 entries and a prize pool of AU$6.105 million. Like Ivey, McDonald made a return trip to the final table. Joining them among the final five who cashed were Doug Polk, Scott Seiver, and the inaugural winner, Erik Seidel.
On the final day, Ivey ran hot. Insanely hot. In all-in situations, he toppled
with
,
with
, and on the final hand against McDonald, his
out-flopped the Canadian's
. The turn and river both produced breaks, and once again, for the third time in four years, Ivey was the winner of the $250,000 Challenge.
$250,000 Challenge Payouts
| Place | Player | Country | Prize (AU$) |
| --- | --- | --- | --- |
| 1 | Phil Ivey | United States | $2,205,000 |
| 2 | Mike McDonald | Canada | $1,592,500 |
| 3 | Doug Polk | United States | $1,041,500 |
| 4 | Scott Seiver | United States | $735,000 |
| 5 | Erik Seidel | United States | $551,000 |
In total, Ivey has cashed for over $7.35 million in the $250,000 Challenge. That's 31.7 percent of his career lifetime earnings. His three victories in this event are his three largest cashes, standing above his seventh-place finish in the 2009 WSOP Main Event and his victory in the Season VI World Poker Tour L.A. Poker Classic.
If you include Ivey's other cashes at the Aussie Millions...
| Year | Event | Finish | Prize (USD) |
| --- | --- | --- | --- |
| 2015 | Main Event | 23rd | $31,605 |
| 2013 | Main Event | 30th | $36,949 |
| 2012 | Main Event | 12th | $102,947 |
| 2010 | $100,000 Challenge | 2nd | $553,776 |
| Total | | | $725,277 |
Figures courtesy of the Hendon Mob
...Ivey has cashed for over $8.075 million at the Aussie Millions. That's 34.8 percent of his career lifetime earnings.
In fact, using only his earnings at Aussie Millions, Ivey would be 52nd on the all-time money list, less than $6,000 behind his good friend Barry Greenstein. Among the players with fewer lifetime earnings than Ivey's Aussie Millions earnings are David Chiu, Greg Raymer, Chino Rheem, and Dan Shak.
Thanks to the big win, Ivey returned to the Global Poker Index 300, coming in at No. 163, and climbed to No. 27 in the 2015 GPI Player of the Year race. Ivey has only appeared in the top 20 of the GPI once since it launched, mainly due to the fact that he doesn't put in large amounts of volume. I doubt that will change anytime soon, but if he puts together a nice WSOP he might be able to climb the rankings.
2. Aussie Millions Wrap Up
Before Ivey won all of the money, we saw the conclusions of both the $100,000 Challenge and the Aussie Millions Main Event. The former was won by Richard Yong, who may or may not have inspired Kanye West to write the following:
"These ain't even real clothes, homie, I'm pajama rich."
Yong defeated German wizard Ole Schemion heads up to capture the top prize of AU$1.87 million. It was his first seven-figure score since he reached the final table of the inaugural BIG ONE for ONE DROP. Schemion earned AU$1.35 million for his efforts, which was his third seven-figure score. He won both the 2012 Partouche Poker Tour Main Event and one of the $100,000 buy-in super high rollers held at ARIA last summer.
Schemion remains the top-ranked player in the GPI for a seventh-straight week, but he will have his work cut out for him come April and May. During that time, Schemion will have seven scores decay from EPT Sanremo, EPT Grand Final, and the Master Classics of Poker.
Scott Seiver capped off a tremendous January by reaching the final table in this event as well. Seiver finished third for AU$1 million, bringing his 2015 Aussie Millions earnings to AU$1.735 million ($1.36 million). Add his two final tables from the 2015 PokerStars Caribbean Adventure, and Seiver racked up $2 million in cashes in January. To no surprise, he leads the 2015 GPI Player of the Year race.
$100,000 Challenge Final Table Results
| Place | Player | Prize (AU$) |
| --- | --- | --- |
| 1 | Richard Yong | $1,870,000 |
| 2 | Ole Schemion | $1,350,000 |
| 3 | Scott Seiver | $1,000,000 |
| 4 | Justin Bonomo | $800,000 |
| 5 | Jason Mo | $630,000 |
| 6 | Erik Seidel | $500,000 |
| 7 | Dani Stern | $400,000 |
| 8 | Alex Trevallion | $310,000 |
Finally, local Manny Stavropoulos outlasted 648 runners and was crowned the champion of the 2015 Aussie Millions Main Event. Stavropoulos struck a deal with German Lennart Uphoff after taking the chip lead during heads-up play, securing AU$1.285 million. Uphoff accepted AU$1.214 million, and the two left aside AU$100,000 to play for.
The two battled back and forth for a bit before they were dealt a cooler — straight over straight -' and Stavropoulos' was the winner.
A regular in $5/$10 to $20/$40 games at Crown, Stavropoulos reportedly received a lot of love from his fellow Aussies. One man in particular, 2005 WSOP Main Event champion Joe Hachem, was running back and forth from a cash game table throughout the tournament whenever Stavropoulos was playing an all-in pot. I've yet to experience the fanfare at the WPT Bay 101 Shooting Star, which is historically epic, but the rails at Crown during the Aussie Millions are a sight to see. The fans really start to pile together when the action is thinning and one of their countrymen is still vying for the title.
Main Event Final Table Results
| Place | Player | Prize (AU$) |
| --- | --- | --- |
| 1 | Manny Stavropoulos | $1,385,500* |
| 2 | Lennart Uphoff | $1,214,500* |
| 3 | Joel Douaglin | $630,000 |
| 4 | James Rann | $430,000 |
| 5 | Brian Rast | $315,000 |
| 6 | Anthony Legg | $235,000 |
| 7 | Richard Lyndaker | $160,000 |
Brian Rast reached the final table, exiting in fifth place for AU$315,000, and Ami Barer, the 2014 Aussie Millions Main Event champion, nearly made a return trip to the final table. Barer bowed out in 11th place, just four spots shy of the televised final table of seven, earning AU$95,000.
Barer's last five cashes have all come in either Australia or Macau, dating back to October.
3. WSOP Schedule Released
On Monday, Caesars Entertainment released the schedule for the 46th-annual WSOP. The 68-bracelet festival kicks off on May 27, culminating as always with the massive, $10,000 Main Event from July 5-14. The 2015 WSOP Main Event features an altered payout structure, which Caesars teased us with a few weeks ago and we discussed in last week's edition of Five Thoughts.
Among the 68 events (a 47.8-percent increase from 2005), there are 11 first-timers on the schedule:
Event #5: $565 Colossus No-Limit Hold'em (May 29-June 2)
Event #6: $1,000 Hyper No-Limit Hold'em (May 31-June 1)
Event #42: $1,500 Extended Play No-Limit Hold'em (June 20-23)
Event #43: $1,000 Super Seniors No-Limit Hold'em (June 21-23)
Event #53: $5,000 Turbo No-Limit Hold'em (June 26-28)
Event #55: $1,500 DraftKings 50/50 No-Limit Hold'em (June 27-29)
Event #60: $25,000 High Roller 8-Handed PL Omaha (June 29-July 2)
Event #62: $1,500 Bounty No-Limit Hold'em (July 1-3)
Event #64: $1,000 WSOP.com Online No-Limit Hold'em (July 2-3)
Event #65: $777 Lucky 7s No-Limit Hold'em (July 3-5)
Event #67: $10,000 Dealer's Choice (July 3-5)
The most intriguing addition to me is the online bracelet event, because it isn't just another variant of no-limit hold'em. The event is something totally different.
According to the announcement, the final two players will play heads up at the Rio for the bracelet. I hope they forgo physical chips and cards and they complete the tournament Battleship-style. Better yet, why not pause the tournament with 16 players left and played a heads-up bracket Battleship-style!
OK, let a kid dream.
Would it be more effective to pause at the final table and let all nine players experience the WSOP live and in action? I feel like there are some great opportunities for a cool reveal if all nine players were sent to the Rio, especially with people who create an account just for this event.
The $25,000 Pot-Limit Omaha High Roller should be a fun event, and could attract some names that we rarely see at the WSOP because they are off playing in cash games. The high-roller players seem excited about the $10,000 Dealer's Choice event, and the super-nits will celebrate the extended-play event.
Beyond the schedule, the WSOP is introducing more starting chips to every event with a buy-in less than $10,000. Generally, the starting stacks will now be five times the buy-in amount (i.e. 7,500 for a $1,500), with 5,000 chips for the Colossus and Lucky 7s. In addition, the 250/500 and 2,500/5,000 blind levels are being introduced to lower buy-in events.
This is great news for amateurs who felt like the WSOP starting stacks were just too shallow. In reality, deep structure is better than a deep stack, but you have to actually survive a few levels or make a Day 2 in order to experience this. It will be interesting to see if any of these tournaments will need to be extended to a fourth day because there are so many chips in play and an additional level (25/25 has been removed, so there is only one extra 60-minute level).
On the PokerNews Podcast, Negreanu gave us his thoughts concerning the schedule. He also hinted that the $111,111 ONE DROP High Roller will be televised.
4. Mermelstein Wins WPT Borgata Winter Poker Open
Philly's own Aaron Mermelstein outlasted 989 entries and winter storm "Juno" to win the $3 million guaranteed WPT Borgata Winter Poker Open Championship. Mermelstein defeated longtime poker pro, and PokerRoad favorite Eugene Todd "Bro" heads up to capture the top prize of $712,305. Todd earned $419,467 for his efforts.
Prior to this event, Mermelstein's largest cash was for just less than $40,000 in a side event in the 2014 Borgata Fall Poker Open. Now he has more than $850,000 in career lifetime earnings.
WPT Champions Club member Shawn Cunix nearly captured a second title, exiting in fourth for $212,108. Esther Taylor-Brady was bidding to become the first woman to win an open WPT event, but fell in fifth place for $174,118.
Borgata nearly crowned another female champion, Vanessa Selbst, in Season XII. First atop New York's all-time money list on Hendon Mob, Selbst finished runner-up to Anthony Zinno in the WPT Borgata Poker Open, earning $492,569.
| Place | Player | Prize |
| --- | --- | --- |
| 1 | Aaron Mermelstein | $712,305* |
| 2 | Eugene Todd | $419,467 |
| 3 | Randy Pfeifer | $253,263 |
| 4 | Shawn Cunix | $212,108 |
| 5 | Esther Taylor-Brady | $174,118 |
| 6 | Justin Liberto | $140,878 |
*Prize $15,400 buy-in to season-ending WPT World Championship
It is amazing how both Borgata and Seminole Hard Rock Hotel & Casino can continue to churn out these massive fields. At the time of writing Day 1a of the WPT Lucky Hearts Poker Open is in the books, and there are already nearly 400 entries with two more starting flights to go. Borgata snuck by the $3 million guarantee — with no help to the winter weather on the East Coast — and Seminole is projected to clear it with ease.
Poker is alive and well in the United States, despite only six percent of our states offering legalized and regulated real-money gaming.
5. Loveman Steps Down
On Wednesday, Caesars CEO Gary Loveman stepped down from his position, planning to continue as a chairman for the company. Mark Frissora, the former CEO of Hertz, will assume the position on July 1.
Three weeks ago, Caesars announced it would be filing for Chapter 11 bankruptcy on its largest operating division.
Most folks know Loveman from that goofy Caesars commercial where several casino employees — or actors dressed as employees — speak about the ills of problem gambling. You know, the one with the awful green screens and the French chef waiving his finger like Dikembe Mutombo and blurting "No! No! No!"
Well, Loveman's experience at Caesars correlates very strongly with the explosive success of the WSOP. He first joined the company — then Harrah's Entertainment — in 1998 as COO, then rose to CEO in 2003. Not soon after, Harrah's acquired Horseshoe Gaming and the WSOP. In 2005, the WSOP was moved across I-15 to the Rio.
Of course, correlation isn't always causation, but Caesars credits him with having "transformed Caesars from a regional gaming company to a leading international gaming, entertainment, and hospitality company with the most geographically diverse network of properties and a significant presence in Las Vegas."
My biggest question is: what does the future hold for the WSOP? We've always heard rumblings of a potential sale during these turbulent times for Caesars, but of course nothing has ever come of it. We don't know if that's because the WSOP brand is too valuable to Caesars that they wouldn't sell it, or if the potential buyers don't see the value in spending so much money on it.
As Caesars continues to redistribute its assets, we will all have to wait and see where the WSOP eventually lands when the music finally stops.
Get all the latest PokerNews updates on your social media outlets. Follow us on Twitter and find us on both Facebook and Google+!