Highs, Lows, and Back Again, Pt. 2: The Right Deal and Working Hard To Succeed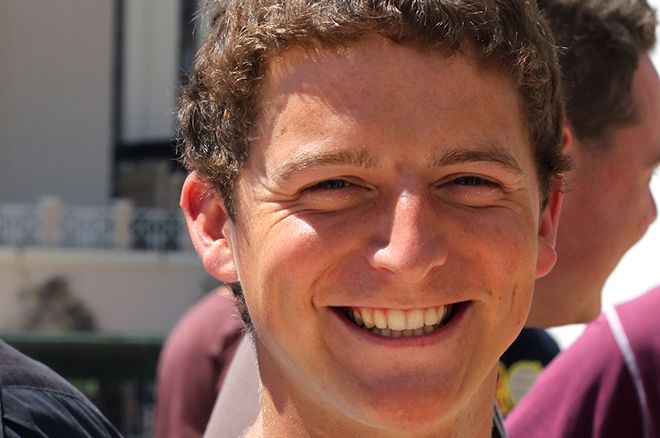 Part 1 of PokerNews' exclusive interview with Daniel Carter focussed primarily on the early stages of his 10-year poker career, him losing more than his net worth in a failed business venture, and his diagnosis and battle with depression. Part 2 continues his story.
Since making the switch to playing predominately online poker tournaments, Carter was consistently making money. It wasn't a lot of money in his eyes, around the $40,000 per year mark, due to him being in debt and only seeing between 50 and 75 percent of those profits due to being backed.
After early backing deals came and went, Carter partnered with fellow British grinder, James Atkin. Atkin is someone who Carter holds in high regard as a poker player and as a friend.
James helped me to realize how far behind the curve I was in poker.
"James helped me to realize how far behind the curve I was in poker," said Carter, "James is really good at turbos and sit-and-gos, and I had no idea about jamming ranges or anything, which is absurd considering I'd been playing the game for a living for 10 years."
Atkin also offered some financial support to Carter because he knew Carter was struggling with debt. Carter speaks very highly of Atkin as one of the nicest, stand-up people you could ever wish to meet in any walk of life.
A $40,000 Win Turns Things Around
The 2015 Turbo Championship Of Online Poker (TCOOP) proved to be a turning point for Carter, who helped himself to a fourth-place finish in one event, netting around $40,000. After paying off various debts, Carter was left with $5,000 and decided to take a shot using his own money. It was a shot that was short-lived.
I lost that $5,000 because it's obviously not a lot of tournaments on your own.
Carter was then staked for a short while by John Eames and Mathew Frankland, two of the United Kingdom's top poker talents. Around five weeks after their deal started, Carter won the Big $109 at PokerStars, after which Eames "joked and thanked me for being busto and making him some money!"
Then came the next step of his career, the step that he says has taken his game to a whole new level and the reason why he is more than happy to hand over 50 percent of his profits.
"I joined up with Patrick Leonard and his stable, which is a big stable of students and I feel is a much better deal even though it is the lowest percentage I've had been backed," Carter said. "They offer a load of coaching, group sessions and one-to-ones, and now I'm playing a bit higher stakes, which I didn't want to do until now."
Before this new deal, Carter thought the best way to make money was to fire up 20 tables of low-stakes tournaments and "beat all of the fish." It was a plan that worked to some degree, but it wasn't the best way to utilize his talents.
When you look at the top of the leaderboard at PokerStars, those players aren't necessarily great players.
"When you look at the top of the leaderboard at PokerStars, those players aren't necessarily great players," claimed Carter. He added, "They're good players who are making a decent amount of money, but their return on investment (ROI) is small and they've got to play a stupid amount of poker to make that money."
That volume is something Carter doesn't find terribly exciting.
Now, Carter has cut down to no more than nine tables, finds himself enjoying the game more, and is making less mistakes. Despite the reduced volume, Carter has been enjoying some fantastic results that have given him renewed confidence and a bankroll to match.
"I had my first one-to-one coaching session at the start of the month and was already in around $13,000 or $14,000 worth of make-up (the money owed to the backer when a player doesn't profit)," Carter explained. "When I was asked how I was doing, I said I was loving it and not to worry about me losing because I was actually playing well."
Crush Mode
The very next day, Carter entered what he described as "crush mode" and seemingly couldn't lose. Six wins in nine days helped Carter catch the eye of PokerNews and resulted in this interview.
A deadly combination of playing well and running well — Carter has won 10 of his last 10 tournaments where he has reached the final three — has resulted in profits for the year in excess of $100,000 and we're only around halfway through. Plus, the World Championship Of Online Poker (WCOOP) is yet to come.
While Carter hasn't yet finalized with his backer his schedule for the WCOOP, he does hope to take some shots. Not only in hold'em events, too.
"I do like mixed games," Carter said with a smile. "They're much like hold'em used to be in that you can study them and do OK, maybe with the exception of pot-limit Omaha (PLO) because there are some very good PLO players. I've played a lot of mixed games with friends and online, and I've played some of them during TCOOP and WCOOP because a lot of the good regulars don't touch them. Sure, there are going to be some other regs who specialize in games like 2-7 triple draw who could exploit me, but I will ask if I can play them. If not, then so be it."
Despite his recent success at the virtual felt, Carter has his feet firmly on the floor. His past experiences of struggling to make ends meet are a lasting memory for him.
"I'm so happy to be in the position I am in now that I'm not going to take it for granted," he said. "Worrying about a £100 bill coming out of your bank is a stress I can do without."
One of the final questions we asked Carter was how he's managed to survive the test of time and if the games are actually growing tougher and tougher year-on-year.
"The main difference is that 10 years ago, all you needed to succeed was to be smart and be prepared to learn," Carter said. "Most people played really passive preflop and tight post-flop, and I made a lot of money by playing lots of hands and firing a continuation bet 100 percent of the time. About six years ago, the games started to become tougher because of the amount of information circulating around the Internet making it natural and easy for recreational players to copy what the better players are doing."
So what does the future hold for Carter and his poker career? He won't be offering coaching as much because he's enjoying playing, but if he would return to it if the right student came along. Until then, it's lots of playing and even more studying for the Cheltenham grinder.
"I've realized, now that I have some of the best coaches in the world around me, that there is still so much to learn and how these great players still ask questions about poker," he said. "I've got to continue with the attitude I have about poker if I want to keep making money."
Want to stay atop all the latest in the poker world? If so, make sure to get PokerNews updates on your social media outlets. Follow us on Twitter and find us on both Facebook and Google+!