Get to Know Seminole Hard Rock Hotel & Casino Director of Poker Operations Bill Mason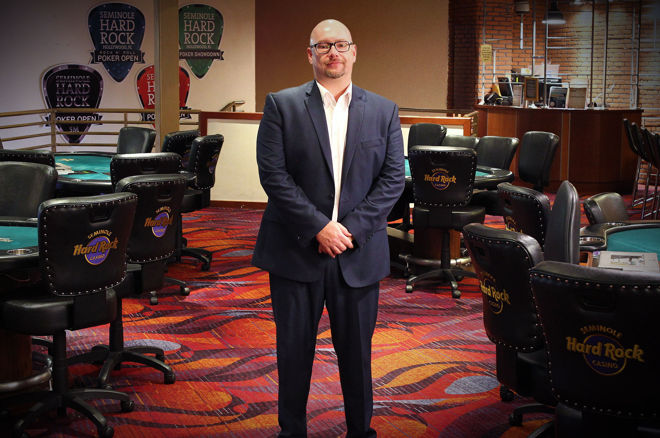 Poker is booming in Florida. It has been for several years, due in no small part to the efforts put forth by the Seminole Hard Rock Hotel & Casino, which include some of the most popular tournament series on the circuit schedule. While the success of those events is a team effort, the man captaining that team is William Mason, better known as Bill. He serves as the casino's Director of Poker Operations.
Mason has been working at the Seminole Hard Rock Hotel & Casino for more than a decade, and this year all his hard work was recognized when he was nominated for Industry Person of the Year at the American Poker Awards alongside the World Series of Poker's Jack Effel, Poker Players Alliance's John Pappas, and World Poker Tour's Matt Savage.
Interestingly, the WPT Seminole Hard Rock Poker Showdown was nominated for Event of the Year (Buy-In Over $2,000).
The Seminole Hard Rock Hotel & Casino has two opportunities to bring home an award, but they will need to wait for the award ceremony on Thursday, Feb. 25, to see if they come out on top. In the meantime, we at PokerNews thought it'd be worthwhile to dig a little deeper and answer the question, who is Bill Mason?
Born and raised in New Jersey, Mason earned his Bachelors Degree in Business from Saint Leo University in Tampa, Florida. Then, in 1987, he began working on the casino industry by selling change at Bally's Grand in Atlantic City.
"Way back during the time when change belts were worn to physically place coins inside of and when we removed coins out of the slot machines," said Mason of his start. "My career led me to Tropicana casino, then dealing school, followed by the Sands in 1993 as a table game dealer. In 1995, I relocated to Florida and have been here ever since."
Mason, who is married to wife Jannina and has one daughter Alexandra, began working on a local casino boat in Miami that eventually closed, which led to his association with the Seminole Hard Rock Hotel & Casino in 2005.
"I was lucky enough to have Mike Smith, who was the Poker Director at that time, extend an offer to join the team," Mason explained. "I worked my way up from Floor Person to Shift Manager, then spent a couple years in table games as Assistant Shift Manager. When the Poker Director position became available, I was fortunate enough to secure the position. The poker team at Hard Rock is like a family, and being part of that is amazing."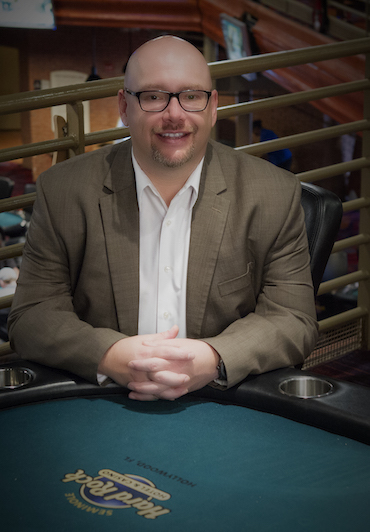 PokerNews sat down with Mason to ask some more questions regarding the American Poker Awards, poker in Florida, and more:
PokerNews: You were nominated for an American Poker Award. How do you feel about that?
Mason: Being nominated and mentioned with such respected industry leaders is humbling. Matt Savage has been a great friend and mentor, and to be mentioned alongside him is truly an honor. This recognition is a symbol of the incredible commitment and dedication to raising the bar on poker play by Seminole Hard Rock.
Our success could not be possible without the foresight, vision and support from Seminole Gaming COO Larry Mullin, Seminole Gaming General Manager of Gaming Larry Frank, and Seminole Gaming Senior Vice President of Gaming Operation Tim Burke. A large part of our success comes from our amazing staff and dealers and without them none of this would be possible.
Will you be in L.A. to attend the awards?
Yes, I will be making the trip to attend the awards, along with our Tournament Director Tony Burns.
What's the generally feeling from the venue regarding the nominations?
There is a lot of excitement from the poker community. From South Florida's year round tropical weather, the comfort of our ballrooms where each series is held, to the entertainment and dining options, players are provided a unique and memorable experience. On the team level, all of the hard work and dedication is demonstrated in how far we have come on this journey. Just being nominated means so much and justifies the path we have taken.
The Seminole Hard Rock has established itself as a power player in the poker industry. What do you think have been the keys to your success?
The key to success have been the ability to listen to the players and staff, and having the freedom to be creative. When new ideas or innovations are developed, the team at Seminole Hard Rock discusses them openly and uses the "How can we do this?" mind set. We have developed and fostered great relationships with WPT and PNIA, all while establishing our own poker brand as one of the best in the industry. The ability to be creative by thinking outside the box to offer an amazing product comes from such great support and teamwork.
Not every poker room is as successful as SHR. Do you have any advice for other poker employees/directors/etc. at smaller rooms around the country as to how they can "bring life to poker" so to speak?
The advice I would give is listen to your players and staff. They will tell you what they expect. They are on the playing field every day and see things in a different perspective. They have some great ideas and can help make your room thrive. You also need to define your goals and work to align your room with the property's goals and brand.
How does the Seminole Hard Rock go about selecting poker pros to represent the brand?
The Patch Program started in 2013 when we launched our Seminole Hard Rock Poker Open $10 million guaranteed event. We developed a program that consists of socially active, well-established and well-respected pros that helped bring awareness about our poker program around the globe, and to the SHRPO $10 million guaranteed Championship. Since then, we have collaborated with a few more players who understand the Seminole Hard Rock brand and our goals. The team works hard to promote the brand and the representation has been well received. The Patch Program has been successful, allowing the players to develop their own brand while also being part of ours.
What are you most excited about poker-wise for 2016?
There are many things to be excited about for 2016. Most recently, we announced some exciting changes in the upcoming Showdown series. This year, there will be two featured events prior to the WPT Tournament of Champions that will be main tour stops with the World Poker Tour. The first will the $3,500 buy-in WPT Seminole Hard Rock Poker Showdown Championship with a $2 million guarantee. The second is a $10,000 buy-in WPT Seminole Hard Rock Finale, also featuring a $2 million guarantee.
It's been a long time since Seminole Hard Rock has hosted a $10,000 buy-in. I am excited to see how things develop. In August, we will return with our Seminole Hard Rock Poker Open series. Last year, there was so much enthusiasm and buzz around "The Big 4" final tables and the four live steams simultaneously, I'm intrigued with the possibilities for this year.
Finally, in all your years in the poker world, what is the wildest/most entertaining/flat out crazy thing you have ever witnessed? Tell us a good story!
Before I became Poker Director, there was a player bragging about his brand new cowboy boots and how much he paid for them. The players at the table were telling him he spent way too much. He felt they were just jealous and decide to stand up on the poker table and give the players a close up view by way of song and dance. Security came and escorted him out.
Want to stay atop all the latest in the poker world? If so, make sure to get PokerNews updates on your social media outlets. Follow us on Twitter and find us on both Facebook and Google+!